Are you looking for the best WordPress poll plugin with image options? Formidable Forms can build responsive WP polls to level up your WordPress site!
Approximate read time: 5 minutes
Looking for the ultimate WordPress poll plugin? Online polls have been around for a while. As a result, there are dozens of poll plugins on the WordPress directory. Which one do you choose?
Here's some good news: the best poll plugin for WordPress does a lot more than just online polls. It can build questionnaires, surveys, quizzes, contact forms — whatever your WordPress website needs!
In this post, we'll show you how the most powerful poll plugin is actually a WordPress form maker. We're talking about Formidable Forms.
For over ten years, Formidable has established itself as one of the best form builders for WordPress. It's capable of building polls, modal surveys, calculators, and more. In fact, there are a ton of poll and survey features that make Formidable stand out from the crowd.
With 300,000+ happy customers using Formidable, how could you go wrong? Formidable Forms even has a free version with tons of features to get you started.
So if you haven't already committed to a WordPress form builder for your site, Formidable Forms could be your all-in-one solution. Keep reading to learn how easy & powerful polls are with Formidable.
Finally, a WordPress poll plugin with images!
If you use WordPress to host your polls or surveys, there is now an easy option to take your site to the next level. Using a WordPress poll plugin... with images! That means your poll answers (what people click on to vote) can be made into images instead of just text.
This simple yet powerful feature can take a list of radio buttons or checkboxes from this:

To this:
How to add images to WordPress polls
Adding images to your WordPress survey form or electronic voting system (or polls) is easy. Before we show you how easy, here's a live demo of what using our WordPress poll plugin with images looks like:
To use this in your forms, all you need to do is add a radio button or checkbox field to your form, then select use images for options. This will replace the traditional radio button or checkbox with images of your choice.
You can also easily choose the image size you want by selecting from the dropdown box in the field options. These are the default size options for responsive polls:
Small: 150px (the default size)
Medium: 250px
Large: 320px
Extra-large: 400px
And if you want to format the look and feel of your poll images, everything can be edited easily with our visual form styler. That means no coding, no CSS styling, and no worries! But you can easily change the font family, colors, and more.
After that comes the most important step: uploading your images. To do that, simply click the Upload image button. You can upload a new image or choose an existing image from your media library.
Learn more: Use a radio button of checklist with Images
Create image polls right from the WordPress dashboard
If you aren't familiar with Formidable, you might not know how easy it is to create polls in WordPress! All you do is create a new form and use our drag and drop form builder to arrange the fields. Finish up by customizing your field options. Easy.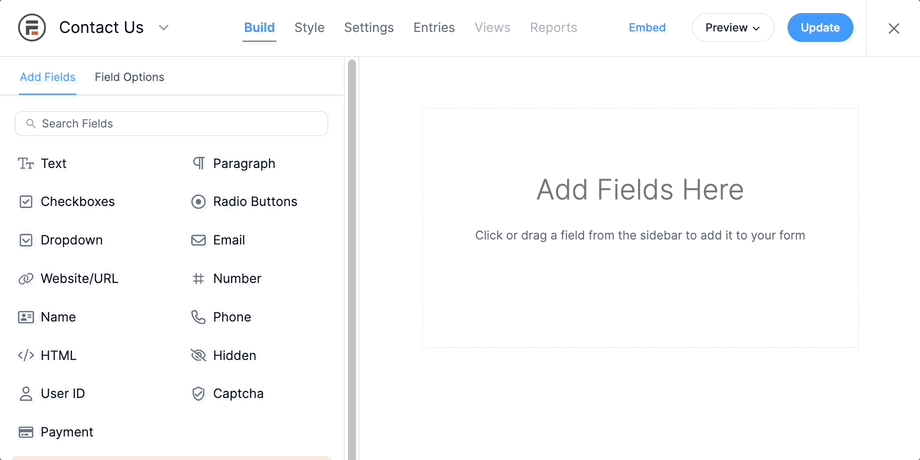 Once you finish creating your poll form (or whatever type of form you build), publishing it is easy.
You can copy and paste the shortcode to any post or page on your site. You can also use the Formidable block to publish your poll on WordPress.
Add pictures to polls, surveys, and more
With Formidable Forms, you can add multiple polls to your site with no trouble. But responsive WordPress polls aren't the only thing you can add. If it's a form of any kind, Formidable can build it.
And of course, you'll be able to replace radio buttons or checkboxes with images in those forms too.
Quizzes
If you want to create quizzes, Formidable has you covered. Adding images to your quiz options will definitely make your quiz stand out. If you want to make your quiz go viral, having the best visual appeal will make all the difference.
And if you are building quizzes for a course or school, a multiple-choice question with image options is basically a whole new type of question! All you need is the Formidable WordPress Quiz Maker add-on, which is included in the Business Plan or above.
Surveys
Want to increase the conversions on your surveys? Make them more engaging! There's a reason why almost every blog article you read online has images — why should your survey be any different?
Contact forms
Are there a few different reasons why your customers typically contact you? Make it easy for them. Sure, you could give them the option to select from a dropdown menu, but selecting an image is much more exciting. And it's a lot easier to turn excited people into customers!
Signup forms
Make it easy for people to sign up for the right email list... all from the same signup form. An image-powered signup form is bound to draw more attention from would-be subscribers. Why miss the chance to get as many signups as possible?
Plus more WordPress poll maker features
The advanced features of Formidable make it easy to maximize engagement on your site. You now know that you can add images to replace radio buttons or checkboxes. But Formidable also has a lot more to offer.
With the Formidable Views feature, you can turn your form data into whatever you want. Here's an example, maybe you've seen those viral quizzes where users answer questions to determine what kind of Disney character they are.
Users answer a series of questions in the quiz, and upon finishing, they find out what character they are most similar to. With Formidable, you can configure your quiz to show an image, text, and a link to share the quiz directly when a user completes the quiz!
This is lightyears better than simply displaying a text quiz result. Unless you are trying to create a bland and boring website, of course.
If you created a poll, people love to see the poll results in real-time after they complete it. The best polls display the results with a graph or a chart. With Formidable, this is something that can be customized endlessly.
You could display the poll results as a bar chart or create something like the 3D pie graph below!
Tailor poll questions to your audience with smart conditional logic. Want different questions for different age groups? Ask the age at the start of your poll, then use conditional logic to determine which questions appear.
Integration with email & CRM platforms
If you use Mailchimp, ActiveCampaign, Hubspot, or WooCommerce, you'll love the integration power that Formidable Forms commands. There are dozens of integrations and add-ons that ensure Formidable plays nice with your favorite platforms. You can also use our Twilio add-on which allows your forms to both receive SMS messages!
And even if Formidable doesn't have an official integration, our Zapier add-on makes customizing your own integration easy — with connections to over 750 different apps and services!
...and dozens of other features!
The great thing about Formidable is that it's a lot more than a WordPress poll plugin with images. It has dozens of features for both beginner and advanced users. Take a look at our features page to see what's under the hood.
For more WordPress poll pro tips, follow us on Facebook, Twitter, and YouTube.
Read more WordPress poll plugin articles
---
Create engaging interactive content for your website with the most powerful online form builder anywhere. Get Formidable Forms now!