Looking for the best WooCommerce form builder? The Formidable product configurator for WooCommerce will revolutionize your product pages!
Looking for a WooCommerce product customizer? If you use WooCommerce to run your eCommerce site, you might have noticed it can't do everything. WooCommerce variable products allow for some configuration, but if you want to add custom fields then you'll need an add-on.
If you need to do more than add variations and add attributes to your products, a WooCommerce form builder can help. But with all the different WooCommerce add-ons available, which one do you choose?
Today we're going to introduce you to one of the longest-standing WooCommerce form builders out there: Formidable Forms. Formidable plugs into WooCommerce and gives you a powerful product configurator. You'll be able to configure products, collect more data from customers, and add custom fields to your product pages.
Before we go into more detail, we want to highlight something. There's one big difference between Formidable and other WooCommerce plugins with add-ons. Add-ons are built to do just one thing. Formidable Forms is a standalone WordPress form builder, so it can also handle every single form on your WordPress site!
Why do you need a WooCommerce form builder?
WooCommerce is a fantastic plugin. But it does have its limits. Adding custom fields or extra product options requires a lot of extra work. Luckily, with the ultimate WooCommerce form builder, upgrading your WooCommerce product options can be easy!
With the pro version of Formidable Forms, you'll be able to add custom fields to single product pages in your WooCommerce store. The way it works is simple. Just create a form and add it to your product page!
Adding custom fields helps to streamline the buying process. Customers expect a personalized and simple transaction when shopping online. Our product configurator can help you create the smoothest eCommerce process possible.
And like we mentioned earlier, Formidable Forms is also a full-scale WordPress form maker. With Formidable, you'll be able to do much more than customize WooCommerce product pages. You'll be able to create surveys and make polls. You'll have access to advanced calculated fields — there are a ton of features!
But in this post, we'll focus on what our WooCommerce add-on does. And that's a lot! Let's take a look.
1. Add WooCommerce custom fields to your products
We've already mentioned how easy it is to add custom fields to your products with the Formidable product configurator for WooCommerce. But here are a few more examples just in case:
Add extra fields to product pages and collect extra information form your users.
Include calculated fields to add more options to let users customize even more.
Show submitted form values for most field types in the cart and in the WooCommerce emails.
Trigger emails, SMS text messages, API calls, and/or Mailchimp integrations when an order is created or completed.
2. Collect user info in product without calculating price
There may be products where you want to get a user's information or other information related to the product without affecting the base product price. With Formidable, this is simple!
Why would you want to collect user info without changing the product price? If you are using WooCommerce for bookings, then you may need to collect a lot of user info. Instead of buying a totally separate booking system, you can use Formidable Forms to add all the custom fields you need to your product pages.
Another example? How about if you're using WooCommerce for events? When booking events, there may be different time slots for customers to book. And depending on the nature of your events, you won't want to be limited in what info you collect.
Creating variations with product attributes can be tricky when it comes to events. With Formidable, you can keep your WooCommerce events attributes static. Then for each event, simply create a new form with Formidable to customize!
3. Create product bundles
Since our WooCommerce product configurator works by adding form fields to your products, creating kits or product bundles with interchangeable elements is easy. It's certainly a lot easier than the built-in variations that come with WooCommerce by default!
Here's a basic demo to see how this works. All the fields shown in this product come from a Formidable form.
Buying made-to-order products becomes a lot easier because products with many designs or color variations can be easily selected. For an example of that in action, see: how to create a custom WooCommerce t-shirt order form in WordPress.
4. Integrate other apps into your WooCommerce products
Here's the deal with WooCommerce. If you want extra integrations, you need to buy extra add-ons. If you use a few different third-party apps on your site, this can get really complicated.
Plus, sometimes the integrations don't do what you want. With Formidable, this isn't a problem! Since you can add whatever fields you want to your form, integrations are no exception! Formidable has dozens of integrations for popular apps like HubSpot, Salesforce, AWeber, and more.
A simple example is our Mailchimp integration. Just add that into your product form and you can collect email addresses and trigger email series from your Mailchimp account!
5. Automate everything with conditional logic & more
Formidable Forms has tons of features that help you automate everything. For example, your forms can have conditional logic. As buyers make selections, different options appear based on different conditions. Whoever said one size fits all?
Another powerful feature: email notifications. You can easily set things up so that you'll receive an alert when customers place orders. And of course, you can choose to notify the customer and your support staff too. With Formidable, upgrades aren't limited to price fields.
Do you need customers to upload design or image files to place their order? Formidable Forms can do that! And of course, you'll also get unlimited forms, user registration, form templates, and more! As you can see, it's a lot more than contact forms.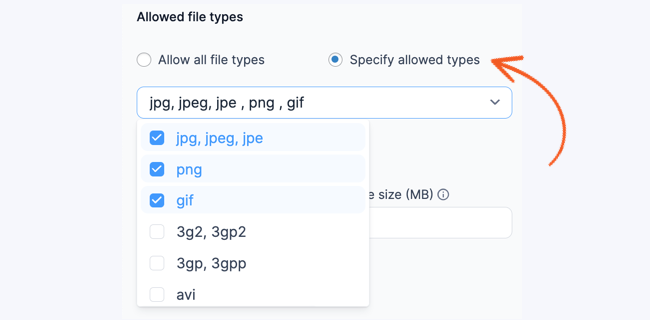 6. Build a donation system (or any system you want)
Formidable Forms can virtually replace any systems-based add-on for WooCommerce. One example is a system for accepting donations. The possibilities are endless! Just create a donation form to add to your WooCommerce products.
For example, you could choose to add a donation field to any product to collect money for charity. Simply add a dropdown field with different donation amounts and you are set!
And you could even hide the donation dropdown menu until users choose to see it. By giving users a donation option like this, you can collect donations without interfering with the overall buying process.
When it's this simple, using WooCommerce for donations becomes a powerful way to make a difference.
7. Replace the WooCommerce registration and profile forms
We've also made it easy to completely customize the WooCommerce registration form. This works by replacing the WooCommerce form with one you create. It works the same with the WooCommerce user profile forms.
Ready for the Ultimate WooCommerce form builder?
Ready to take your WooCommerce setup to the next level? Download the Formidable Forms WooCommerce Product Configurator add-on now with our Elite plan.
Or, if you're ready to go with Formidable, maybe you'd be interested in a thank you page WordPress plugin.
We hope you're ready to go!
Read more about WooCommerce forms