With Formidable Forms, you don't need to invest in a separate WooCommerce profile builder plugin. Check out how to create custom profile fields in just three steps!
Using WooCommerce is a powerful way to run an online store. There are many WooCommerce plugins to extend the built in functionality. One common need is for more than the default profile form can offer. You could buy a separate WooCommerce profile builder plugin for WordPress. Still, it might have limited functionality and be quite expensive.
Fortunately, you can also choose Formidable Forms. Our flexible plugin can help you build a wide variety of forms for your website, including WooCommerce user fields. By choosing our multipurpose program, you can efficiently personalize your registration page.
In this article, we'll cover a few reasons why you might want a WooCommerce profile builder plugin. Then we'll go over three simple steps to create a custom user profile form for your shop. Let's go!
Why you might want a WooCommerce profile builder plugin
It's no surprise that WooCommerce can be a valuable tool. After all, it's the most popular eCommerce software in the United States.
Yet, this popularity can have some drawbacks. With so many users, the default settings are unlikely to fit every store's needs.
If you've built a custom WooCommerce registration form, you may already be aware of this. However, you may not know that you can personalize the WooCommerce customer profile too.
Building a custom profile form can help you collect the information your store needs most. For example, if you run a clothing shop, you might want to know a user's preferred sizes so you can send them more relevant offers.
Personalized fields can also give you more creative freedom. You can keep it simple with paragraph fields, or use more advanced options such as number range sliders.
Simple changes such as these can help you collect the important customer data that's unique to your store. As such, you may also find that the information helps to boost your sales.
? Need a Thank You Page plugin for WordPress?: 6 Best Thank You Page WordPress Plugins to Boost Sales
How to create a custom WooCommerce customer profile form
You can follow these three steps to create a personalized customer profile form.
Step 1: Install Formidable Forms and the User Registration add-on
Before you get started, you'll need a tool to help you. While there are some dedicated WooCommerce profile builder plugin options, they don't tend to do much beyond this one task. This can be an ineffective use of your website's budget.
Furthermore, using too many plugins can slow down your site. As such, you might want to invest your time and installation space in a multipurpose tool instead. That's one of the reasons why we developed Formidable Forms:
Our form-building plugin is a versatile tool for any website. In addition to being a WooCommerce profile builder plugin, it can also do other things such as creating a searchable database.
Because of this flexibility, Formidable Forms has the potential to support your online store in many different ways. You can even expand its functionality with our many add-ons. In fact, we'll be using two for this walkthrough: the User Registration and the WooCommerce Product Customizer.
You can start by purchasing a premium version of Formidable Forms. Both necessary add-ons come with our Elite plan.
Afterward, install and activate Formidable Forms. Once you've set up the program, you can move on to adding the WooCommerce custom user fields.
Step 2: Create a profile form
Next, you'll need to create your custom profile form. Start by going to Formidable → Forms → Add New. You'll then see a few template options: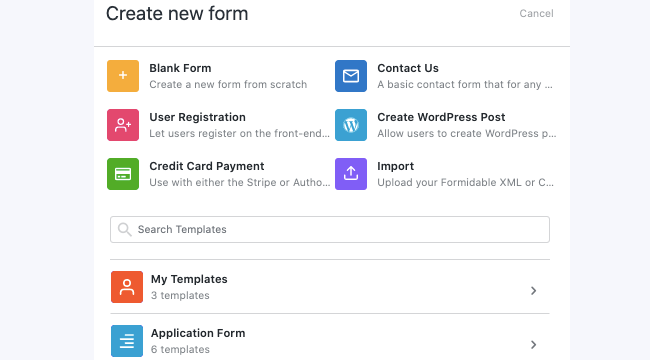 You can choose any of these to kick-start your unique WooCommerce customer profile. Don't worry if a template doesn't fit your exact needs, because you can always add or remove fields as necessary.
The Edit User Profile template comes with a lot of useful fields from the start. However, you can also choose Blank Form to start without any presets.
Click on your template and name the form to reach our editing interface.
To add a field, simply drag any option from the left-hand menu to the right side of the screen. Then, click on it to edit it: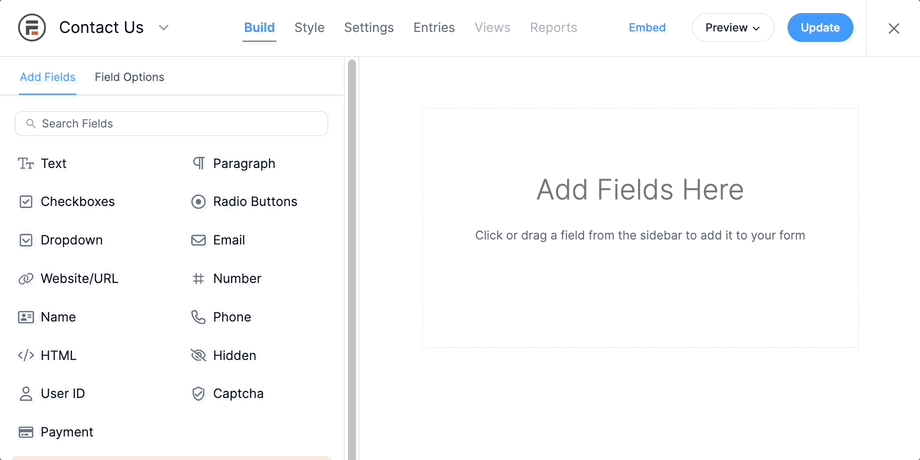 If you need to delete a field, hover over it with your mouse. Click on the three vertical dots to access More Options → Delete.
You've also got full control over field visibility, Facebook or Twitter social fields, and any other custom user fields. This Edit Profile template already includes a user registration form action that syncs fields with the user profile. Learn more about how to create edit profile forms with custom fields.
Step 3: Replace your default WooCommerce customer profile form
After you've updated your form, the last step is to make it available to users. To do this, you'll need to replace the default customer profile with your new customized one.
Start by going to WooCommerce →Settings →Accounts & Privacy. Make sure the Allow customers to create an account on the "My account" page box is checked.
Then, go to Formidable → Global Settings → Registration. Scroll down to the WooCommerce section. For Select Profile Form, choose your new profile form:
Finally, click on Update. Your users will now see your new profile form with the unique member profile fields.
Conclusion
While WooCommerce is an impressive tool, you may need profile information that goes beyond the default settings. Fortunately, you don't need to invest in yet another program. By using Formidable Forms as a WooCommerce profile builder plugin, you can efficiently create register and edit profile forms. Formidable includes login forms and password recovery forms as well.
In this article, we covered three steps to help you personalize your WooCommerce profile form:
Install Formidable Forms with the User Registration and WooCommerce Product Customizer add-ons.
Use the drag-and-drop interface to create your ideal user profile form.
Replace the default WooCommerce customer profile form with your custom one.
Formidable Forms can help your online store grow in many more ways, too. Check out some of our other impressive features today!
Read more about WooCommerce forms