Looking for a WooCommerce registration form plugin? Formidable helps you build a WooCommerce user registration form and login form, - plus much more!
Are you feeling a bit underwhelmed by the WooCommerce registration form and create account page? Of course... it's just an email field! The registration process is an important chance to collect valuable information from potential customers. They won't be very impressed if all you collect is an email address.
So what are your options? There are many different ways to extend WooCommerce and improve their user registration form. No matter which option you choose, it will fit into these two categories:
An add-on that upgrades WooCommerce registration forms only
An add-on that extends the functionality of all WooCommerce forms
If you only want to add custom fields in your WooCommerce user registration form, then maybe a WooCommerce registration plugin will do. The trouble is, you might need more than that.
So we're going to show you a plugin that will do more than give you a working registration form. It will not only let you edit the WooCommerce registration form, but also extend WooCommerce and your entire WordPress website! That plugin is Formidable Forms.
More than just WooCommerce registration forms
You (yes, you) are likely here to solve just one problem. You need a WooCommerce user registration form with custom fields. If that's all you need, you can get a WooCommerce extension for about $50 a year.
But chances are you need much more than that!
Ask yourself the following questions:
Do you need advanced payment gateways like Stripe, Authorize.net, or Paypal?
Will you need a user registration system that stores customer data securely?
Would you like to get a customized user login form on your site?
Does your site need any other forms - like contact forms or feedback forms?
If you've answered yes to the above, then you'll need more WooCommerce extensions. If you were to buy extensions for all the above, you'd be paying over $400 dollars. And that's barely scratching the surface of what you can do.
The truth is that you may need to build a custom WooCommerce registration page and profile page. You'll need to pay another $50 per year for that. And you may need to add fields to your WooCommerce product pages. That's another $50... need we say more?
WooCommerce is a great system, but the cost of extensions can add up quickly. A total solution is much cheaper and much more simple: we're talking about a WooCommerce form builder. Namely, our WordPress forms plugin, Formidable Forms.
Formidable Forms can do more than extend WooCommerce. It can automate your WordPress site and your data collection process with conditional logic. It can allow your forms to collect protected file uploads.
You can send email notifications from your site or your email platform of choice. Simply put - Formidable Forms completes WooCommerce stores.
Learn more about our WooCommerce form building plugin.
How to create custom registration forms for WooCommerce
Let's take a look at how easy it is to build a custom registration form for WooCommerce using Formidable Forms.
And actually, all you really need to do is use our user registration form template as a starting point. Here's what it looks like before adding any custom fields:
Of course, you can customize this form however you wish. This is easy as pie using our drag and drop form builder. Just drag the fields you need from left to right!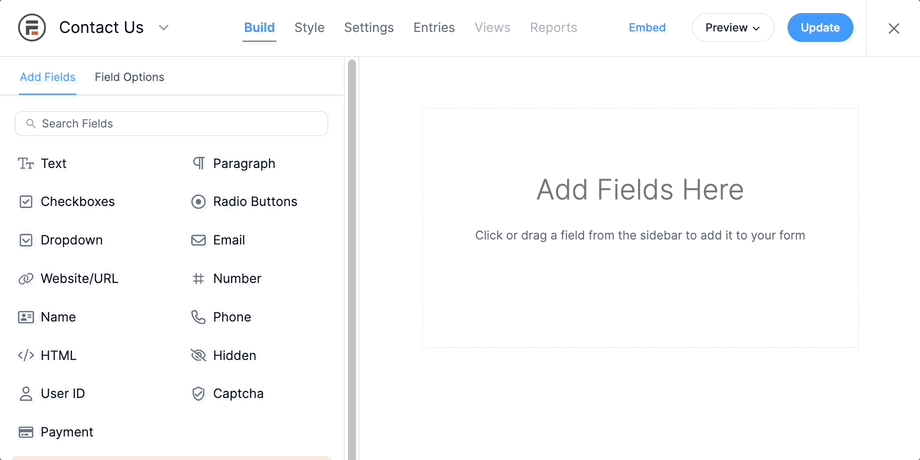 Build the form with whatever field types you need: text fields, email fields, phone fields - whatever you want to collect during the registration process. After you're done, save your form and place it anywhere on your site using a shortcode. You can get additional fields later if you want.
Since Formidable also has a built-in user registration system, you don't need to do anything else to make things work. Just define the user roles for the form and you'll be set.
User registration is something we've written a lot about:
By the way, if you haven't realized it yet... you can also use Formidable to create a custom WooCommerce login form too!
? Get the best Thank You Page plugins here!: 6 Best Thank You Page WordPress Plugins to Boost Sales
Replace the WooCommerce registration form
As you know, WooCommerce has a basic register page baked-in. So we need to replace this one with our newly customized Formidable form. Luckily, this is only a few clicks away! Here are the steps:
Install the Formidable user registration plugin.
Navigate to Formidable → Global Settings → Registration settings page.
Select the registration form you created from the Select Registration Form dropdown. This will automatically replace the WooCommerce login form that is included on the same page as the registration form.
Note: For the above to function, you need to turn on user registration in WooCommerce. To do that, click the link to Allow customers to create an account on the "My account" page. You'll then be taken to the WooCommerce settings where you can turn that option on.
What you need to get started
All you need to get started is the Formidable Elite Plan. This includes everything you need to fully activate the power of WooCommerce & WordPress. This includes a complete user registration system and all the form building features you could ask for (plus even more)!
And if you are worried our plugin won't work for you, have no fear. Our software comes with a 14-day money-back guarantee. Try us out, and if you don't like Formidable, we'll refund 100% of what you paid. No questions asked.
Create Your Registration Form Now
Read more of our WooCommerce form plugin posts
---
Give our free WordPress plugin a try! You can always upgrade later.