Want to create a custom registration form for your WordPress site? We'll show you how using a simple WordPress form building plugin.

Approximate read-time: 7 minutes
Looking for a way to create a custom WordPress user registration form? Luckily it's not very difficult. In fact, all you need is the right WordPress plugin for the job.
In this tutorial, we'll show you how to use a registration form builder in WordPress. But the best part about this form maker is that it also connects directly to the WordPress user system. That means you will be able to register users and assign them users roles too.
Of course, a registration form isn't always used to register new users. It could be used to register for events, membership programs, communities, and a whole lot more. A registration form is any kind of form where a user provides the details needed to register for... well... anything!
Having said that, a WordPress user registration system can be very helpful in organizing your data. For example, if you are registering users for an event, you could create a user driven discussion area for event attendees on your site. That's just one possibility out of many.
Whatever your needs, you will need a registration form that is closely tailored to your website and business. The example we'll show you today is actually a template that can be customized to match your WordPress theme.
But before all that, let's talk about the benefits of a WordPress registration form and a few more reasons why you'd want to use one.
The benefits of using an online registration form
Create a membership site: If you are looking to sign up new members, an online registration form is the first step to create a solid membership site and database. You can then provide users with a custom login if you need them to access your site.
Get your data organized: You can keep a record of all the important details you need from your users with a registration form. Keep your data on your WordPress site, as opposed to an event registration site.
Specify permissions for users: You can set the level of access that each user will have after completing the form. The level of access could be determined by conditional logic triggered by specific answers.
Now you know some of the benefits, here's how to create registration form in WordPress with a plugin.
How to create a registration form in WordPress
Today we are going to show you how to make a registration form in WordPress using our form building plugin, Formidable Forms. If you want to create a registration form that doesn't connect to a user registration system on your WordPress site, this can be done using our free plugin.
The free plugin should have the required fields needed to build a solid registration form. But you won't be able to collect users, host account pages, assign user profiles and allow users to login to your site. Depending on your goals, you may not need those features though.
But if you do want to use our WordPress user registration plugin, you'll need to download and install our user registration add-on. In order to do this, you'll first need to purchase and activate the Formidable Forms premium version.
Once you've done this, take a look in your WordPress admin panel. Go to the Formidable option in your menu bar and then click Add-ons. You should find a User Registration plugin option. Simply click to install it, as shown in the screenshot below:
Building your custom WordPress registration form
Wondering how to create a registration form in WordPress? Once your add-on is active, click on Forms on the left and create a new form. You will then see a User Registration Form Template where you can click Create from Template.
And the template is great for most registration purposes. But if you want to know how to create a custom registration form in WordPress, we can do that too! In fact, starting with a template is probably the easiest way to make your customized WordPress registration form.
In Formidable Forms, this adding fields is easy. From the form builder, start dragging and dropping from the left column to the right form building area. A powerful WordPress form maker like Formidable makes this process easy no matter what kind of form you are making.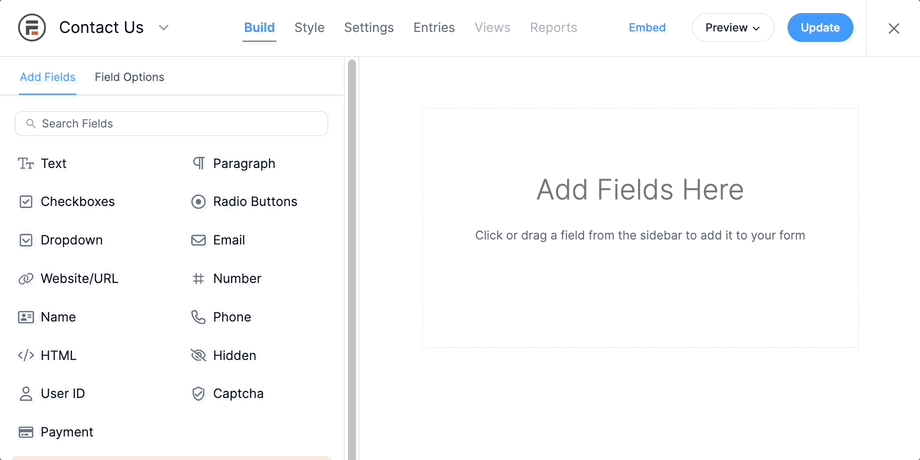 For example, contact details will probably be necessary if you're creating an online event registration form. That way, you can keep attendees aware of any updates after they register. You can also keep track of how many people will be coming and ensure you have the capacity to manage every person who attends.
Register a new user
To register a new user, go into your form's Settings and then the Form Actions tab. From there you'll need to click the Register User icon in order to add a registration action to your form.
This is how it should look:
You may want to re-label your Register User icon so it's easier to refer back to. Any labelling changes that you make will only be seen by you in the back-end of your website.
Connect form fields for user registration
Next, you'll need to connect your form fields with the relevant registration options.
You can start by mapping the User Email to the Email Address section in your form. Then, depending on whatever fields you have, you can map each one to the relevant registration option. For example, link up the Username with the Username field for a login form.
See below for an example of how it will look:
Other online registration options available for customization
Once you have got the basics of your registration form set up, you can then include other options if you wish.
We wanted to make it easy to create a form that's fully customizable and tailored to your specific needs. So, we made our user registration options virtually limitless.
With our user registration add-on, you can also:
Check the box "Automatically log in users who submit this form" if you want to support user login.
Add extra User Meta for additional information you'd like to add to a user's profile.
Specify permissions to either allow or prevent logged in users to create new users in your form.
Create a sub-site when a new user registers. This is handy for those with multi-site setups who want to make it easier to accept user submitted data.
Send email notifications when a user is fully registered to let them know they've been added to the system. You can also direct them to the next steps you want them to take from there on. For example, direct people to a registration page to make the user registration process more streamlined.
Want to build a custom registration form? You can build custom fields for ultimate flexibility.
These are just some of the options you can use and customize to make your registration forms really yours. For more details and instructions on how to build a registration form and use additional options, take a look at our our documentation. This should cover any questions you have in creating a registration form.
What's next?
You can also read our tips on avoiding registration form mistakes. And of course, creating a registration form may only be half the battle. Do you need to learn how to create a registration and login page? You can maximize security, branding, and optimize the user-experience.
We hope that this introduction to user registration forms has helped. If you're still wondering whether you need this feature, our blog post breaks down the top reasons to have a registration form plugin. We'd love to hear how you get on with creating your own forms, so please leave a comment below.
Read more of our user registration posts
---
If you've not yet signed up to Formidable yet, take a look at our wide range of features. With Formidable Forms you can customize your WordPress forms and improve user experience. With our drag and drop form builder, it's easy to build the forms you need, even without the experience of designing website forms.