Online exams and tests can help you boost engagement and collect leads. Here's how to create an online exam and score it automatically in just 4 simple steps!
Online exams, tests, and quizzes can be a great way to drive engagement, capture leads, and save loads of instructor time. They can be public or private gated content on a WordPress site.
However, the thought of creating an exam can be daunting. But you don't need complicated testing software to provide online exams on your website.
That's why we've put together this simple guide to creating a digital test. Whether you need a training test, an academic exam, or a test for a professional qualification, Formidable Forms has everything you need to launch your own exam.
The Formidable Quiz Maker 2.0 is the only exam maker you'll need to create flexible tests, score exam questions the way you want, and display test results instantly every time an exam is completed.
This post will show you how to create an online exam in no time. We'll even show you how to score the results automatically and display them immediately. Let's get started!
Step 1: Create your questions
This process requires Formidable Forms Pro, plus the Quiz Maker add-on. Don't worry, they're super easy to install! Once these pieces are in place, you're ready to create your online quiz.
So, we'll first want to start to make our quiz with some questions.
To create a new form, navigate to Formidable → Forms in your WordPress dashboard, then click on Add New:

When prompted, select the Blank Form and give your exam a descriptive name. Then, click on Create. You can now start adding different question types to your form.
You'll have access to a wide range of fields when designing your test. However, for exams, we recommend Dropdown and Radio Buttons.
Why? Because these field types are perfect for creating multiple-choice questions. These question types are easy to score automatically and can even be randomized to prevent order bias or cheating.
Let's see how you can transform a radio button into an engaging multiple-choice question. To start, add a radio button to your form.
Then, click to select the button. In the panel that appears, type your question into the Field Label box:
You can now add each answer as an Option. To create more answers, simply click on Add Option:
You might want to use images to add some visual appeal to your exam. To attach an image to each answer, click on Images for the Display Format. You can now upload your graphics:
Rinse and repeat to add more questions to your test. To prevent your exam from becoming overwhelming, consider spreading it across multiple pages, showing one question at a time in a conversational form, or creating an outcome-based quiz.
Step 2: Add a Quiz form action
The Quiz Maker plugin will score the participant's input automatically. This helps process a large volume of submissions in no time at all. You can also use this feature to display the participant's score immediately after submission.
But before Formidable Forms can score the participant's input, it needs to know which answers are correct. This requires putting the answers in an answer key. To get started, click on the Settings → Actions & Notifications tab. Then, click on Quiz. This adds a new section where you can configure your exam's settings:
To set the correct answer and point value for each question, click Customize Quiz Scoring. This opens a popup displaying all of your questions.
Click on the question's accompanying slider. Now you'll be able to select the right answer. You can also change the point value for each field for weighted questions:
Sometimes, a question may have multiple correct answers. In this scenario, you can assign a different score to each answer by selecting Advanced Scoring:
You can now assign a different value to each answer. Close the scoring modal when you're happy with your entered information.
Step 3: Show the exam score
Once participants hit Submit, you may want to notify them about their results. Formidable Forms can score each entry automatically and then display the results instantly.
To set up automatic scoring, open the following dropdown: What would you like to show after submit? Then, select Show the score:
Alternatively, you may want to review and grade the participant's submission manually. This may be essential if your exam consists of open-ended questions.
Also, if you plan to contact participants directly with their test results, remember to request their contact information as part of your form.
Here, you can also display a message informing participants that you've received their submissions and will be in touch shortly. To create this message, go to the Settings → General tab. Then, scroll to the On Submit section. Here, open the dropdown and make sure that Show Message is selected:
You can now enter your text into the Messages section. Formidable Forms will display this message upon successful form submission.
Step 4: Publish the test and view the results
For the last step, go to the page or post on which you'd like the exam to appear. Then click on the WordPress blocks selector. Then, search for Formidable Forms and click the form block. A dropdown will appear where you can choose the form you just created: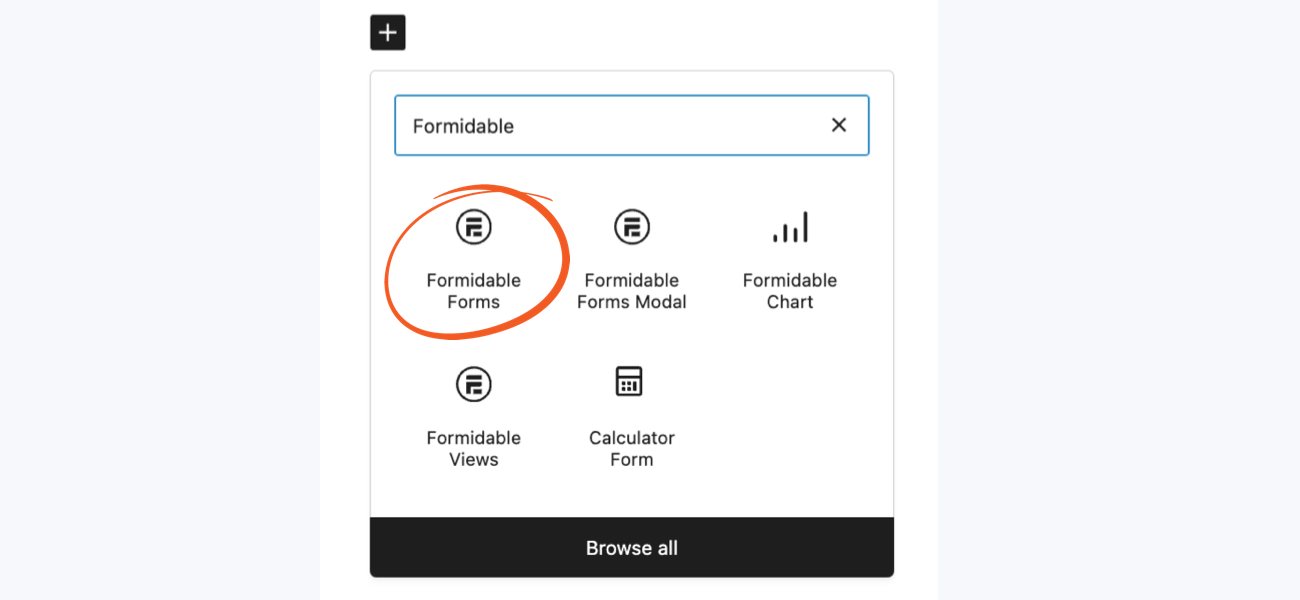 You can update or publish this webpage as normal when you're done. Now, visitors can take this online test directly from the website.
If you're using automatic scoring, Formidable Forms will display the participant's results as soon as they hit Submit. For open-ended questions that require manual review, you'll find each entry by navigating to Formidable → Entries and clicking the View link for an entry that needs grading.
Wrapping up online exams
Online tests are everywhere, and with good reason. The right exam can help save time, drive engagement, capture leads, and even find viral success on social media.
And, if you add in an interactive quiz, your chance of success is even higher.
Let's quickly recap how to create an online test:
Create exam questions using the Quiz Maker plugin.
Add a quiz form action.
Show the exam score.
Publish the test and view the results.
Online exams are just one way to use the Formidable Forms Quiz Maker. You can use this flexible and powerful online exam plugin to create a wide range of surveys, polls, and questionnaires. Check out how you can use Formidable Forms today!
Image credits: Planet Volumes, NASA.
Learn more about creating quizzes in WordPress