Looking to make a product recommendation quiz for WordPress and WooCommerce? This guide will show you how to make a WooCommerce product quiz step-by-step.
Approximate read time: 6 minutes
Did you know 74% of customers feel frustrated when content isn't personalized?
This is a problem when customer frustration is a statistic you're trying to keep as low as possible. After all, you're always working to improve your customer flow for your eCommerce business.
But, by simply adding a WooCommerce product quiz in WordPress, you can solve this problem.
And this post will show you how to do that so you can personalize your customer experience today.
Let's get started.
🔎 Looking for a free quiz plugin for your WordPress site? These are the 11 Best Free WordPress Quiz Plugins.
What is a product quiz for WooCommerce?
A product recommendation quiz is a simple way to find the product your customer is looking for.
And they're critical for targeted campaigns. 🎯
You have a few questions and answers on the quiz. These questions learn more about your customer before showing a selection of recommended products.
It's perfect for reducing your bounce rate and improving conversions.
For example, imagine you have a skincare business. When a customer arrives on your site, they're overwhelmed with options. They're not experts. They don't know what works best.
But you do.
So, you create a skincare quiz to help customers find what they're looking for. Do they have oily or dry skin? Are they allergic to anything?
After completing your quiz, the customer gets a personalized product recommendation.
Your customer leaves with their perfect product. And you gain a loyal customer. 😄
But how do you make a WooCommerce quiz to pick products?
How to make a WooCommerce product recommendation quiz
You'd think WooCommerce would have a built-in product recommendation quiz feature, right?
But it doesn't.
Instead, you need a WordPress plugin. 🔌 And none are better at quiz building than Formidable Forms.
It's a flexible plugin, but one of its features includes quizzes. So, to get started, you'll need our Business plan or above to create quizzes with Formidable.
If you want WooCommerce integration, you'll need our Elite plan. But, integrating WooCommerce isn't required to create a product recommendation quiz.
So, go grab Formidable at one of our excellent intro rates and we'll get started.
Make A Product Recommendaiton Quiz Now
So, once you've grabbed the plugin, get that installed and activated, then we'll get started.
There are 5 easy steps to create a product recommendation quiz in WordPress:
Create your quiz form and add questions
Change quiz outcomes
Define outcome logic
Display your quiz
Create a WooCommerce order form with Formidable (optional)
For our example, we'll use a t-shirt business. But you can apply this same idea to your own business.
Step 1: Create your quiz form and add questions
Now that Formidable is installed go to your WordPress dashboard, go to Formidable → Forms, and click Add New.

Here, select Blank Form or use this pre-built Product Recommendation Quiz Template. We'll use a Blank Form for our example.
You can name your form and then start creating it. Our plugin will automatically take you to our simple drag-and-drop form builder.
Here, you can choose the form fields to start customizing your quiz.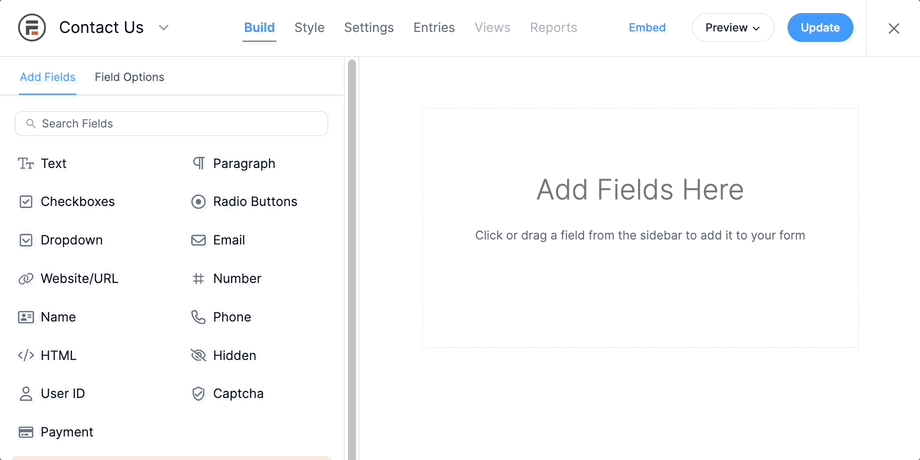 For our form, we'll add fields like radio fields, text, phone number, and email.
But you can add whatever you'd like — Likert Scales, multiple choice questions, or anything else.
For the radio fields, we can ask about the type of t-shirt the customer likes. Plus, we can take this further and ask about a specific type of shirt they want. Sports teams, cartoons, plain — the choice is theirs.
But these questions help find the right product and lead customers toward it. 🧭
Once you're finished customizing your form, click Update and head to the next step.
Step 2: Change quiz outcomes
Now, we want to turn on your quiz options and choose what gets shown to your customers.
To do this, we'll use our Outcome Quiz feature. To start, go to Settings → Actions & Notifications → Quiz Outcome.
You can give your quiz action an Action Name here. This is only for you, and visitors won't see this.
Customize the action name
Choose when the action is triggered
Upload an image to show with the quiz results
Add results you want to display in the Visual/Text editor
Add additional outcomes
Change the conditions for the outcome to be met
Here, you can customize what your customers see when they finish the quiz. In the Visual/Text editor (#7), you can add pictures, text, and anything else to help display your product.
So, the options are endless for you to beautify your product result. ✨
But, within this, you want to link to your product so a customer can purchase it. Often, having an order form on the product page makes it easier for customers.
Once you've finished customizing this, let's head to the next step: customers getting the right products. Make sure you click Update to save your changes so far.
Step 3: Define outcome logic
Click the Add Outcome Conditions button on the same page, and a few dropdown boxes will show.
This is ultimately what will decide which product shows to your customer. 🧠 If you want to weight your answers so a specific question is more important, simply add the same outcome multiple times.
The quiz will recommend the product with the highest number of submissions.
☝️ Keep in mind: if there's a tie, it chooses the outcome with the lower ID.
Click Update to save your changes, and head to the next step.
Step 4: Display your product recommendation quiz
Now, the most straightforward part: showing your quiz to customers!
Simply go to the post/page you want to display your quiz and add a new WordPress block. In the search box, search Formidable, and add the Formidable WordPress block.
Choose your quiz from the dropdown menu, then update your page, and you're done! 🥳
Step 5: Create a WooCommerce order form with Formidable (optional)
Let's say you don't want to send customers to another page to place an order.
You want to keep everything within Formidable and create a WooCommerce order form. Well, you're in luck because Formidable can do that, too!
But you'll need our Elite plan to access our WooCommerce plugin. Once you have that add-on, your WooCommerce abilities are unlimited.
If interested, this guide goes into more detail about how to create a custom WooCommerce order form.
So, check that out. But know that you can still make a product recommendation quiz without it.
Take your product recommendation quiz even further with AI!
Artificial Intelligence is all the rage right now, and it's easy to see why. 🤖 This technology takes a lot of the work out of sifting through data, detecting patterns, and finding similarities.
Now you can even create AI-based product recommendation quizzes to offer customers highly personalized suggestions without having to map out all the outcomes yourself. 🛍️
And yes, you can do it with Formidable Forms!
Learn more about adding AI product recommendations to your website with Formidable.
Which is the best quiz plugin for WordPress?
As you can see from the guide above, the answer is Formidable Forms.
But it's not just because it's a simple quiz builder. Its flexibility is what makes it the best.
For example, Formidable doesn't only handle product quizzes. It can also handle the following quiz types
And that's just a few! The rest are waiting for you to create them.
So, if you need a WooCommerce product quiz plugin or any kind of quiz plugin at all, Formidable is a top option.
But it's not just quizzes. Formidable Forms handles all the forms you have on your website. Order forms, registration forms, and surveys, to name a few.
That's why we recommend Formidable (besides it being our product) 😉. Why have multiple plugins on your site when you can have one that does it all?
👀 Looking for a great viral quiz maker? Check out the Best Viral Quiz WordPress Plugins [Buzzfeed Style!]
Are you ready to make your WooCommerce product recommendation quiz?
This guide taught you how to make a WooCommerce product recommendation quiz in WordPress with the best quiz maker, Formidable Forms. 
And you also learned how you can create order forms for WooCommerce!
There are plenty of WordPress quiz plugins to choose from. WP Quiz, Quiz Cat, Quiz and Survey Master, HD Quiz, and Advisor Quiz Woocommerce, to name a few.
But, none offer the flexibility and power of Formidable Forms. 💪
Remember, this was just a basic guide. To improve your quiz, you can add other features like randomized questions, recover abandoned carts, social sharing, conditional logic, and more.
If you have any questions, let us know in the comments, and we'll answer them as quickly as possible. 👇
Last, if you're on social media, follow us on Facebook, Twitter, and YouTube for more quiz tips, tricks, and tutorials!
Read more about quizzes from Formidable!