Are you wondering how to create interactive forms for your website? Learn how to make these dynamic page elements with Formidable's Conversational Forms online form builder in just a few minutes!
Website forms can serve as powerful lead generation tools for any e-commerce business. However, online landing pages and form templates can feel distant and cold to consumers.
If you want to make a stronger first impression, interactive forms can provide a more relaxed and customized experience.
With Formidable Conversational Forms, you can design contact forms and surveys that lead each visitor on a unique journey. Additionally, conditional logic leads the user through a set of questions determined by previous responses.
Combined together, these two features create a customized and personal experience for the user. It also allows the form to collect important data businesses need to be successful.
In this post, we'll explain how interactive online forms work. Then we'll teach you how to make one with the Formidable Forms drag-and-drop form builder in three easy steps. Let's get started!
An introduction to interactive forms
A classic online form serves many purposes. For example, WordPress forms can be used to let visitors get in touch with you without social media or to enable users to sign up for a newsletter. Registration forms are another popular way to use online forms.
Most standard forms appear on a dedicated page or as a pop-up element. They typically contain a series of form fields the user must fill out in addition to radio buttons, checkboxes, or other interactive elements:
While helpful for gathering data, these fields and buttons can make users feel like they are completing paperwork. Even worse, this approach might come off as impersonal and uncaring.
On the other hand, interactive forms have a more conversational form design and can be customized to create a more natural flow. Most often, these forms will present an individual question on a single page, and require users to click through to continue:
This can give users the sense that they are actively talking with you, as opposed to completing an impersonal task. Additionally, you can design your interactive online forms to create personalized experiences that improve your bottom line.
Thanks to conditional logic, these smart forms know which questions to present users with based on their previous answers. It also reduces the chance the user will feel overwhelmed.
While a more classic form may be ideal in some situations, interactive forms are perfect for surveys, feedback inquiries, and more.
How to create an interactive form (in 3 steps)
Now, let's learn how you can easily create interactive designs with Formidable's Conversational Forms feature!
Step 1: Install and activate your tools
For this tutorial, you'll need to have the Formidable Forms Pro plugin installed and activated on your WordPress site. Then, you'll want to enable our new form conversations.
To start, navigate to your WordPress dashboard. Then, go to Formidable → Add-Ons. Locate the Conversational Forms option and click on Install, and then Activate:
Now you're ready for the next step.
Step 2: Create your design and turn on the interactive Conversational Forms mode
Once all your tools are in place, it's time to create your first interactive form. To do this, go to Formidable → Forms → Add New.
You can modify an existing form if you prefer. However, since this will be a highly customized form, we're going to start from scratch. To do the same, simply click on Blank Form on the following screen: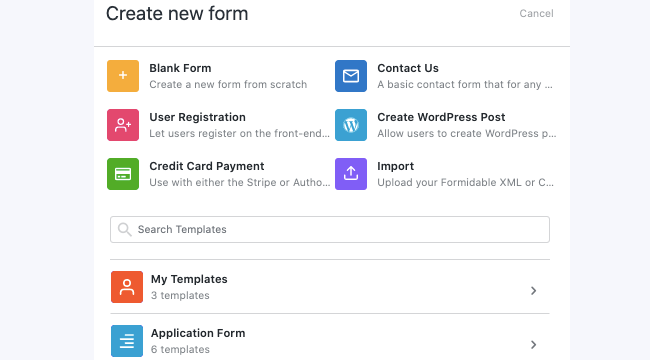 Next, give your form a descriptive name and add any additional information in the optional field. Then, click on Create.
This will automatically take you to the Build page for your new form, though we're not quite ready to start designing. First, click on Settings at the top of your screen:
On this page, choose Turn on conversational form mode. We also recommend selecting Include arrow button navigation, as this can make for a smoother user experience.
Here, you can also decide if you want to use a Progress Bar. In addition, you can edit form text fields for your Start and Continue buttons. For this tutorial, we're going to leave them at their defaults.
However, if you're going for a more casual feel, you may want to swap the text out for alternatives such as "Let's go!" or "Next". When you're finished, click on Update in the top-right corner of your screen.
Step 3: Customize your interactive form using conditional logic
Our interactive form now has the foundation for a conversational flow. Finally, let's start inputting questions into our interactive form.
On your form page, click on Build. Under Add fields, start making your selections. To keep things simple, let's add a Text field:
Then, select the field itself in the right-hand panel. This will toggle you over to the Field Options screen, where you can customize your field:
Remember that for interactive forms, you want to present your fields as questions.
Next, let's add a Checkboxes field to see how we can further personalize this form:
Under Field Label, enter a simple yes-or-no question. Then scroll down to modify the Checkboxes Options and enter "Yes" and "No":
Now, let's create a follow-up question that is dependent on the previous response. Enter the question into the text field, and make sure that box is selected.
Then scroll down to Add Conditional Logic. In our example, we'll input Show this field if any of the following match: Checkboxes equals Yes:
In other words, this follow-up question is only relevant if the user responds with a "Yes" to the previous question. If they select "No" instead, the interactive form will skip the follow-up.
Also, note that you can add multiple layers of conditional logic by clicking on + Add. Make sure to select Update when you're finished. That's it!
Keep in mind that you can change your pre-existing forms into interactive forms to enhance your conversational marketing strategy. All you'll need to do is turn on Conversational Forms mode for those individual designs, and make any necessary changes.
Interactive forms conclusion
Online forms are a fantastic way to improve any e-commerce marketing strategy. However, you may be looking for something more interesting than your standard fill-in form. Interactive, choose your own adventure style forms can provide your audience with a more unique and helpful experience.
Let's recap how to create an interactive form in three simple steps:
Install and activate your tools, including the Formidable Forms Pro plugin.
Create your form and turn on Conversational Forms mode.
Design your interactive form using conditional logic.
Formidable Forms can help you do much more than just build interactive online forms. To learn more, check out our full list of features!
Check out these other posts on smart logic!