Want to add an online exam with a quiz score calculator to your WordPress website? With Formidable Quiz Maker v2.0, you can make and grade quizzes faster than ever with the flexibility you need!
You spoke. We listened.
Our new Quiz Maker update takes the work out of masterfully crafted exams and quizzes so you can focus on even more important things.

More flexibility? You got it.
Better scoring options? Done.

We took your feedback and created the quiz scoring options you've been looking for. Just check below to see all the amazing features that are now at your fingertips!
The awesome quiz score calculator updates:
Simplified flow
Enjoy a more intuitive layout and test progression with our Quiz Maker updates! Simple but effective design lets you deliver a professional quiz or exam, so the only questions quiz takers have are the ones on the test!
All the settings needed to set up an automatic quiz score calculator will all be in one place. All you have to do is go to the Settings → Actions & Notifications and click the Quiz form action:
Easier scoring
Want letter grades for easy scoring? Formidable converts the percentages you set into standard grading metrics in no time. But that's old hat. Now, you can do so much more!
Do you want a 0-4 scale or a pass/fail result? No problem. What about the ability to assign a specific non-numerical value to a score, like in a personality quiz? Easy. With our new quiz scoring, you are in control of how you want your exam grades displayed and what you want them to be.
Easy migration from old quizzes
Breathe easy, Formidable family. You won't lose out on all the awesome quizzes you already made! We want to make your life easier. And that includes migrating old quizzes and forms into our Quiz Maker 2.0 for you. You won't miss a beat when you download our updates.
What's better than that? The ability to upgrade old quizzes with new updates! Now, you can not only keep your old quizzes running, but you can also give them all those improvements you've been itching to add.
That's right, we're setting you up to defy gravity.
Increase engagement with interactive quizzes
Want to add some photos to make your quiz more interesting?
With interactive quizzes, users are more engaged and complete quizzes at higher rates. Plus, they're just plain fun. Allowing users to be more hands-on with their quizzes improves the entire experience. A simple adjustment, but huge results.
If you haven't tried interactive forms yet, you're missing out on a big opportunity.
Differently weighted answers
Making online scored quizzes is now simpler than ever, but that doesn't mean your quizzes have to be. With our new scoring settings, you can include different types of questions and assign them all different values.
That's right! You're no longer stuck assigning the same value to every question. Whether you're weighting an open-ended exam question as more points than others or wanting to give partial answers partial credit, Formidable's new exam scoring updates have covered you.
This is a great feature for making your own spelling tests!
Enabled negative scoring
Formidable Quizzes now also allow for advanced scoring options like negative scoring. Not sure what this means?
Think about how the SAT used to be scored before more recent changes. You would get +1 if you got the question right, 0 if you didn't answer, and -1 if you got a question wrong. This was done to prevent random guessing.
Quiz Maker 2.0 allows you to grade your exams this way, too. So go ahead, weight each answer or question differently, and add some negative scoring if you want. We've got your back.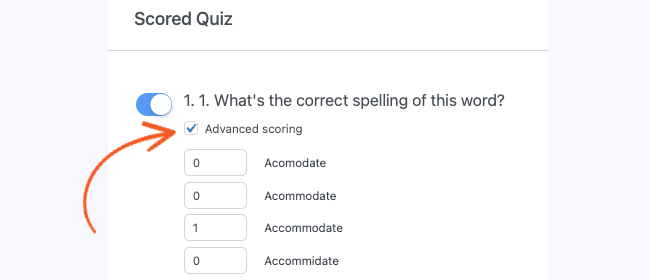 Randomized questions and radio button answers
Want to reduce the chances of cheating? What about eliminating the pain of having to randomize your quiz answers by hand?
Now, you can do both in one simple step! Formidable's new quiz features allow you to choose to have both questions and answers randomly sorted when each user takes the test!
One click of a button is all it takes to eliminate order bias and get more interesting online quizzes!
Flexible scoring options for different field types
Want to have a mix of open-ended text box questions and multiple-choice questions? Or maybe you want to throw in some drop-down questions and add a few radio buttons for fun? No problem!
With Formidable's Quiz Maker 2.0, you can have various types of questions and grade them all differently.
This allows for automatic grading of answers included in the answer key and manual grading for long-form answers, all in the same online test!
This quiz feature is very useful if you use a Learning Management System (LMS).
Answer key
Want to show your users their calculated quiz results and answers immediately after they finish the online exam? Or maybe you want to send them in an email? You can now easily display correct and incorrect answers instantly once the user completes their exam.
This means no more having to respond to annoying emails about questions the quiz taker missed. Time saved! It's also a great way to collect email addresses and lead magnets and to give users an immediate payoff.
Formidable's Quiz Maker 2.0: Flexible, user-friendly, simple, powerful.
Ready to raise your quizzes to the next level? Formidable's Quiz Maker 2.0 makes giving online exams a breeze. But don't take our word for it!
If you haven't already, join the Formidable family and reach for the stars. Your clients and site visitors will thank you.
Read more about quizzes below
---
We have plenty of great features to help your website boost conversions if you're not already using Formidable Forms. We offer simple solutions to complex problems. Get started with our free plugin or the full-featured premium versions!