Want to make an LMS quiz on your WordPress website? We'll show you how to do it using the MemberPress courses & Formidable Forms WordPress plugins!

Approximate read-time: 5 minutes
Learning Management Systems (LMS) are hot right now. Believe it or not, they were trending upward even before the 2020 pandemic forced schools around the world to embrace distance learning.
Online learning has been around for a while, but with all the LMS plugins available, it's becoming very accessible. This includes plugins like Paid Membership Pro, Tutor LMS.
Now, we're pleased to say that our friends at MemberPress have become the newest LMS option!
For those of you who don't know, MemberPress is one of the best WordPress membership plugins. It allows users to easily create paid membership sites. Their Courses add-on allows you to create and sell your courses online. The best part is that the add-on is included with every plan!
MemberPress LMS includes some great stuff, like a visual course builder, progress tracking, and a sales feature. But one thing it doesn't have just yet? The ability to create quizzes. It's a feature that's in the works, but since Formidable has an excellent quiz maker add-on, there's no need to miss out!
In this post, we'll show you how to use Formidable Forms as an online exam plugin for your MemberPress course content. The quiz can then be inserted via shortcode into any of your modules!
A bit more about MemberPress LMS
Before we get into the how-to part of this article, we wanted to tell you a bit more about MemberPress LMS. It's much more that just a platform to sell online courses.
It has all the features you would expect of a membership plugin (user profiles, drip feeding, email notifications, etc.), but also includes shopping cart & eCommerce plugin add-ons. With these, you can create an education business easier than you'd think!
To make things even easier, MemberPress includes setup wizards for many of their features & add-ons. If you are starting an education or membership site, don't hesitate to check it out.
How to make a quiz for MemberPress LMS
To make a quiz using Formidable, you'll need a WordPress site and our WordPress form maker, Formidable Forms. You'll also need our Quiz Maker add-on, included with our Business plan.
Install Formidable Forms & MemberPress
Activate the quiz maker add-on (Formidable)
Install the courses add-on (MemberPress)
Create a quiz (Formidable)
Publish your quiz (MemberPress)
1. Install Formidable Forms & MemberPress
To create a quiz for your LMS course, you need to install our drag and drop form builder.
Installing Formidable is just like installing any other premium plugin. To get started, visit our pricing page, or follow this guide: install & activate Formidable Forms.
Then you'll need to do the same thing for MemberPress if you haven't already. They also make installation easy, but their legendary support team can help if you hit any snags.
2. Install the quiz maker add-on (Formidable)
Have you installed Formidable? Great! Now, you'll need to install the Quiz Maker Add-on.
From the WordPress admin, go to Formidable → Add-Ons and find the one named Quiz Maker. Install and activate that one.
For more info, you can always take a look at our quiz maker help doc.
3. Install the courses add-on (MemberPress)
Assuming you've got MemberPress installed on your WordPress site, this part should be easy. From your WordPress admin, click on Courses in the MemberPress menu. Follow the setup wizard and you're set!
Learn more about the MemberPress LMS courses add-on.
4. Create a quiz form (Formidable)
Creating a quiz is just like creating any kind of form!
Create a form
First things first, let's create a form.
To do so, navigate to Formidable → Forms and click the Add New button.

Now, we'll build the quiz form. All it takes is to drag and drop in the fields you need. To make a multiple choice quiz for example, include dropdown or radio fields in the quiz form. We also want to add a User ID field so we can associate a quiz score with a specific user (if necessary).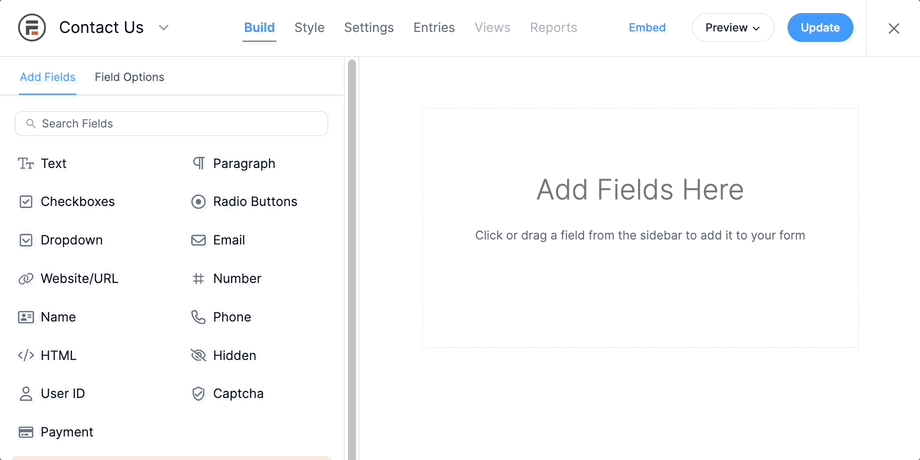 Add a quiz form action
Next, go to Settings → Actions & Notifications. This is where the Formidable quiz add-on starts to work its magic. When you add this form action, you'll see options to randomize questions or answers, and to customize the scoring however you'd like:
There's one important question to ask: do I want the quiz taker to see their score once they've completed the quiz?
If so, either select one of the options to show the quiz score, user answers, or correct answers. You can also add the shortcode for the 'Quiz Score' field in the form success message. The success message appears when the quiz form is submitted. So adding the shortcode there will show the score.
Of course, it might a good idea to edit your success message too. Here's an idea: "You scored [x]". Just replace "x" with the quiz score field id. This would show something like "You scored 14/15". You can also show the percentage correct or a letter grade.
Learn more about how to display the quiz score in Formidable
5. Configure your quiz form settings (Formidable)
There are some additional settings you might want to consider for an educational quiz. Especially since this is meant to fit into an LMS plugin environment.
First, you might want to make sure a quiz can only be taken once. This might be useful if the quiz is a bit more official (rather than a simple self-test for understanding). To limit entries go to the Form settings tab and click on Form Scheduling. Change the form status to Limit Entries and adjust as needed.
Another thing we can consider is dynamically displaying quiz scores in each subsequent lesson. Imagine a course where each lesson includes a test. We can easily take data from each quiz and display then. That way, users could see a running tally of their test scores as they progress through the course.With Formidable, it's all about form data & how you use it.
To display a quiz score, use the following shortcode: [frm-field-value field_id=x show=percent user_id=current] and replace "x" with the same field id that we used to display the quiz score above. This can be repeated for any and all quizzes! All you would need to add is a little contextual text. Something like "Here's how you scored on last week's test:" could work well.
6. Publish your quiz (MemberPress)
After creating your quiz with Formidable, the next step is to add it to your course content.
How you add it depends on how you create your course content. Generally, we can add a quiz (or any form) to your course content in a couple of ways:
Insert the form shortcode manually
Use a Gutenberg form block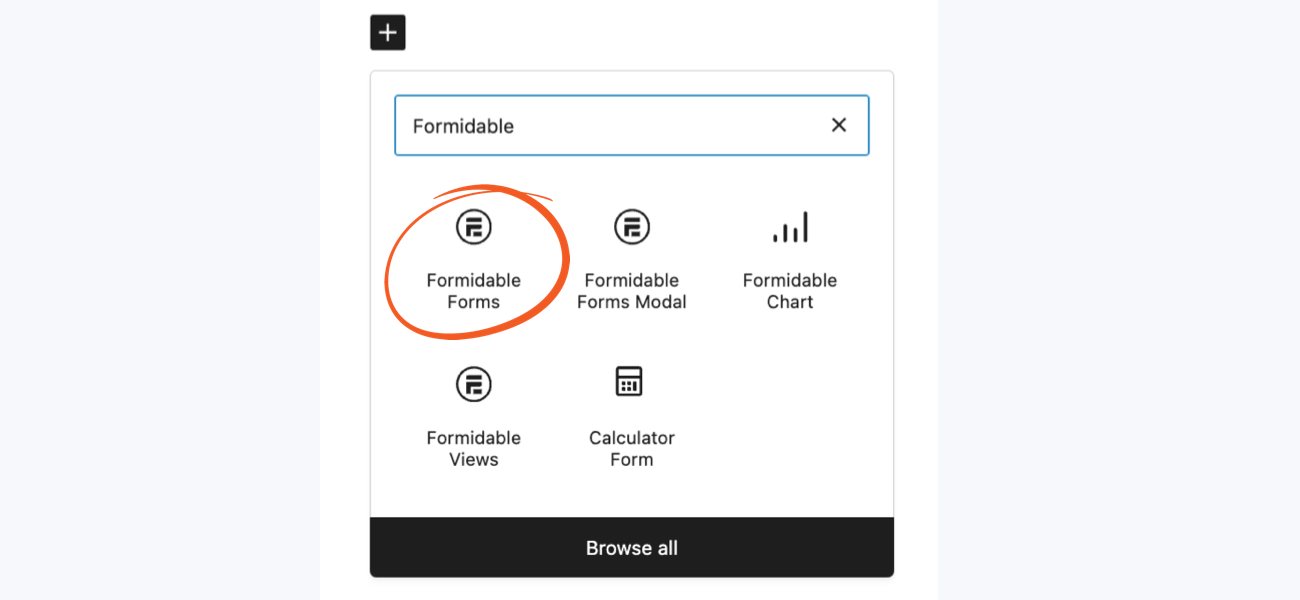 By the way, if you use a page builder like Beaver Builder or WP Bakery, our shortcodes will work in any text area.
Wrapping up
That's pretty much all there is to it! Now your online course content can include a quiz to help learners ensure they grasp the subject matter. Consider using Formidable to make a spelling test online, a course quiz, or a certification of skills test. We've recommended MemberPress for a while now, and we couldn't think of a better plugin to enter the LMS field.
Thanks for taking the time to read our post today! For more WordPress tutorials & how-to's, keep it locked to the Formidable blog. Have a great day in WordPress land.
Read more of our quiz posts
---
Not using Formidable yet? Take a look at our wide range of features. It's easy to build the forms you need, even without web design experience! Get started now, risk-free, with our 14-day money-back guarantee.