Looking for a WordPress table plugin? Get set to display data tables with this neat online table software!

There are a ton of great WordPress table plugins out there. Just head to the WordPress.org plugin directory and you'll find dozens.
But there's one question you need to ask yourself. Do you want to be locked into preset formats? Or do you want the power to build tables on your WordPress site with no limits whatsoever?
A lot of times, when people think about creating their own tables in WordPress using a plugin, what comes up is something like this: "I need an online table maker for any purpose I come up with, and I want to be able to create and manage columns at my leisure."
In this post, we're going to introduce you to the ultimate WordPress table plugin: Formidable Views. That's right - the top WordPress plugin for tables is a form builder too! Not only is it a data table maker, but it's the most flexible table creator for WordPress.
To see why Formidable is the best table maker WordPress plugin, let's look at what's missing from most generic table plugins.
Generic WordPress table plugins: what's missing?
There are a few main issues with most WordPress table builders:
They only give you a few templates to work with.
There is no method of collecting data to use in your datatables.
You are limited to tables only (but there are actually many other ways to display your data).
Creating dynamically updated tables is either difficult or impossible.
In other words, if you simply want to import an excel spreadsheet to display on your site, a plugin like wpDataTables could work well for you. For many users, that will be a great option.
But if you are looking to create dynamic datatables that are endlessly customizable, Formidable is your new best friend. Let's dig deeper to find out why!
Why is Formidable the ultimate WordPress table plugin?
By itself, Formidable is an online form builder with a database. But when you add Formidable Views for building WordPress applications, a new world of possibilities opens up. Here's how it works:
Formidable Forms allows you to collect data via forms and data imports.
Formidable Views allows you to display your data visually on any post or page.
Simply put, you can create a form, collect data, and use that data to make your tables. Every WordPress site has a MySQL database by default, Formidable Views makes it easy to use.
Learn more: How to create a searchable database in WordPress
Using Formidable Views, it's possible to create an endless array of datatables using our low-code Views add-on. Formidable is a WordPress plugin for tables with filters and so much more. For example:
Sorting, filtering, and searching
One-to-many data relationships
Dynamic datatables
Conditionally displayed tables
Formidable is the table WordPress plugin with responsive styling built-in too. Let's take a look at each of these features to see how they can help you editable tables better than page builders and generic table plugins.
The best WordPress plugin for collecting table data
Formidable Forms has been one of the best form builders on the market for 11+ years. What makes it so great? It combines simplicity and advanced functionality to create powerful results.
It all starts with our easy-to-use drag and drop form builder: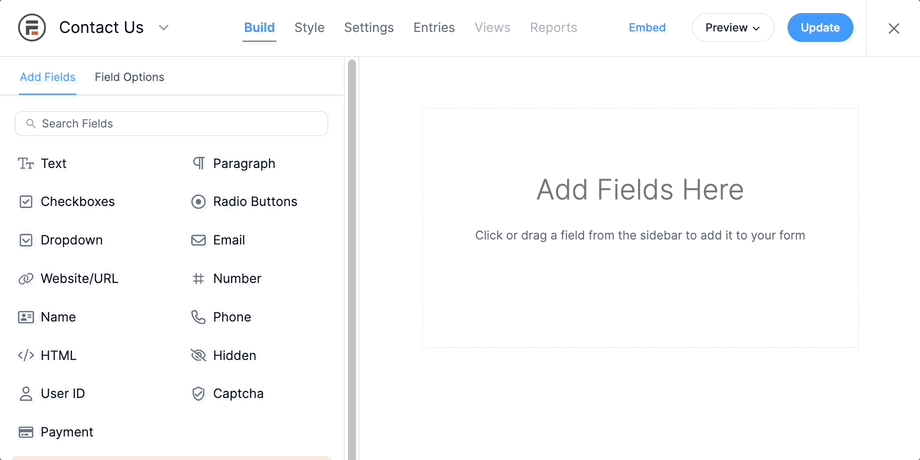 Think of each field as one of your table cells. The data added in these cells will be saved in your WordPress database.
You can input data yourself using this form on the front-end or back-end of your WordPress site. Or you can publish it on the front-end and let your users do that too.
Already have all your data in a Google sheet or Excel file? Save it as an XML file or CSV file and you can upload it all at once!
After you have all your data in your WordPress database, it's time to unlock the power of the Formidable Views data tables generator.
Create tables and table apps with Formidable Views
With all your data easily accessible, it's time to use it. The power of Table Views allows you to easily make tables with columns and rows styled however you want them.
For a basic table, all it takes is checking a few boxes. The table generator will use each selected form field in a new column.
Once a table is created for you, go ahead and rename columns, drag and drop table columns, or added new ones. The content in each row can also be customized however you'd like.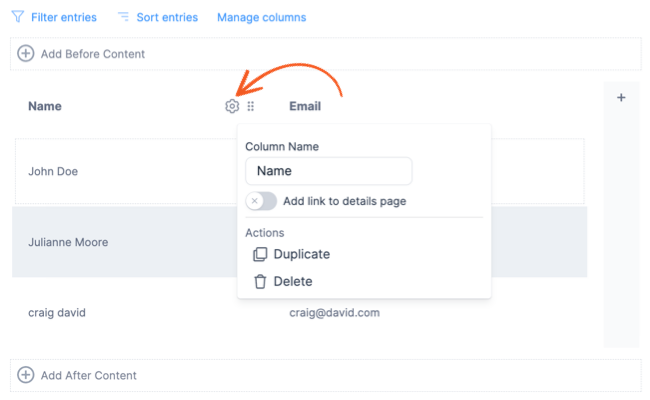 You can also choose a Row Style for the Table View. Right now you can choose between the table styling from the WordPress theme, zebra style, or a grid style. Here's an example of the zebra table style:
Advanced online table creator options for full control
Then, if you still need more control over the table HTML, just click to Switch to a Classic View. This gives you full access to all the table HTML, instead of just the content. The table app lets you create comparison tables, league tables, and more. We've even got table templates coming soon.
Here's an example of a sortable table made with the Classic Formidable WP table builder:
Table Views can help you manage, display, and search data on the front end of your site. Use your data in virtually limitless ways! You can even allow visitors to export the HTML tables to Excel or export to a CSV from the front-end.
Formidable isn't just another WordPress table plugin. It's a customer service oriented, all-in-one option. You'll be able to try Formidable risk free for 14 days. If you don't love it we'll give your money back 100%!
What are you waiting for? Get Formidable today and unlock the best low-code WordPress table plugin on the market today!
Read more about Formidable Views