Are your forms converting as well as you'd like? Are conversion rates dropping but you don't know why? In this post, we'll show you how to improve your form conversions with your WordPress Forms.
Improving form conversion rates is really important if you want to grow your business. If the rate of people completing your forms is dropping, something needs to change.
Whether this is a contact form, an order form, a survey form or something else entirely, form conversions should be your top priority. Even if the end of your form doesn't involve someone directly buying or signing up for a membership, if they abandon the form, there's a good chance they won't ever buy from you.
As a business, that's bad news for you, but you certainly wouldn't be alone. Form abandonment is incredibly common. Around 81% of people abandon an online form after starting it. Can you honestly say you haven't done the same at some point?
Understanding why you or anyone else abandons a form is important so you can take steps to solve the problems. In The Manifest's research, the top two reasons for form abandonment were security concerns (29%) and form length (27%).
Other reasons typically include forms that are too confusing, require too much effort to fill in or fail to maintain user motivation to complete.
In today's post, we'll be addressing the top reasons for form abandonment and what you can do to improve form conversion rates.
Protect your forms
As a website owner, form security is your responsibility and should be a priority. Clients need to be reassured that the information they give you is going to be protected, especially if they're handing over payment details.
In order to better protect your forms, you can take several steps. First of all, you'll need to ensure that your website is switched over to HTTPS. If you're still using HTTP, your website will have the 'Not Secure' warning next to your URL. This does not inspire confidence for anyone using your site and could very well be the reason for your dwindling conversions.
Read More: Is My WordPress Form Secure?
Keep forms short and simple
You may have complex business needs your forms need to fulfill, but the last thing you want is to over-complicate it. A good user experience will lead to higher conversions, so creating simple forms is always best.
The more complicated and long-winded forms are, the more likely people will drop out without completing them. Only ask the questions you must have answered, in order to get the vital information you need.
That means that forms need to be short and sweet and also easy to navigate. Only use multi-page forms if you really need to or can offer them something in return for their effort. When using more than one page, it also helps to allow users to save their progress and continue later.
Repeaters are a handy feature if you need users to submit a lot of information but want to keep the form short. With Repeaters, users can add in as many form fields as they need to, but the form is kept short for others who don't.
Learn more: How to Build a Multi-Step Form in WordPress (with Progress Bar!)
Tackle motivation and keep people interested
We're all busy, with 101 other things to do above filling in web forms.
How you tackle motivation is key to improving conversion rates. You need to give users a reason to fill in your form. What will they miss out on if they don't?
The most common way to tackle motivation is to offer something for free. For example, you could offer a free online course, ebook, or entry into a competition in exchange for giving an email address. This is a really common lead generation tool, and for good reason, it's incredibly effective in snapping users into action.
Another way to motivate people? Include social proof, so website visitors know they can trust you!
Making forms easier to fill in is also really important, so forms that fill in details automatically are always appreciated.
Use smart forms to drive results
No one wants to spend too much effort filling in online forms, and no doubt you'd rather not build and maintain them.
A clear way to make everything easier is to build smart forms that do some of the work for you.
What makes a smart form? We mean using things like conditional logic, automation and seamless integration with other apps.
Conditional logic can keep the form short and relevant to the client. For example, the form will only show fields relevant to a user based on their previous answers.

Automation can save you a lot of time, whether it's copying form entries to a spreadsheet or sending out confirmation emails or SMS messages after a form is submitted.
Cascading lookup fields is another feature that uses automation. It allows forms to pull over data from other forms to automatically populate fields, saving users time. In the example below, you'll see the Model field only shows Models relating to the Make already chosen. This data is pulled from another form so that users don't have to scroll through irrelevant models.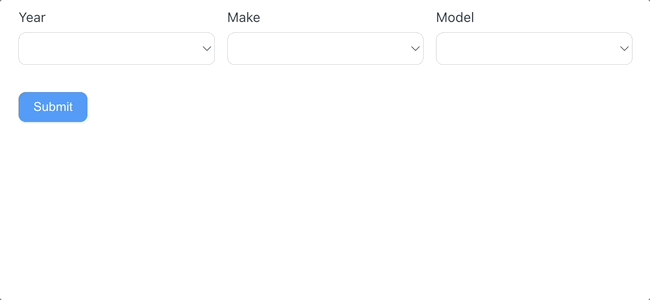 Integrating Formidable Forms with Zapier also gives you a whole host of automation possibilities to make using multiple apps together much simpler.
Improve visibility and visuals to increase form conversions
You could have the best forms in the world, but if no one can find them, it'll all be for nothing. This means that where you place your forms can be just as important as what the forms contain.
And finding a place to put your forms has never been easier than with Formidable's User Flow feature. With this feature, your marketing goals are made easy. See what pages your visitors were on, how long, and more in one report.
You can put your forms on contact pages, sidebars, footers, pop-ups, and links in direct emails. Below you'll see an example of a basic contact form added to a website sidebar.
Making sure your forms look good or have something eye-catching in them can also help. For example, you could work on great form style, including images or embedding a Google map. These can all draw the eye as well as provide important information at the same time.
Prominent call to action or radio buttons or well-designed landing pages with forms are also worth considering to get higher converting website forms.
Track your form performance
Once you've put all the hard work in, it's time to track whether it's all working. Tracking your form analytics and tracking leads are really important to see what's working and what could be improved.
Read More: A/B Split Test Forms in Formidable
We hope these tips and tutorials help you improve form conversions. Putting these strategies into place can really transform your WordPress website and get more people hitting the 'Submit' button.
If you're not using Formidable Forms yet, take a look at our full list of awesome form builder features.