Want to create a quiz in WordPress without having to code? We're showing you a fast, easy, and affordable option to get your quiz online in no time!
Approximate read time: 5.5 minutes
If you're looking for a way to create a quiz on WordPress without coding, you've come to the right place!
Today, we'll show you how you can use a drag and drop form builder to create cool interactive quizzes that'll get your site going viral!
Why make a quiz in WordPress?
Online quizzes are hugely popular. Not only are they great for increasing engagement on your website (which we all know Google loves!), but they're also a proven way to turn more visitors into subscribers or customers.
Some studies have shown you can double conversion rates by adding a quiz to your website. And that's a big payoff for pretty minimal effort.
So it's no wonder we see fun online quizzes and polls everywhere: BuzzFeed, Facebook, Twitter, and even a lot of eCommerce sites selling skincare, supplements, hair products, and the like.
There's really no limit to their uses!
A helpful or entertaining quiz can help you:
Build your mailing list
Improve your email marketing strategy
Get market research insights on your visitors
Increase brand awareness
Grow your social media following thanks to people sharing quiz results
Most people think these quiz types are only for finding what princess you are or to test trivia knowledge.
But they go way beyond that. You can create spelling tests, outcome quizzes, and online exams and generate leads at the same time.
👉 Looking for a cost-free way to create quizzes? Discover the 11 Best Free WordPress Quiz Plugins.
Alright, it's clear quizzes offer a lot of advantages. So, let's get one on your website! And the easiest way is with a quiz maker WordPress plugin.
What's the best quiz plugin for WordPress?
We've tested the best WordPress quiz plugins on the market, and Formidable Forms beats them all.
Of course, we may be a bit biased, but you don't have to take our word for it...
Formidable offers loads more features than other online quiz plugins like Quiz and Survey Master (QSM) or WPForms Quiz Builder, including:
Drag-and-drop quiz builder
Customizable results page
Unlimited quizzes
Unlimited responses
Plus, it's user-friendly, offers tons of templates (trivia quiz, viral quiz, personality quiz builder, and more), and comes with stellar customer support.
And unlike third-party platforms such as Typeform, Jotform, or Google Forms, Formidable Forms was built for WordPress.
But enough bragging! Let's get building!
How to add a quiz in WordPress
You can also follow along with these step-by-step instructions for How To Make a Quiz in WordPress.
Install and activate Formidable Forms
Create a WordPress quiz form
Add a quiz landing page & set up scoring
Publish your quiz on WordPress
Step 1: Install and activate Formidable Forms
To get started, pick up a Formidable Forms Pro plan, then install and activate the plugin on your WordPress website.
Next, select the Formidable plugin → Add-Ons. Use the search bar or scroll down to find the Quiz Maker. Click the button to Install, then Activate it.
Step 2: Create a WordPress quiz form
From the WordPress dashboard, select Formidable → Forms. Click the blue + Add New button to create a new quiz or form.
Choose from our ready-made WordPress quiz templates, or start from scratch.
Then, use the visual form builder to create your quiz.
Drag and drop form fields from right to left to create different quiz question types: multiple-choice questions, images as radio buttons, email address, etc.
When you're done adding quiz questions and customizing your form fields, click Update to save your changes.
Great, now let's get your website to grade your quizzes for you!
Step 3: Create a quiz landing page & set up quiz scoring
Once you've finished your quiz form, head to the Settings tab at the top of the screen.
If you'd like to create a quiz landing page in WordPress, select the Form Landing Page section and turn on the Generate form landing page setting.
Note: you'll need to have the Landing Pages add-on installed to use this feature.
Super simple, right? Now, let's set up your quiz scoring.
Select the Actions & Notifications tab, then choose either a Scored Quiz or an Outcome Quiz.
Aren't sure which is right for you? Learn about the differences between scored and outcome quizzes.
Scored quiz
If you're creating a scored quiz in WordPress, say for a geography exam or an Are You a True Swiftie quiz, you can click the Customize Quiz Scoring button to select the correct answer for each question.
You can then choose if questions should be weighted and whether to deduct points for wrong answers.
You can also randomize questions and answers in just one click.
Be sure to hit Update again to save.
Outcome quiz
If you're creating a product finder or something like a Which Hogwarts House Are You quiz, you'll want to select the Quiz Outcome action.
This lets you set up multiple different outcomes based on conditional logic.
And you can add images, videos, text, links, or buttons to customize each outcome page too.
Just click Update when you're finished.
Step 4: Add the quiz to a WordPress page or post
All that's left is to share the quiz on your site!
Open the post or page on which you want to display your quiz, and then click the + icon in the WordPress text editor to add a new block.
Select the Formidable Forms block, and choose your quiz form from the dropdown menu.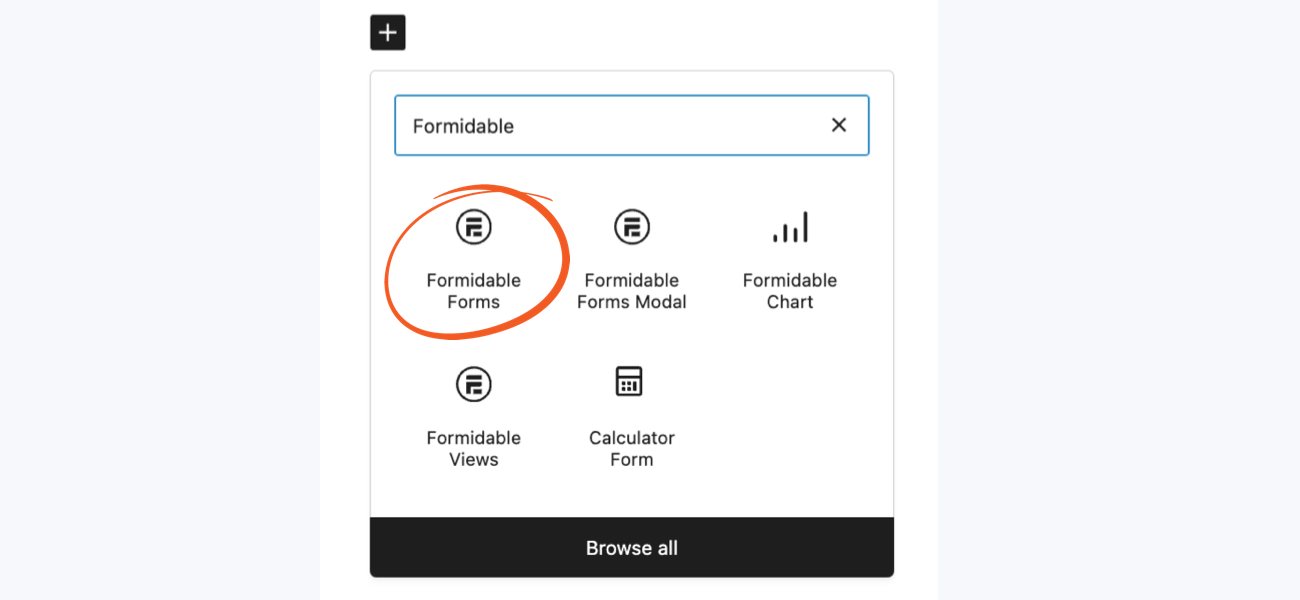 Publish or Update the page or post, and there you have it! You now have a cool interactive quiz on your WordPress website. Way to go!
Create a quiz in WordPress now
Ready to add a quiz to your WordPress website? Grab the best online quiz plugin and start creating your quiz now!
So, what kind of quizzes will you make? Let us know in the comments below, and don't forget to follow us on Twitter, Facebook, and YouTube for even more WordPress tutorials and tips.
Read more from the Formidable blog
Did you know Formidable Forms is the most advanced WordPress form plugin available today? Try the free version, or go for the full-featured form maker to create quizzes, calculators, and more!