Looking for a PayPal payment gateway WordPress plugin? Collecting payments & accepting credit cards is easy with the right tools.

PayPal is one of the most popular tools to accept payments online. They have a suite of tools and buttons available to use too. But if you are looking for a WordPress PayPal plugin, you probably need something a bit more powerful... right?
Here's the problem: most WordPress PayPal plugins only do one thing: connect your WordPress site to your PayPal account. While that may solve one problem, there are many more considerations.
If you simply want to add PayPal buy now buttons, or add to cart buttons, then you can do so by the buttons that PayPal itself provides to its users.
They work great, but there are some limitations:
Tons of PayPal branding (which could hurt how your brand appears in the eyes of consumers).
No integrations (you won't be able to connect your PayPal payments to your email marketing platform, for example).
No custom checkout page (you'll be taken to the PayPal checkout page until the payment is processed).
Install this plugin: Formidable Forms!
Behold Formidable Forms. We've supported PayPal payments with our add-on for 10+ years! With our WordPress form builder and our PayPal add-on, you can create anything from a simple PayPal shopping cart to a complex eCommerce solution.
While you could use a system like PayPal express checkout, that won't help you with any of the above. PayPal pro accounts only streamline what happens after a transaction occurs. But as you may know, the most important stuff takes place before the purchase!
That's what sets Formidable apart. It includes all kinds of add-ons that go beyond credit card payments. For example, if you already use WooCommerce, Formidable can adapt to your website our WooCommerce form builder integration.
But there are so many more features that can really improve your site. Whether you want to collect donations or create an eCommerce empire, Formidable Forms can help you get there.
Features: WordPress PayPal Plugin by Formidable
Formidable is more than a WordPress PayPal credit card plugin. Let's check out some of the features that make our plugin perfect for PayPal:
Collect payments and send them directly to your PayPal account
You can collect one-time payments, donations, and recurring donations or subscriptions.
Use conditional logic in your forms to trigger actions after payment (or within payment forms based on user actions).
Start quickly with our PayPal form templates.
Formidable has a calculator creator for forms with advanced or simple calculations.
Add trigger actions like email notifications after payments are received.
Use our eCommerce pricing fields so you can create your own custom payment forms.
With Formidable, you'll get everything above, plus a fully functional form building app. But the truth is... it's even better than that! Our form builder has a lot more power than most others.
Couldn't I just get the PayPal WooCommerce plugin?
Do you use WooCommerce? It might be tempting to use the PayPal plugin for WooCommerce then. And it could work for you, but like many WordPress PayPal plugins, it only does one thing: connect your WordPress site to your PayPal account.
Why settle for a WooCommerce plugin when you can do so much more? As you can see from the above list, Formidable can connect you to PayPal and overhaul every single form on your site. Not to mention connect all your different apps together.
Let's learn a bit more about the power of Formidable.
Formidable Forms: More than a WordPress PayPal plugin
As you can see, Formidable covers more than the average WordPress PayPal plugin does. Our plugin is a form builder with many integrations.
Essentially, that means your forms, PayPal, email marketing platform, CRM, and a bunch of other apps can all be connected! To put it simply, after a user fills out your PayPal order form, you can easily trigger other actions to happen. For example:
Send an email autoresponder to yourself, your team, and your customers (or whoever you want) after a form is submitted.
Place new customers on your MailChimp mailing list (or Constant Contact, MailPoet, AWeber, and others).
Send a paying customer to your Hubspot CRM.
Add customer data to Salesforce or ActiveCampaign.
Trigger a series of automated actions and emails after form submission (for example, sell tickets to an event, and send an event reminder email a week before the event).
Use Formidable's Views add-on to display form data anywhere on your site (create a user profile after a user signs up or makes a purchase with your PayPal forms).

And actually... there's a ton more, but we'd be writing a very huge post if we covered everything! Now let's take a quick look at how easy it is to get set up using PayPal and Formidable.
Getting started with PayPal, Formidable, and WordPress
All you need to get started are the following:
Formidable Forms Business Plan
The Formidable PayPal add-on
A PayPal payment form
1. Getting Formidable Forms Business
Getting started with Formidable is easy. Visit our pricing page, choose the Business plan and follow the instructions. Anybody can do this!
One thing to let you know about: we have a 14-day money-back guarantee. Feel free to try our Form builder and our PayPal add-on with no risk. And if you don't like it, no hard feelings - we'll give you 100% of your money back.
2. Settings up the PayPal add-on
Guess what... this part is easy too. ?
All you have to do is download our WordPress PayPal plugin, activate it, and configure the settings. You'll be ready to go in no time.
Learn more: How to add PayPal payment to WordPress sites
3. Creating your first PayPal payment form
Now you just need a PayPal-ready form. The first step: build one using our easy drag and drop form builder: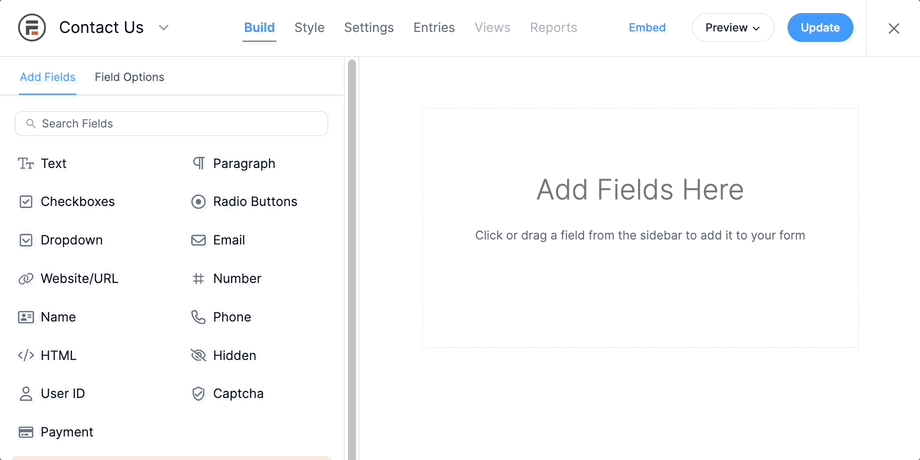 After that, just add a PayPal action in the form settings:
Learn more: How to accept PayPal payments in your WordPress forms
---
With easy-to-use features like this, you can start earning money and saving time all at once. Plus, if you ever get stuck, we have a dedicated support team and several help docs to assist. What are you waiting for? Get Formidable Forms today - or try our free WordPress plugin first!