Are you looking for a Calculated Fields Form alternative? CFF is a very popular calculator form builder for WordPress, but there could be a better option.
Do you need a tool capable of advanced calculations? If so, you may have heard of the Calculated Fields Form WordPress plugin.
The Calculated Fields Form plugin is one a popular tool for adding field calculations to your forms. It can even add contact forms and has multiple fields to build forms with.
But is it the only choice? Far from it! In today's article, we are going to take a side-by-side look at two WordPress calculator plugins that perform field calculations: Formidable Forms & Calculated Fields Form.
Before you look around for a Calculated Fields Form WordPress tutorial, stick with us here as we breakdown these two solid plugins.
Calculated Fields Form Alternative
Our support team at Formidable gets a number of presale questions each week. We are often asked about using Formidable as a Calculated Fields Form alternative.
If you've tried Calculated Fields Form and are looking for an alternative, Formidable might be it. Let's compare these two form builders side by side so you can decide for yourself.
What is Formidable Forms?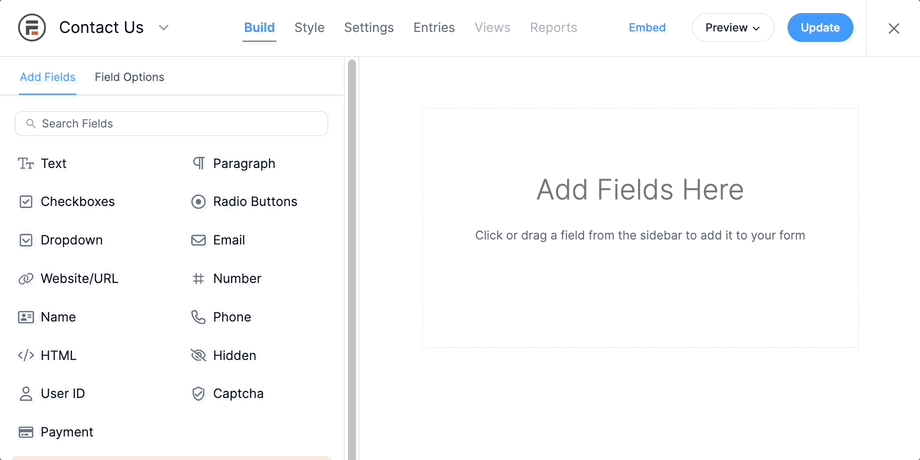 Formidable Forms is a WordPress forms plugin that can handle calculations and math easily. Do you run an eCommerce business? Create quotes for potential customers? Offer price comparisons on your website?
If you said yes to any of the above, you need a form calculation tool. Why do the math yourself?
With Formidable, you can build forms capable of powerful calculations. Take the hassle away from adding up costs or providing quotes manually. With our calculated fields, Formidable is essentially a fully customizable WordPress calculator plugin (with many pre-built calculator templates including an age/date calculator)!
Calculated fields represent around 20% of Formidable's functionality. That doesn't mean it has limitations. Formidable Forms can do more than making calculator forms. Formidable is a total form solution for your website.
What's more, Formidable integrates seamlessly with dozens of other apps and plugins. For example, Formidable can take your WooCommerce products and turn your WordPress site into a full-fledged online store.
What is Calculated Fields Form?
Calculated Fields Form (sometimes called CFF) is a visual form builder that focuses on calculated fields. It's not quite a drag and drop form builder like Formidable, but it does have a visual interface for creating forms.
It comes loaded with some CFF templates that really help users understand how calculated fields work. The plugin is quite popular and has some great features, along with a generous free version.
CFF has several supporting features as well. For example, Calculated Fields Form email notifications are built-in to trigger after form submission. Much like Formidable, clicking into the plugin menu on your WordPress dashboard reveals a list of forms.
One difference between these two plugins is that CFF is very limited in form features outside of calculated fields. Depending on what you are looking for, that's not always a disadvantage. It won't ever be an advantage, however.
What to look for in a calculated fields form plugin
When measuring the value of a calculated fields plugin, we want to take a look at the following:
Ease of use
Support
Price
Integrations and features
Ease of use
Is Calculated Fields Form easy to use?
On the surface, it can seem like CFF is an easy-to-use plugin. In some ways it is. But you don't need to dig much deeper than the official FAQ page to see how difficult it could be to use.
There are a number of examples, but the most obvious include the lack of a drag and drop form builder and the lack of a visual styler. If you want to apply different styles to your forms, you'll have to learn CSS... which is no small task to say the least.
Many people are searching for an answer to the following question: How can I edit the Calculated Fields Form submit button? Unless you know how to code, you can't! You are forced to edit the CSS layout manually in CFF.
Another common question: Where can I find Calculated Fields Form examples? This is another difficult question to answer. CFF does have built-in examples, but only 5 of them. Since CFF is more difficult to use than most other form builders, it's natural for people to want more examples.
Is Formidable Forms easy to use?
Formidable Forms, on the other hand, has such an easy-to-use interface that advanced users might think it was designed for beginners. But just because Formidable is so easy to use doesn't mean an expert won't benefit from it. Starting from the form building interface to the settings page, you'll find it easy everywhere.
Even the fastest developer is always looking for ways to save time. Formidable Forms can do everything Calculated Fields Form can do without extra coding required. That makes it much easier to use, right?
You don't have to take our word for it though. Download Formidable's free form builder and test it. Compare it to the Calculated Fields Form demo found on their homepage and decide for yourself!
Support
When it comes to online support, it usually boils down to these two things:
The size of the knowledge base
Access to a human support team
Formidable Forms support
If we consider the above, Formidable's knowledge base is huge - hundreds of articles strong. The Formidable Forms help docs are detailed and updated regularly. All that is great, but what about access to support staff?
Formidable's support team is English speaking and second to none. They operate at an almost 100% rate of satisfaction. The combination of an easy-to-use plugin, a sizable knowledge base, and a winning support team is hard to beat.
With Formidable Forms, users get unlimited access to support as long as they are a customer. Although to be fair, Formidable is priced based on a yearly subscription.
Calculated Fields Form support
A lot of people are searching for Calculated Fields Form tutorials. When one looks through their documentation it's easy to see why. Their documentation reads more like a glossary of terms. After searching for answers there, you'd want a step-by-step tutorial!
Sadly, those looking for Calculated Fields Form tutorials won't find them in any meaningful capacity. A quick glance at the CFF website reveals a few articles written for developers, by developers.
CFF only offers 60 days of support, even with their most expensive package. That means you had better ask all your questions within 60 days or you are in trouble. This is especially true because the Calculated Fields Form documentation is so thin.
Pricing
Formidable Forms pricing
Formidable Forms supports multiple field types. It has 13 form fields in its free WordPress plugin. Its premium plans unlock 25 more fields in total, including its pricing fields and calculated fields.
Besides form fields, Formidable has dozens upon dozens of field options and add-ons available for premium users. That's the issue with Formidable though. The free version does not have access to calculators.
This does make sense though. There are limits to what you can do with calculators if you don't have any integrations. For example, one of the main uses of calculators is for eCommerce. The free version of Formidable has no payment gateways built-in.
So essentially, if you want meaningful calculators on your site, you would need to get Formidable's Basic plan. It costs more than CFF's basic plan, but it is much more powerful.
Calculated Fields Form Pricing
In the CFF plugin, there are about 23 fields. Although, many of those fields are doubles (e.g. currency field and number field), so the real number is closer to 15. The thing is that Calculated Fields Form is focused on doing one thing: creating calculators that calculate submitted data.
And there's nothing wrong with that! Check out Calculated Fields Form Pro (professional) before doing anything else. If it solves your problem then you should go with it.
But in reality, the only thing that CFF professional has that Formidable's Basic plan lacks is the PayPal payment gateway. Formidable Basic has a lot that CFF Pro doesn't however.
So if all you need is a PayPal gateway, and you don't need much support, Calculated Fields Form could work well for you. Can it compete with Formidable on value? That depends. If you only need calculated fields, then it beats Formidable.
The reason is that the free version of CFF allows for calculation, but the free version of Formidable does not. Certainly, the free version of Formidable offers more than CFF, but we are comparing apples to apples.
Integrations and features
Although Formidable has dozens more features than CFF, let's remember we are comparing calculator features. So while Formidable has add-ons that allow you to take your form data to new levels, we want to keep the comparison fair.
Both plugins can work in tandem with eCommerce platforms such as WooCommerce. Allowing users to create a seamless shopping experience on their eCommerce website. Google Analytics is another platform that both play well with.
Both can use form calculations with payment processors such as PayPal or Stripe. This removes any hassle of collecting payment by having everything in one place. No more missed payments, delays, or inaccurate transactions to worry about.
For payments, eCommerce, and calculation add-ons, both plugins are similar enough.
Formidable Forms vs Calculated Fields Form: Which one wins?
If you read the previous section, you'd see that Formidable won in more categories. Is that fair? Considering that the only features compared were calculator-based, then yes - it was fair.
We try to be humble. It's just that we have a ton of customers who have tried CFF and they all say the same thing: Formidable is so easy to use!
Formidable can't claim to be less expensive than CFF, but it can claim to be much better in every way. We would only recommend Calculated Fields Form to developers who know exactly what they are getting when investing in the plugin.
Formidable has more advanced field settings and so many more features built-in. For example, if you wanted to perform conditional logic in CFF, you'd need to code that in yourself. Yikes!
Why choose Calculated Fields Form?
Essentially, Calculated Fields Form is a good choice if you know exactly what add-on features you need. For example, if you need WooCommerce or SalesForce integration, CFF will be cheaper.
However, as we've discussed here, Calculated Fields Form is not a complete form-building solution. It lacks many features found commonly in virtually all WordPress form builders.
But if you are calculating prices using your forms, it could work well.
To be totally fair, Formidable Forms is even more developer-friendly, but has removed the need for additional development in many areas. The most obvious example: coding is required to install add-ons in Calculated Fields Form.
Having said all that, the price ends up being a huge advantage for Calculated Fields Form. If you know what you are doing as a developer, buying the platinum package entitles you to unlimited use of the plugin on as many websites as you want. Factoring in the hours of development required to get a solution could surely change matters though.
Formidable Forms vs Calculated Fields Forms: Final Verdict
After a very detailed analysis, the answer turns out to be quite simple.
You should use Calculated Fields Form if:
You have extra time to spend on development and;
Have no need for support
With Formidable, there are no limits when it comes to calculated fields:
Apply discounts
Compare prices
Combine text inputs into one field
Provide separate value calculations
Utilize OnClick events
Make a custom cost calculator (with single or multiple goods)
Use calculated fields to set up conditional logic
Collect payments by linking with Stripe or PayPal (and many other payment gateways)
Calculate complex math instantly and without delay
Automatically calculate fields (e.g. calculating the user's age based on birthdate)
Calculate values from hidden fields, text fields, number fields, or other input fields
Easily insert calculated field forms into Elementor
We hope this article has helped you learn more about the Calculated Fields Form alternative, Formidable Forms. Stay tuned to the Formidable blog for more WordPress tips & tricks! Bye for now.
Read more of our calculator blog posts
---
Form calculations are part of the core Formidable Forms premium plugins. There's no need to use a third-party app. Formidable Forms can handle all your calculations with ease. Sign up today to get started with powerful form calculations.