Donation pages lie at the heart of the online giving experience. Learn how to make a donation page to get started.
Think about it: Online giving grew by 12.1% over the last year and accounted for 23% of the funds raised. Also, about 51% of donors subscribe to recurring giving programs, with most donating monthly. The ease of recurring giving has made it easy for donors to give regularly, without even thinking about it.
An effective donation page helps to connect with potential donors, run successful fundraising campaigns, and collect recurring donations. When you build your own in WordPress, you don't lose a cut to the big donation websites like GoFundMe.
So let's see how to add a high-performing donation page to your WordPress website and improve the results of your online fundraising campaigns.
?  Read more: The Best WordPress Donation Plugins
Step 1: Create a donation page
Once you have a WordPress donation plugin installed, you can easily create a good landing page. Using the WordPress editor as a page builder, design a donation page for collecting online donations.
For design and layout inspiration, check out the donation pages from the most successful charity organizations. For example, you could loosely base your layout on the simple design WHO uses for one of its fundraising campaigns.
If you need more options and faster donation pages, download a WordPress landing page builder plugin like SeedProd. It comes with several templates that can be used for quick and easy donation pages. Check out some beautiful SeedProd landing page examples for more ideas.
Ok, so with your donation page ready, it's time to create a donation form to plug into it.
Step 2: Build a donation form
Your donation page will collect both the donor details and their donations! The overall donating experience will make a big difference on the amount of donations collected.
For instance, a form that supports multiple donation processing options is both more useful and user-friendly. Why? Because donors who prefer to donate online have their own favorite payment methods ranging from credit cards to PayPal.
To set up a donation form, we'll use Formidable Forms. Formidable is the most advanced WordPress form plugin — with over 300,000 active installs.
Create a donation from from a template
Once you've activated Formidable Forms, check out the nonprofit templates. For this donation page tutorial, let's go with the pre-built donation form template that is already set up to collect Stripe credit card payments.
Click the Plus sign to open a dialog box to set the form name. Let's call this form our "Main Donation Page Form."
Click the Create button to make the donation form and open it in the form builder for customizing.
Here you can drag and drop more fields into the form if you'd like.
To ensure that online donors can safely enter their credit card details, it's best to use a payment processor like Stripe or PayPal. We'll use Stripe for this example.
Either add or turn on the Collect a Payment option to set the form to collect payments. Some donation form templates, like this one, have the payment options already built in.
Using the Formidable → Global Settings, you can easily connect a payment processor with the forms.
On the front-end, here's what our form looks like:
Step 3: Add the donate form to your donation page
Adding the donation form to the page is easy. If you're using the WordPress editor, just add a Formidable block in the WordPress editor. You can also copy the form shortcode to add it on the page.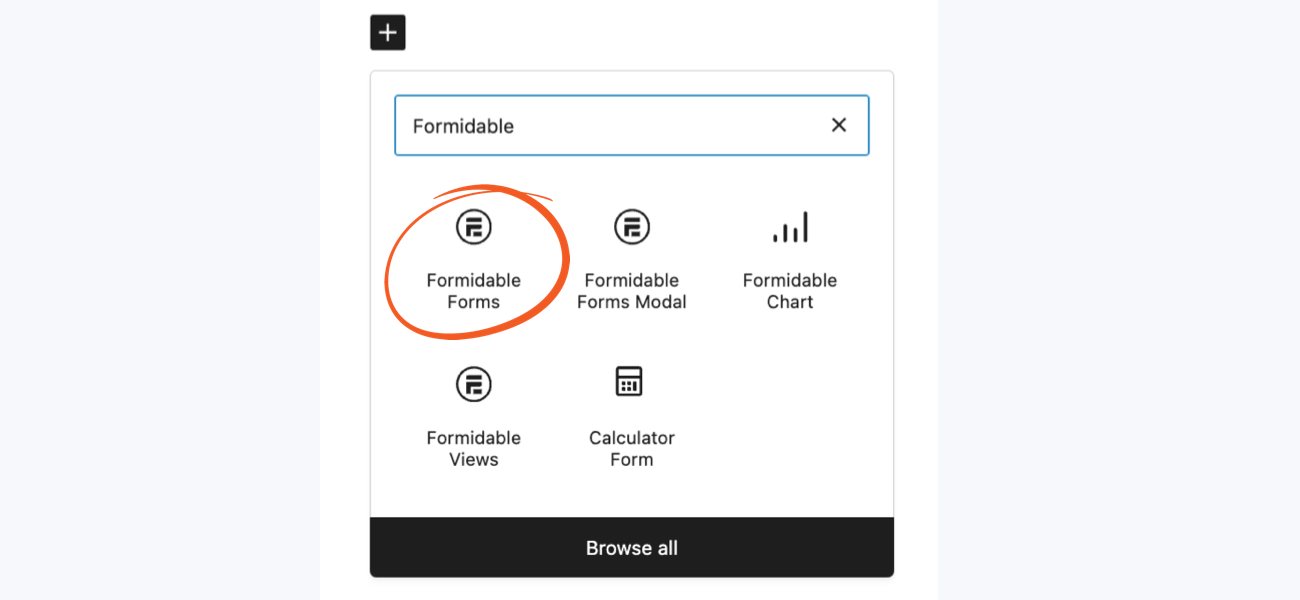 If you're using SeedProd, take a look at our instructions to add the form to the landing page.
With that, your donation page is ready with a form to accept donations.
Formidable Forms comes with a bunch of integrations to help you make the most of your form submissions. Our MailChimp integration, for example, lets you add the donor emails to specific lists in your email marketing account so that you can communicate via email. So set up all the integrations you need.
Why is Formidable Forms an ideal donation form plugin?
Formidable Forms doesn't just help you create donation pages on your nonprofit website, but also offers a full suite of tools to make your form-based work enjoyable and effortless.
This can be anything from volunteer or sponsor application forms, to registration forms for charity events. Formidable Forms is an all-in-one form solution for nonprofits.
Also, Formidable Forms doubles up as a user registration solution. So your registered users' details can auto-populate forms for logged-in users to make them even faster to fill out.
Wrapping up
Good donation pages mean better online fundraising. With the steps listed above, you'll be all set to create winning, branded donation pages. So go ahead and make a donation page for your next campaign on your own WordPress donation website.
Read more articles about donation forms
Build a donation page now. Sign up for our Business or Elite plan at a discounted rate and try our donation page solution risk-free with our 14-day money-back guarantee.