Want to know how to create an online application form on a WordPress site? With the right WordPress forms plugin, your audience can apply online for anything!
So you want to create an online application to put on a WordPress page or post? Of course! Even before social distancing was a thing, application forms have been moving online at an extremely high rate.
Today we'll show you how to create an online application form in this step-by-step guide. If you are creating any kind of online application form, this will work for you. In fact, it's something we've written about before too:
In this example, we'll take a closer look at online application forms in general. Truly any kind of application form can be created using this method!
Before we show you how to put together your online application form, we want to show you the key features you'll need to work with.
Key online application form features
If we are going to build an online application form on your WordPress website, we'll need the right tools. In this case, all we'll need is a WordPress form builder. And what better choice than our very own Formidable Forms!
Just download the free version of Formidable from the WordPress.org plugin directory (or automatically from your WordPress dashboard). Many of the form building features we describe in this article are useable in our free WordPress plugin with no limitations!
Here are some of the features you can use to make the best online application forms possible for your WordPress site. And by the way, these features can be also be applied to contact forms, signup forms, or whatever forms you want!
Application form features
Form templates: Formidable Forms has 100+ form templates, including a whole bunch of application form templates! These range from job application templates to mortgage form templates.
File upload fields: Why settle for one of the WordPress file upload plugins when you could use a powerful form builder? File uploads in Formidable can accommodate a single file or multiple file upload.Ask your applicants to upload their resumes, sure. But how about a video or audio file explaining why they are the best applicant for a job? With Formidable, there are no limits.
Email notifications: What happens after a user submits the form on your website? With Formidable, you decide! An email notification that automatically displays data from form submissions would be a great start.Just configure the forms' notification settings and you are set. More on that later!
Multi-page forms: How much info do you need from applicants? If it's a lot, you should probably consider using a multi-page form on your WordPress site. It's a safe bet that the best applicants are probably very busy people.So, make your forms as digestible as possible by breaking them up into smaller bits! Your conversions will go through the roof.
Conditional logic: Is every applicant the same? Probably not! Then why show them all exactly the same form? Formidable Forms is comparable to a dedicated conditional logic WordPress plugin - and once again, that's just one of our features.
Form entry management: Formidable Forms allows you to easily search your form entries for the applications you want to view. Just use the search bar or sort them from the back-end of WordPress. That sure beats shuffling through a stack of paper forms!
5 steps to create an online application form in WordPress
Let's get right to it. Here are the steps needed to get your online application form up and running on your WordPress site:
Install and activate Formidable Forms
Create a new form
Add your application form fields
Configure your form settings
Publish your form on your WordPress site
Step 1: Install and activate Formidable Forms
If you haven't already, install Formidable Forms. Try to follow along with our free plugin or go big with one of our premium plans. By the way, we have a 14-day money-back guarantee. So you could take advantage of that, give this guide a try, and then decide to stay or go.
Whatever you decide, get Formidable installed in the backend of your WordPress site just like any other plugin. All good? Let's keep going!
Step 2: Create a new form
The next thing we'll do is create a new WordPress form.
To do this, stay in the back-end of your WordPress site and go to Formidable → Forms, then click Add New.

Click the Blank Form option to start the process of creating your form.

Then you'll be cued to name your form and add a description (if you want). After that, click the Create button and we're off to the races!
Step 3: Add your application form fields
Now let's add our application form fields to your newly created form. Doing so with Formidable is easy. Just use our drag and drop form builder. Drag, drop, done!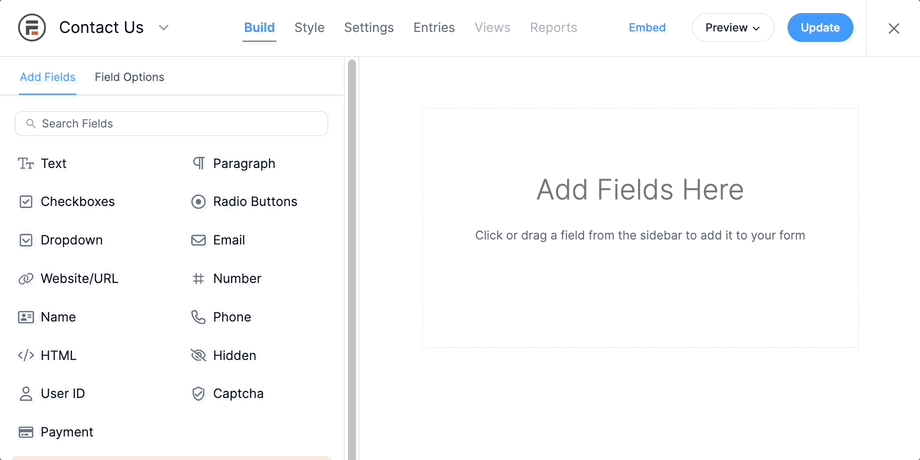 As for what fields to add to your online application form, the sky is the limit really. If you consider the advanced features we described above, there really are a lot of options.
At the very least, your application form will include some combination of the following field types:
Text fields
Paragraph text fields
Phone number field
Email address field
reCAPTCHA fields (for spam prevention)
Hidden fields (for tracking options)
File upload field
Website/URL field
How you put it all together is up to you. Start experimenting and when you are happy, click Update to save your form. If you want, you can preview your form by clicking the Preview button now too.
Step 4: Configure your form settings
There are a lot of things you can do with your form settings in Formidable. Let's focus on a few things that every online application builder should consider:
Email notifications
Form submission action
By configuring the above, you can allow your application form to redirect to a "thank you" page and send a confirmation email as soon as the form is submitted.
And by the way, you can also use one of our many integrations and add-ons (like MailChimp, for example). You can automatically build an email list of applicants and do so much more!
Step 5: Publish your form on your WordPress site
If you're happy with everything you've created, all that's left to do is publish your form on a page or post. This is as easy as copying your form shortcode and putting it wherever you want it to appear! There are a bunch of other methods too, all covered here in our documentation.
If your form doesn't look quite as you planned, no problem! Just tweak things using our visual form styler until it matches your site.
Wrapping up
There you have it, an online application form created in 5 easy steps. Is there anything else you'd love to do with your form? Why not get the conversation started in the comments below! And if you're already a Formidable premium member, our support team stands by to take your request.
Everything is made simple with the best job application plugin.
Thanks for stopping by the Formidable Forms blog! For more WordPress tips & tricks, stay tuned to us. For now, cheers and good day!
Read more about WordPress forms
---
What are you waiting for? Give Formidable Forms a try today!