Want multilingual forms on your WordPress site? Here's how to easily translate WordPress forms with a form builder & a translation plugin.

Building a multilingual WordPress site? That's great! And if you're reading this post, you must know already: you need to translate your forms too.
Since online forms are the main way users interact with your site, your multilingual site won't be complete until it can handle automatic translations for those too.
Here's some good news: with the right WordPress plugins, this can be as easy as clicking a few boxes!
We'll use two tools to make this work:
Multi-language plugin for WordPress
WordPress form builder
Learn more: Why you need to translate your WordPress forms
Choosing your Multi-language plugin for WordPress
Picking the right multilingual forms for your WordPress website can be tough. There are a number of choices... so what's the best translation plugin? Our top choices are the WPML and Polylang plugins.
These are two serious translation plugins with several years in the game. We like them so much that we have developed dedicated integrations for both of them!
In this tutorial, we'll use WPML forms in our example. But you can get the same effect for WordPress forms in multiple languages with Polylang if you are already using that.
Choosing your WordPress multilingual form builder
There are actually quite a few solid choices when considering translation-ready WordPress form builders. Plugins like WPForms, Gravity Forms, Ninja Forms, and Contact Form 7 (CF7) all have the ability to translate forms when used together with a translation plugin.
Today we're going to show you the forms plugin that we think is the best out of all of them. No surprise, it's our own! We're talking about Formidable Forms.
Is this an open and shut case of shameless self-promotion? That depends! Are you looking for a plugin that can use WPML for full form translation? Then you'll need Formidable. It can translate every element of your forms you choose.
Field labels, the form fields themselves - everything! You'll be able to translate a single form or sidebar opt-in, or translate every complex form on your site. Formidable includes RTL (right-to-left) text support too.
Formidable Forms can help build a multilingual contact form for WordPress sites. But that's just the beginning. Using our built-in integrations, you'll be able to translate multi-step forms, custom MailChimp forms, and so much more.
We'll start by showing you how easy it is to translate a basic form. Let's get to it!
Step 1: Install and activate Formidable Forms
To gain access to our plugin and the WPML integration, visit our pricing page and select your plan. Follow the on-screen instructions and you'll have Formidable installed on your site in no time flat.
By the way, with a Formidable premium plan, you'll be getting access to a huge set of form-building features too. These include user registration, calculators, and several integrations for email platforms, CRM, and more.
Cold feet? Formidable comes with a 14-day money-back guarantee. So if you don't love it, we'll give you all your money back. Give it a try, won't you?
Step 2: Activate the WPML plugin and add-on
You'll need a few things from WPML to get started:
After you've got those installed, go to your WordPress admin, then Formidable → Add-Ons, and click the Install button for the Multilingual add-on.
Step 3: Create a new multilingual form
Now let's create a form. It could be any form you want! For now, we just want to show you how to enable translation. To get started go to Formidable → Forms and click Add New.
Give your form a name, then use our drag and drop form builder to add fields like this: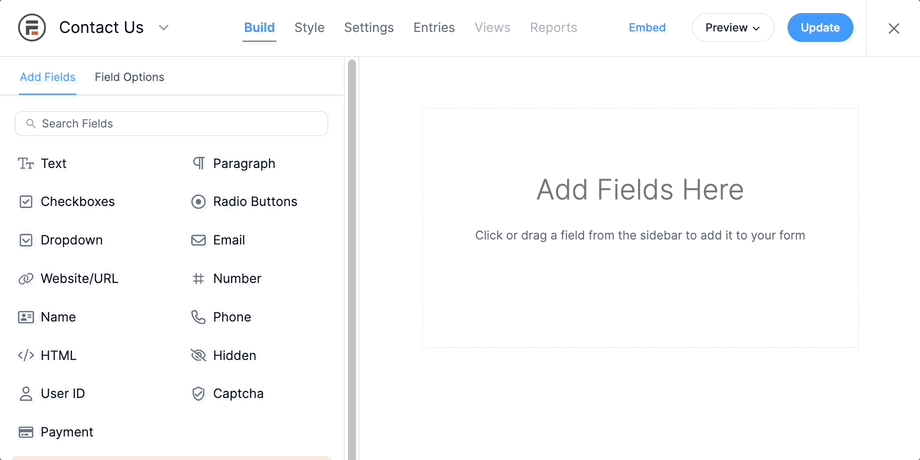 Step 4: Configure form translation settings
Time for the magic! Click on Settings and click the Translate Form button.
Then, enter your translations like the example below:
After that, publish your form on a page. Set the primary language and use WPML to translate the page to any other selected languages you would like to use.
That's it! Now all you need to do is publish the form, which can be done using a shortcode or a Gutenberg block.
Wrapping up multilingual forms
We hope that was easy enough! With the right plugins, translating your multilingual WordPress forms can be child's play. For more WordPress tips, keep it locked to the Formidable blog. Until next time!
Read more about multilingual forms
---
Did you know Formidable has a free form builder too? Get started today with easy multilingual forms!