Ever wondered how you can build the best employee engagement survey? We'll show you how in just three steps!
Workers are often the heart of an organization. As such, many companies strive to understand their thoughts and feelings, especially early in their careers. However, knowing the best way to do this can be tricky.
Fortunately, the process can be simple for beginners and pros alike. By using Formidable Forms for your WordPress surveys plugin and following a few rules of thumb,  you can easily create a beautiful employee engagement survey.
In this article, we'll cover a few reasons you might want to send out an employee engagement survey. Then we'll take you through three steps to creating your very own. Let's get started!
What is employee engagement?
Simply put, employee engagement is an employee's emotional commitment to the company.
Employee engagement is a metric that measures how strong the bonds are between employees and their organizations. It's important because it can lead to increases in productivity, employee retention, customer satisfaction, and revenue growth.
Why give an employee engagement survey?
You might be creating this survey for a client, or putting it together for your own organization. Either way, it will help understand employee satisfaction and help measure employee engagement.
You communicate with your team members to better understand how they see themselves within the organization. As such, this can be an effective way to learn more about your company.
There are a few other reasons to consider this kind of form. For one thing, giving this survey at the beginning can be helpful for employee adjustment. If you understand what support they need, you can address it before it affects your bottom line.
Additionally, it can also send a positive message to your new hires. An early employee engagement survey can demonstrate that you care about how your workers will adjust. It can also show that you take their happiness seriously. This can be an asset when advertising on job board sites.
Finally, a new employee engagement survey can also be an asset if done for a particularly big company. You can ask questions that are meant to find problems early on.
Furthermore, if you add contact information to the form, employees will be able to reach out. As it's been included in the survey, they might also feel more confident that their questions will be answered.
How to create an employee engagement survey
Fortunately, creating one of these forms can also be easy. All you'll need for this walkthrough is a copy of our Formidable Forms plugin. Once that's installed and activated, feel free to get started!
Step 1: Pick the right employee engagement survey questions
When it comes to employee engagement surveys, the questions are arguably the most important part. The right questions can help your company evolve. However, asking the wrong ones might end up just wasting time without learning anything about the company culture or level of engagement.
We recommend starting with an objective for your employee engagement survey's questions.
For example, would you like these surveys to help to learn more about the hiring process? Alternatively, are you trying to gauge an employee's view of the company right when they start? Figure out the overall question you would like to answer, and write the questions around it.
Here are a few examples of good employee engagement surveys questions:
How do you feel about your job today?
Do you feel valued at your company?
Would you recommend this company to your friends?
Are you excited to get started with your work?
How challenging is your job?
In a typical week, how often do you feel stressed at work?
How satisfied are you with the opportunities for professional growth?
Are you inspired to meet your goals at work?
Are you often so involved in your work that the day goes by quickly?
Do you enjoy your work environment?
Step 2: Create an employee engagement survey
Once you've decided on your questions, you'll want to start by creating a survey form.
We've got a couple templates available, including an employee satisfaction survey template and an employee engagement survey template.
Or, if you'd like to create your own survey questions, go to the WordPress dashboard and to Formidable → Forms → Add New:

Give the survey a name. You can also give it a description. Then move on to the next screen: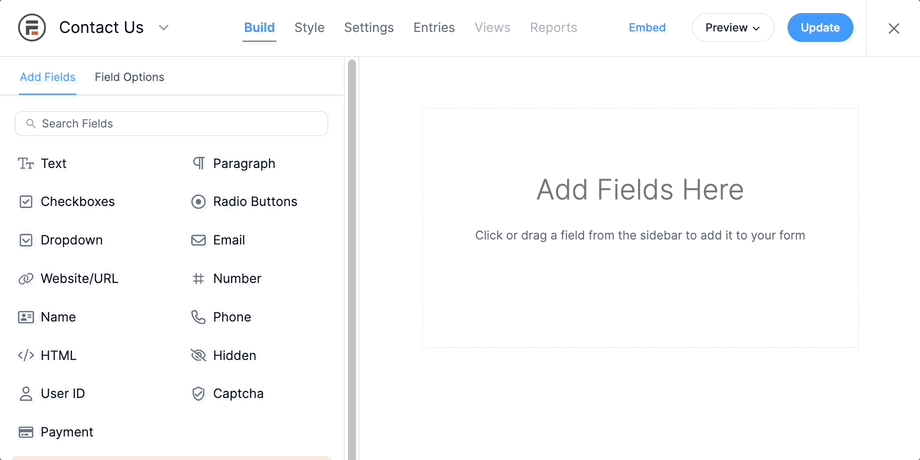 Now, it's time to add questions. Simply drag-and-drop the question types on the left-hand menu to the right-hand menu. You can then select each item and edit it as necessary.
We suggest that you switch up the question formatting. Your workers might find a form that only has open ended questions tedious. Using dynamic designs can help keep them engaged. You can even add an emoji rating scale.
Here's a sample simple employee engagement form. Our objective is to figure out what skills our workers are coming in with. We also tried to use different formatting:
When you're ready to move on, click on Update. This will save your work for the next step.
Now that you've added questions and style to your form, you can start collecting data. Formidable Forms lets you post your survey anywhere you can put a block or shortcode.
To find this item, go to the employee engagement survey form. Navigate to the Settings.  Then scroll down to find the shortcode:
The one on the left will show the form alone. However, the code on the right will also show its description and title.
After the survey has been posted, people will probably start to fill it out. You likely want to do something with all this valuable data.
The easiest way to get reports at a glance, is to go to the Formidable → Reports page. Here, you will find aggregate graphs and charts for each question in the form. You can also create custom graphs with our WordPress graph plugin.
If you want to export it, navigate over to Formidable → Import/Export:
You can select the form you want to analyze, and click on Export Selection. This can be especially helpful if you're also running exit surveys, because you can then compare results side by side. You might also want to consider using this feature to create visualizations of your data.
Bonus step: Customize the survey styling
Want to add custom styling? Generally, you want to keep it simple. This prevents your survey takers from getting distracted.
However, you might still want to add a little bit of design. An attractive style is a major reason many people prefer Formidable Forms as a Google Forms alternative.
Formidable helps you keep it appealing, yet professional. To get started, head over to Formidable → Styles:
There are a lot of different options here. So don't be afraid to take your time designing the perfect form for your brand. However, we'll go over some of the most important aspects here.
For example, let's say your form is kind of complicated. Therefore, some of the questions require an explanation. You might want to go to Field Description and adjust the colors so those explanations are easy to see.
Alternatively, your brand might have a color scheme that uses red. If this is the case, you might want to change the default color for a text field with an error. If you don't, your users might get frustrated if they can't see what field is preventing a submission.
Once your style is all set, click on Update.
Conclusion
New employee engagement surveys can be very helpful to a company. They can help leaders learn more about their workers and make employees feel appreciated. Fortunately, Formidable Forms also makes it easy to create this valuable resource.
In this article, we covered three steps to creating a beautiful employee engagement survey:
Carefully pick questions that serve your purposes.
Create a design that is simple yet professional.
Collect responses and export the useful data.
Formidable Forms is a flexible tool that can do a lot more than employee surveys. If you want to know more, see what else the best online form builder features can help you achieve!
More posts about survey forms