Want to limit your form entries to users over 18? With Formidable Forms, it just takes 3 easy steps to add age restrictions!
Adding forms to your website is a fantastic way to get useful feedback from visitors, collect user-generated content, or limit access to content.
But public forms also mean that anyone can submit responses.
Unfortunately, this can result in a ton of spam entries from bots ? or from users outside your target audience.
An age gate plugin is a great tool to ensure that you're getting form submissions from the right people.
While form spam protection has become standard in most modern form builders, age checks to prevent minors from submitting a form are less common.
Fortunately, it's easy to add age restrictions to your WordPress forms. Age checks are useful for surveys, event sign-ups, and job applications that need responses. By setting the minimum age to 18, you can weed out responses from anyone underage.
Why add age restrictions to forms?
When building online forms, especially for accepting user-generated content, you should consider adding age restrictions. If you take this route, only visitors over a certain age will be able to submit responses or add content to your site.
You probably want to reach a wide variety of online users, so you might hesitate to put any age limits on your forms. But there are a lot of benefits to restricting your submissions by age.
For instance, if you want to target an adult audience, it's important to only allow responses from people over 18. An age verification system also tells online viewers that you're specifically looking for adult entries ?.
Maybe you want to set up a job application form. Since you don't want minors to apply, it can help to set an age limit on submissions:
Or maybe your website isn't kid-friendly. To keep children from stumbling across any mature content, it's best to add an age checker ✅.
With a simple age verification WordPress plugin, you can help ensure that a younger audience can't view or purchase any content or products (WooCommerce or otherwise) intended for adults.
Here are a few more cases where an age-restricted form can be useful:
It's important to keep in mind that people can lie on your forms ?.
Even if you add age restrictions asking users to confirm their age, they could still say that they're older than they actually are.
However, age gates can still prevent many viewers under 18 from submitting responses.
How to add age restriction to your WordPress form
Now that you know about the benefits of creating age-restricted forms, let's learn how you can add 18+ warnings in WordPress.
How to add age restriction to a form in WordPress:
ℹ️ For this tutorial, you'll need to already have the Formidable Forms plugin on your WordPress website. Follow these steps to install and activate Formidable Forms.
You'll also need a the Formidable Forms premium plugin to unlock our advanced Datepicker feature ?️.
Don't have one of these plans yet? No problem! Just click the button below to pick up a license.
Once you have Formidable, you're good to go!
Step 1: Install the Formidable Forms Datepicker Options add-on
To start using the Datepicker Options add-on, open your WordPress dashboard. Then, go to Formidable → Add-Ons. Here, look for Datepicker Options:
Finally, click on the Activate button.
Step 2: Create a form with a date field
Next, you'll need to add a new form. To do this, navigate to Formidable → Forms → Add New:

Then, choose a pre-designed template. As we mentioned earlier, date restrictions can be effective on user registration forms, job applications, and surveys.
All of these options are included as Formidable Forms templates: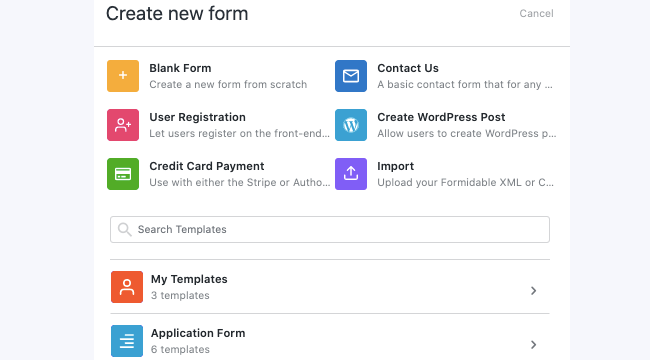 After you select a template, you can start customizing your online form. Although a pre-designed template will already have some basic fields, you can drag and drop additional fields from the list on the left.
To add an age restriction, find the Date field. This should be under Advanced Fields:
Drag and drop this field anywhere on your form.
Step 3: Set a maximum date
Next, click on the Date field to display the field customization options to get full control over the form field. Be sure to give the field a name so users know what information to enter.
We'd recommend setting the field label as "Birthday" or "Date of Birth".
To make sure users fill out this field, check the box next to Required. This will prevent anyone who leaves this field blank from submitting an entry.
By default, your form will automatically set up a Year Range. In the first value, you'll need to enter the start year. This will depend on what you want to set as the oldest birth year.
For example, you could write "-60" to include dates for the past 60 years. This will place your first date as 1962.
As for the End value, enter "-18". By doing this, you'll include dates up until 18 years ago. Here's how the new age range should look:
Then, scroll down to the Advanced section. Select the option to Set specific minimum and maximum dates.
For the Maximum field, choose Current Date. Then, in the text box that appears next to it, enter "-18 years". This will set the age restriction to users over 18 years old:
After this, click Update. Then, you can preview the form and test the Date of Birth field. If you enter a date within the last 17 years, the form will display an error message. You can change the age verify error message to whatever you like.
And if you really want to get fancy with your form, you can use this same date field to make a date calculator too to automatically calculate the days between two dates! ?
Once you've finished customizing your form and tested its settings, you can embed it anywhere on your website. You can even add your form to a Bootstrap modal popup to create an age verification popup on your blog posts.
Ready to add age restrictions to your forms?
When you're creating custom online forms, it's important to think about your target audience ?. If you want to make sure that only adults respond or that only, you can set a restriction based on a customized age range.
Plus, adding an age gate to a registration form is also a great way to make sure that logged in users are all of legal age.
Narrowing your results to users over 18 years old can help you receive more qualified entries.
Here's a quick recap of how to add age verification methods to a WordPress site:
Install and activate Formidable Forms and the Datepicker Options add-on.
Create a form with a date field.
Set a maximum date.
Surprisingly simple, right? So what are you waiting for? Set up an age gate on your site now to make sure you're only hearing from the visitors you want.
Get the Age Restriction Plugin for WordPress!
Did you know that Formidable Forms works as more than just a WordPress age verification plugin? It's also the most versatile WordPress form builder available today! If you're not already using it, get started with our free version or the full-featured pro version!
Find more great ways to use datepicker forms