Learn to create a job application form in WordPress with all the necessary customization. Now you can let potential employees apply online and keep it all organized.
Creating a job application form to upload a resume is simple. It just needs the standard contact form details and an option to upload a resume. With the Formidable Forms plugin, you can easily create a custom form with the information you need from potential employees.
This makes the employment application forms smarter on your WordPress website. It can help guide the resume to the correct department and help you choose the best person for the job.
Step 1: Create the job application form online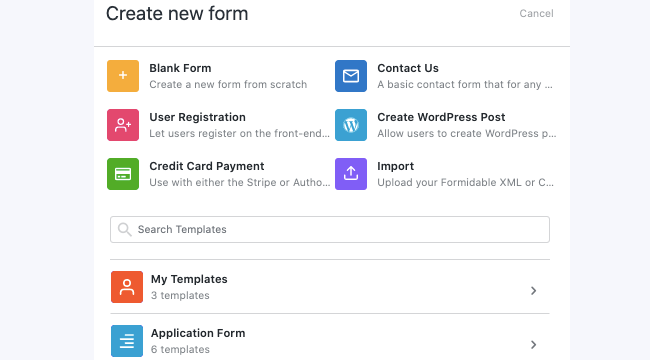 Looking for WordPress job board plugins? The Formidable Forms plugin isn't just a contact form plugin. With its huge features, Formidable Forms can also be your WordPress job application plugin and create a full job board.
The built-in form templates are the fastest way to start since we've already built a job application template for you. You can use it as it is or customize it to make it your own. Go to Formidable → Forms menu and click Add New. Select the Job Application template and click Create.
Your online employment application form will include fields for contact information, employment desired, and a file upload field for resume attachment.
Step 2: Customize your WordPress job application form
There are lots of ways this form can be customized for your specific needs. Anything you'd like to include from an application or a resume can be added to the job application form.
This includes employment history, skills, education, licenses, certifications, supervisors, reasons for leaving previous jobs, hobbies, desired salary, location, availability, who referred them, and much more.
It's best not to add too many fields and selections. Instead, add only those that can help you and your team filter the applications for your needs. The fewer fields, the more job applications you will get.
Let's look at a few examples.
Position desired
Add a position so applicants can easily identify the type of work they're interested in. This can be done in several ways. I've added a dropdown field with several key roles they can choose.
Locations
I've added locations with a Checkbox field. This allows job seekers to select multiple locations and shows if they're willing to relocate.
Revealing application fields with conditional logic
Add conditional logic to display extra fields or questions based on the user's selections. Click Add Conditional Logic in the Advanced section of the options for the field you want to add logic to.
For example, their education level could open questions regarding their major, but this will only display if they selected college. Another example would be if they have any special skills in a certain field they're applying for. Here's a look at a few examples.
In this example, we'll show a paragraph field only if they've selected to tell us about special skills or certifications.
I've only shown this paragraph field if the user selected 'Yes' in the Skills radio button.
I've added a new radio button to ask if they were referred by a current employee. If they select 'Yes', they'll see a field for their name and email. I've made their name required, but it's only required if they select 'Yes':
Here's an example that focuses on education. The four fields asking about the college degree only show if they select a 'College Degree' in the Education Level radio buttons. You can do this for each of the education options if you want with different types of questions and fields.
Step 3: Publish the application form for your job listing
Now, let's add the application form on a page. You can add a Formidable Forms block and choose the form from the list using the block editor.
The result is a clean form with many expandable sections depending on the user's selections. Here's the form to submit an application:
Step 4: View job applications
Each time the application form for your job opening is submitted, you'll get email notifications. The applications are also saved on the Formidable → Entries page in your WordPress dashboard. This page serves as your application manager too. Hover over the form's name and click View.
You can download the entry as a CSV file, which includes a link to the resume as an attachment.
View the application, download the resume, delete, print, etc.
Conclusion
This is just one way to create a simple employment application form in WordPress. There are lots of options to customize your form. Keep your forms clean and easy to follow, making finding the best person for the job easier.
Ready to get started? Look at more great form builder features that can help speed up the hiring process. Get a custom online job application form today.
Read more about making job application forms