Create a mortgage calculator for your WordPress site with Formidable Forms — it's easy enough for beginners and powerful enough for experienced developers. Here's how to create a mortgage calculator for your website.
Approximate read time: 6 minutes
Looking to jazz up your real estate site with a home loan calculator? Well, you're in luck because you don't need to hunt for a separate WordPress mortgage calculator plugin — you can whip up your very own mortgage payment calculator, display property listings, or create a contact form, all with a single form builder plugin.
Just install Formidable Forms and stop fighting with Excel templates and formulas!
In this article, we'll cover how a calculator can help your business and how to use this handy plugin to build a custom mortgage calculator for your website, whether you're a WordPress newbie or a seasoned developer.
So, let's dive in!
Why add a free mortgage calculator to your website?
Imagine someone is browsing your real estate site, dreaming about their future home. 🏡 They're wondering how much of a mortgage they can afford or what their monthly mortgage payments would be for a specific home loan type or loan amount. 🤔
And right there on your website, you can answer all their questions with a mortgage calculator! They can instantly estimate their monthly loan payments or amortization schedule without going to Google.
Congrats, your site's now a one-stop shop for all their real estate needs! 🥳
Plus, you can go further and add lead-generation features to your calculator. This lets you collect a name, phone number, and email address from anyone who uses your calculator form. Cool, right?
Create a mortgage payment calculator widget for WordPress
To create your very own real estate mortgage calculator on WordPress, you'll need the Formidable Forms Business plan or higher. This plan unlocks the interactive calculator builder, which lets you work magic with numbers based on user input.
Don't have a Business or Elite plan yet? Click below to get your license! 👇
If you haven't already, go ahead and install and activate Formidable Forms on your WordPress site.
You're now ready to get started! Today, we'll show you two different ways to add a mortgage calculator to WordPress:
The easiest way is to use a pre-made mortgage calculator template
How to create a mortgage calculator from scratch for more control over design and calculations
How to add a mortgage calculator to your website using a template
Step 1: Create a calculator form by picking a template
Once you've installed and activated Formidable on your site, head to Formidable → Forms → + Add New. Next, select "Calculator" from the template filter options.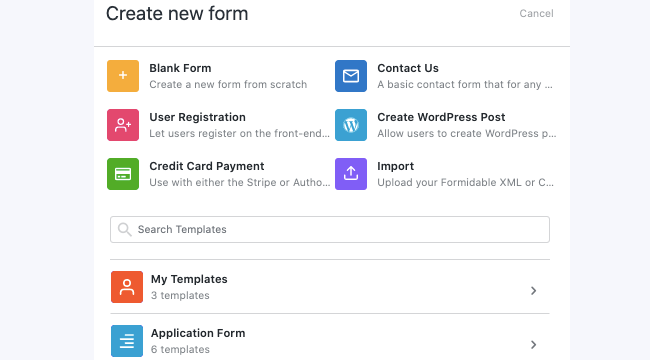 Here, you'll find several mortgage calculator templates, including:
Want to include your calculator as part of a home loan application? Formidable also has a separate Mortgage Application Form template you can use.
Step 2: Customize your calculator
After choosing your template, you'll be taken to the visual form builder, where you can tweak your calculator to your heart's content. Add, edit, or remove form fields as you please.
You can also modify the calculations to estimate property taxes, annual interest rate, monthly interest rate, total costs, and more. Once you're happy with your form, hit Update to save. 💾
Step 3: Publish your mortgage calculator
Finally, it's time to show off your snazzy calculator on the front end of your website! Head to the page or post where you want to publish your mortgage calculator and choose Edit.
Then, add the Formidable Forms block or shortcode within the page editor. Select your mortgage calculator from the dropdown menu, and hit Update or Publish to share your calculator on your site.
And voilà! 🪄 Your WordPress website has a fully functional real estate mortgage calculator.
How to create a mortgage calculator for your website from scratch
Want to make a fully customized mortgage calculator widget? To get started, open up Formidable and go to Forms → + Add New. Then, select Blank Form to create your form from the ground up.
Step 1: Add Number fields to your calculator
When the form builder opens, click to add three Number fields to your form.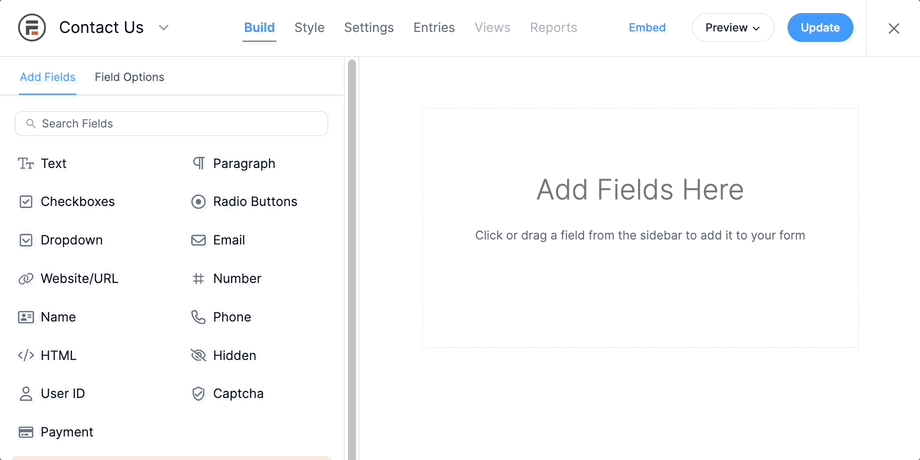 Now you can use these forms to collect user input for:
Mortgage amount
Interest rate
Loan term (make it super user-friendly with a slider field)
Be sure to set the number range for each field. For instance, you can cap the mortgage period at 30 years or add a radio button to select whether it's a variable or fixed-rate mortgage.
💡 Oh, and don't forget to set default values or placeholders to nudge users in the right direction!
Step 2: Create a total field
Next, add another Number field to display the user's monthly payment based on their input.
Go to the field's Advanced tab and click the calculator icon to activate the Calculation option next to Default Value. Now, input the calculator formula using the field IDs from your input fields.
For example, here's the formula for a simple mortgage calculator — just swap out the field IDs with the ones from your form:
[89] * ([90] / 1200) / (1 - (Math.pow(1/(1 + ([90] / 1200)), ([91]*12))))
Are you struggling to set up the equations on your own? Use this simple or advanced mortgage calculator template — all the work's done for you!
Step 3: Add extra fields to your calculator form
If you're feeling fancy, toss in some extra fields to gather more info from your users, like their names and email addresses. You can then set up integrations to automatically sync this data with your CRM or email marketing service. 🔄
Once your calculator form is good to go, click the blue Update button to save.
Step 4: Publish the calculator on your site
Now, you can pop your loan calculator on your chosen WordPress post or page. Just open the editor and insert the Formidable Forms block.
Pick your form from the dropdown menu, save the page, and you're done!
Eager to learn more about creating calculators? Don't miss our guide on how to create a calculator in WordPress.
Ready to create your mortgage calculator?
With Formidable Forms, you don't need any other plugin to make an awesome mortgage calculator for your website. 🔌
The easiest way is to use one of the pre-built loan calculator templates. But if you don't mind getting your hands dirty and want to customize your calculator further, you can build it from scratch, too.
And hey, it's not just WordPress mortgage calculators you can make — you've got the power to design all kinds of calculators, including price calculators and fitness calculators.
So, are you ready to make your own mortgage payment calculator? Grab Formidable Forms now.
Happy calculating!
Start Making Your Mortgage Calculator!
For more on online calculators, check us out on Facebook, Twitter, and YouTube.
Read more calculator posts
---
To get started on your first mortgage calculator form, get Formidable Forms now. Or, learn about the features that make Formidable the best WordPress form plugin for creating mortgage calculators.