Finding the best contact form for WordPress depends on your needs. Find out if a free contact form plugin will fit the bill.
A contact form is one of the most crucial components you need on your website. After all, it's the one element that directly connects your customers to your small business. Using online forms that work for your company can make or break your WordPress site's success.
While WordPress is hugely popular because of how easy it is to customize it, it's not possible to create custom forms designed with WordPress alone. Given how important contact forms are, it's no surprise that there are a ton of options to get around this limitation.
What to look for when choosing a WordPress contact form plugin
Finding the best contact form for WordPress depends on what your needs are. Looking for a basic contact form that collects a name, email address, and text? Then a free version of most plugins will do what you need.
If, however, you're looking for a plug-in that you can highly customize to your WordPress website's look and feel, integrate with other systems, or that offers the option for a file upload, you might want to look into premium contact form plugins.
Start by making a list of the must-have requirements for your form. What do you want to do with it? What information do you need to collect? How will you use the data you collect?
Thinking through these questions before you choose a plug-in will ensure you have all the powerful features you need (and prevent you from paying a premium price for the features you don't need).
Read on to find the 10 best contact forms plugins for WordPress out there.
Best WordPress contact form plugins
Price: Freemium plan, Paid plan starting at $79/year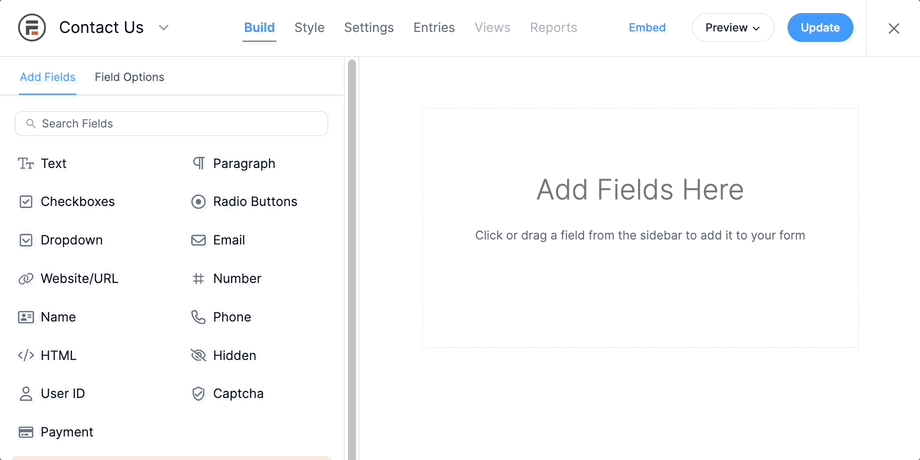 Not many contact form plugins can claim to be helpful to both total beginners and expert developers – Formidable Form is one of them. You can create highly customized forms for your WordPress site with the drag and drop column controls and customizable form HTML. You don't need to know how to code, though. Formidable Forms lets you easily create contact forms that match the look and feel of your site without any coding.
Another cool feature that sets it apart from similar plugins is Formidable Views. Views allow you to display data collected through a form on the back-end of your website. Think of it as a dashboard showing form answers from your site, which you can then use to create data-driven web applications like business or member directories.
Formidable Form's free plan covers the essential features you need. You can use its drag and drop WordPress form builder plugin to create a contact form and pre-built contact form templates or create custom forms from scratch.
The premium version can help you build more powerful and more extensive applications. The paid version offers more advanced types of forms and increased control over the look and feel of forms on your site. This includes advanced calculator forms, multi-page forms, WooCommerce order forms, and more.
Pros: It combines a high-level customization with extreme ease of use. You can easily build custom forms and integrate them into any website if you know HTML or CSS.
Cons: More advanced levels of customization require a little more learning beyond the beginner-friendly drag-and-drop.
The best thing about Formidable Forms: Both beginners and developers alike will find Formidable Forms' contact form plugin helpful. The easy drag-and-drop builder combined with the possibility to customize the HTML and build website applications makes it one of the complete options out there.
Price: Freemium plan, Paid plans start at $45/month
HubSpot is a hugely popular all-in-one growth platform that provides CRM, marketing, sales, and customer service products to help you grow your business. Its WordPress plugin is excellent for those looking for a bundle of free, easy to use sales and marketing tools like forms, email marketing, live chat, task management, contact management, analytics and more.
HubSpot is an excellent option if you're looking for a basic form builder with top marketing features.
Pros: The strength of HubSpot's WordPress plugin remains in its all-in-one growth marketing features. Its WordPress plugin contains a dynamic form builder that you can use to create most forms — including contact forms.
Cons: HubSpot's add-on has fewer customization options than other alternatives. However, if you're looking for a simple contact form, it should do the job.
The best thing about HubSpot WordPress Plugin: It offers an impressive array of sales, marketing, and CRM features built right into the WordPress backend. Use it to quickly engage and delight your website visitors and provide them with outstanding customer experiences.
​​Price: Freemium plan, Paid plans start at USD $79/year
WPForms is another excellent form builder plugin with a 5-star score on WordPress. The free version, WPForms Lite, is 100% free forever. It lets you build different types of WordPress forms quickly and easily using a drag and drop interface.
With the freemium version, you can, for example, make unlimited forms without writing any code, protect contact forms from spam using their built-in honeypot, get unlimited responses and receive responses by email. This should cover most of your needs if you're just getting started!
The paid version of WPForms comes with extra features, including over 100 form templates, a larger selection than most alternatives.
Pros: WPForms is super easy to use and comes with many templates, including contact form templates.
Cons: You need a paid version to access the form templates and to save form submissions.
The best thing about WPForms: The WPForms user interface opens out into a whole browser window, so you benefit from using all your screen to build your form. Even on a small monitor, everything is clear and easy to read.
Price: Free trial for 7 days. Paid plans start at USD $59/year
Gravity Forms is often ranked among the top WordPress contact form plugins. A few months ago, in May 2021, it launched its 2.5 version, which introduced some significant upgrades.
With a beautifully redesigned UI and a shift to accessible forms, its new version is packed with features. One of the most useful upgrades is the built-in intuitive drag-and-drop column control, which lets you use the form builder to create custom form layouts to fit your exact specifications without any code.
Pros: It also offers over 30 form fields, a large choice compared to other plugins.
Cons: There's no free version of Gravity Forms available, only a 7-day trial.
The best thing about Gravity Forms: Its vibrant community of third-party developers extending the power and reach of the plugin for even deeper integration with WordPress.
Price: Freemium plan, Paid plans start at USD $99
Ninja Forms takes pride in its "no-code" mindset. Thanks to a user-friendly drag and drop form builder in WordPress, it lets you design beautiful contact forms in minutes.
The core Ninja Forms WordPress contact form builder is free and includes the drag and drop form builder, a large selection of field types (such as dropdown and radio buttons), regular updates, and customizable form templates. As your needs grow, you can add other features like conditional logic.
The team at Ninja Forms is also currently running Caldera Forms. However, it has been retired and will no longer be supported.
Pros: Ninja Forms' users often mention its customer support as one of the best, going out of their way to help customers, even those in the free version.
Cons: You'll have to pay if you want to add advanced features to your contact form.
The best thing about Ninja Forms Plugin: It's designed with a "no-code" mindset so that you can create beautiful, complex forms like a pro without any coding skills required.
Paid plans start at USD $49/year
Elementor, a website builder platform for web professionals on WordPress, offers an integrated contact form builder. There's no free version of the form builder, though, as it's all part of Elementor's Pro package.
You can easily connect Elementor's forms to built-in integrations with platforms like MailChimp, Drip, ActiveCampaign, ConvertKit, HubSpot, GetResponse, MailerLite, MailPoet, or to many more integrations using Zapier. Elementor also lets you create dynamic forms with conditional logic.
Pros: The data you collect with your Elementor forms is automatically gathered and stored in your Elementor account. So if your website was created using Elementor, this comes in handy.
Cons: Elementor comes with 10 form fields, which can be restrictive if you're looking to collect less common data.
The best thing about Elementor Plugin: As part of Elementor website builder, you can use its great visual editor and drag and drop feature to create beautiful contact forms.
Price: Freemium plan, Paid plans start at USD $39/year
Launched in February 2021, JetFormBuilder is a recent addition to the landscape of form plugins for WordPress. Despite it being so new, JetFormBuilder has managed to get a fair number of downloads.
Unlike most alternatives, with various pricing plans plus a free version, JetFormBuilder has a simple pricing model, including just a free version and a Pro plan (which is priced at a fairly competitive $39/year for your first website). As you could expect, the Pro plan comes with extra features like CRM & Sales and advanced form options. Most features are, however, available for both the free and paid plan.
Pros: JetFormBuilder's Pro version comes with real-time Zoom support and text chats. Perfect if you need help on the spot!
Cons: If your contact form requires less common email marketing software like MailPoet or Moosend, you'll need to get the paid plan.
The best thing about JetFormBuilder: Its uncomplicated pricing model, which offers a very comprehensive free version.
Price: Free
Despite its unpretentious site, Contact Form 7 has been downloaded over 5 million times. Its popularity is due to it being one of the oldest form plugins and also being completely free.
Don't be fooled, though. Just because it's free, it doesn't mean it's not well taken care of. Contact Form 7 is updated regularly.
While Contact Form 7 is a super fast and simple way to add a (free) contact form to your website, it does have limited features. You can get around that by installing one of the numerous third-party add-ons available. You'll be able to create forms with file uploading, multi-step forms, and many other options. It also lets you customize each form as well as its email notifications using simple markup.
Pros: If you're looking for a no-frills, free-forever option, Contact Form 7 is one of the best options.
Cons: Contact Form 7's simplicity can be restrictive, so you might need to purchase an additional extension if you need more functionalities.
The best thing about Contact Form 7: There's a reason why Contact Form 7 has been downloaded over 5 million times – it's a simple, fast, and free way to create contact forms.
Price: Freemium. Paid plans start at USD $49/year.
Everest Forms is an excellent open-source plugin to help you quickly design beautiful contact forms on WordPress. It features drag and drop fields that make it super easy to create a form with other options – no coding needed.
You can easily create a contact form by choosing one of its pre-designed form templates. Simply import the form you need with a click, and you can quickly get started. Another handy feature is its dashboard, which allows you to collect all form submissions to review the entries in one place promptly.
Pros: Everest Forms plugin lets you create fully responsive WordPress contact forms with a highly user-friendly interface.
Cons: As it happens, you'll need to upgrade to the pro version to add some of its features and integrations.
The best thing about Everest Forms: The plugin is lightweight, fast, extendible, and 100% mobile responsive.
Price: Freemium. Paid plans start at USD $79/year
WeForms is an all-in-one form builder with a user-friendly and minimalist design. Claiming to be one of the most easy-to-use form builders for WordPress, it offers a clear interface. WeForms' plugin also comes with a large selection of field types; there are more than 33 to choose from when creating your WordPress forms.
Pros: Create your form on a single page, so you don't have multiple windows open.
Cons: Changing colors and appearance to your liking is not as straightforward as other similar alternatives.
The best thing about weForms: Its clean and minimalist interface makes it very intuitive and user-friendly.
Choose your WordPress contact form plugin
WordPress alone won't let you create a custom contact form for your site. But you can easily get around this limitation by adding a contact form plugin. A free form builder should do if you only need a form to collect your customer's basic information. If, however, you want a higher degree of customization or you need a unique ability, like connecting your form to your email marketing campaigns, you might need to go for a premium version.
Either way, make sure you take the time to figure out what your business needs are – and you'll surely find a great WordPress contact form plugin for your site.
Read more about contact forms