Want to create an Ajax multi-step form in WordPress? Do it the easy way! With a form-building plugin like this, it's done in a few clicks.
If you want to create an Ajax multi-step form for a WordPress site, ask yourself this: how much time do you have? If the answer is "not much", then you must be just like us!
We spend our time creating scalable solutions. A little while back, we realized this was the best way to use our time efficiently. And that's exactly why we built it all into our Ajax form plugin.
So yes — while you could learn to build a multi-page Ajax form from scratch, why would you? We've done it for you! Stick around and we'll show you a solution so simple that it's bound to be cost-effective for even the smallest projects.
Still here? Wonderful! Today we're going to show you how to create Ajax forms with multiple pages using our plugin, Formidable Forms. Let's dive in!
Why create an Ajax multi-step form?
Want to improve form abandonment? A WordPress multi-page form plugin can do that. In fact, some studies have shown that building a multi-step form can increase conversions by as much as 200%!
In general, it's best to keep forms simple. But sometimes, it's unavoidable — there's a lot of information to collect! A multi-step registration form or eCommerce form can really improve the user experience.
And of course, Ajax takes things to a whole new level. Whether you want to add a simple contact form or create a multi-step Ajax contact form, you'll probably want to use a WordPress form builder.
Ajax forms are all about one thing: the ability to submit the form without a page refresh. And like we hinted at earlier, using a plugin to do it could save you hours of development time.
Creating your Ajax multi-step form
Let's get to it.
There are plenty of great multi-step form WordPress plugins to choose from, but we've gone with the best one: Formidable Forms.
Here's our step-by-step guide to creating an Ajax-optimized multi-step form.
Step 1: Install and activate Formidable Forms
It doesn't matter if you're an individual webmaster or an experienced WordPress developer, Formidable offers something for everybody.
For starters, many people who use multistep forms want to improve their WooCommerce system. When you use Formidable, you get access to our WooCommerce form builder add-on. Using this, you can easily add multipurpose Ajax forms to your WooCommerce products, including multi-page forms.
If you are a developer keen on using Bootstrap, don't worry. We've built that into our Ajax form plugin too. Developers love Formidable because you can easily white label it for clients as well. It also saves heaps of coding time! Why reinvent the wheel?
To get started with multi-part forms, you'll need one of our premium plans. Have a look, it'll probably be cheaper than you'd think. Plus, all our plans come with a 100% money-back guarantee — no risk, no fuss.
Installing Formidable is ultra-fast. Get the plan of your choice and follow our install wizard. Once you've connected your site and got the validation message, you're good to go!
Step 2: Create your multi-step form
When it comes to multi-step forms, it's all about the page breaks. Let's begin by creating a form and then you can start to add form fields. Just use our drag and drop form builder: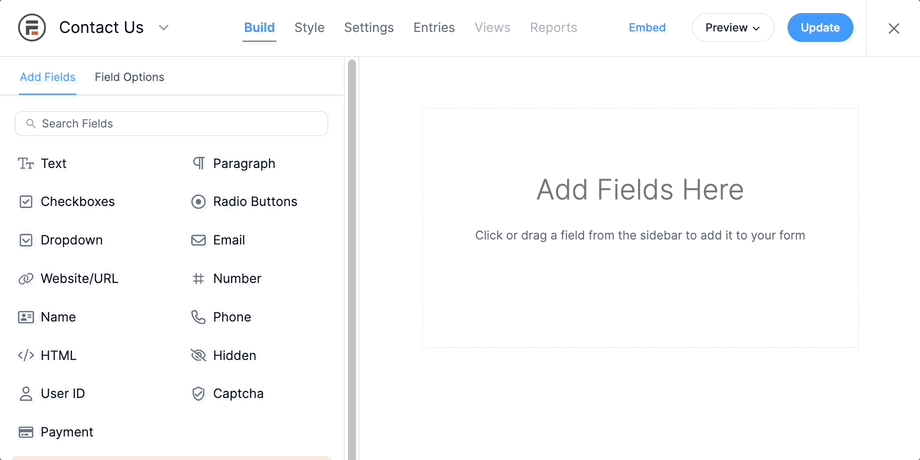 Spend as much time here as you want! Our intuitive editor doesn't require any CSS or HTML at all. Change your field labels, add some conditional logic — there's a lot you can do with our 30+ form fields and dozens of features!
For now, all we need to do is insert a few page breaks to give the form multiple pages. After you've done that, click the Update button in the top-right corner, and let's move to the next step.
Learn more: How to create a multi-step form in WordPress
Step 3: Configure Ajax form settings
Now it's time to configure your form for Ajax. Are you ready? Just head to your form settings and check the following options. That's it!
Now you can submit your form without refreshing the page. No more weird reloading issues, great!
Bonus: Validate your form in real time with Ajax
You can also set up your form the validate data in real time, like in the example below:
These features make your forms as user-friendly as possible. Your audience will love these details.
And why not do everything you can to reduce form abandonment while you're at it? With Formidable's form abandonment plugin for WordPress, you can even capture partial submissions and provide a link for users to return to complete their form!
Step 4: Publish your form
Now, all we have left to do is publish our form. In Formidable, this is simple too. Perhaps the quickest way for most users is to copy the shortcode from your form's Settings tab.
That shortcode allows you to insert our forms with any page builder. If you use Gutenberg, you can also use our form block. You could also use our built-in widget for forms in the sidebar or footer.
Ready to make your multi-step Ajax form?
We're done! Can you believe it was so easy? And this is just one of many great features you'll find in Formidable Forms. For example, you could collect data in any form, and display that data on any page of your WordPress site.
That means you can auto-generate user profiles, directory listings, and whatever you can imagine — all using data collected from your forms. We've built dozens of integrations too, so you can connect to your favorite email platform, CRM, or translation service.
We hope you've enjoyed today's tutorial. Follow Formidable on Facebook, Twitter, and YouTube for even more WordPress tips! Bye for now!
Read more of our WordPress forms posts
---
Want to get started with the most value-packed form builder around? Get Formidable now – or try our free WordPress plugin!