Learn how to create gated content on WordPress to improve engagement, generate leads, and increase revenue! This practical guide shows you exactly what to do in just three simple steps.
Approximate read time: 8 minutes
In the world of online content, the phrase "content is king" has become a well-known mantra 👑. Content marketing has proven to be an incredibly effective tool for engaging audiences, building relationships, and generating leads.
But not all content is created equal, and sometimes you want to add a layer of exclusivity to protect your most valuable articles, templates, or features. And this is where gated content comes into play.
In this article, we'll explore the ins and outs of gated content and show you how to add it to your WordPress site using just a single plugin.
What is gated content, and why is it important?
Gated content refers to online materials hidden behind a form, such as articles, eBooks, white papers, templates, or other digital assets. To access the content, visitors have to provide certain information (most often their name and email address) or make a payment.
This data is then collected and stored so you can nurture leads, grow your email list, and ultimately build relationships with your audience.
There are a few different types of gates for restricting access to content:
Exchange for an email address: It's a straightforward trade-off. Visitors offer their email addresses in return for access to premium content. It's a reliable tactic for lead generation and a great way to quickly grow your email list.
Registration or membership: This one involves some extra planning ahead. Visitors fill out a form to join your (free or paid) membership site to unlock gated content. It creates a sense of belonging and community and offers the appeal of exclusivity!
Paywall: Here's where the business side of things kicks in. Content is protected behind a paywall, requiring users to make a financial transaction to access it. It's not just about leads; it's also a revenue stream.
These different types of gated content offer a lot of flexibility and versatility for your content strategy. It's about giving your audience options and rewarding loyalty while you get valuable user data.
How to gate content in WordPress
Let's dive into the practical side of gating content and show you how to offer a free download in exchange for an email address.
For this tutorial, we'll use our favorite all-in-one WordPress plugin, Formidable Forms. There are many WordPress gated content plugins to pick from, but why not use a single plugin that can do that, plus a whole lot more?
Don't have the most powerful WordPress form plugin yet? Click below to get it, then we'll get started!
If you haven't already, install and activate Formidable by going to Plugins → Add New on your WordPress dashboard. Search for "Formidable," hit Install, then click Activate.
All that's left is to connect your shiny new Pro account under Formidable → Global Settings.
Still with us? Great, let's get to gating that content!
☝️ A quick note: The tutorial above walks you through the best way to protect your gated content. But it may be a bit overkill if you're only after the fastest and easiest way to offer content on form submission. So we'll stick to a simpler solution in this article to get you up and running ASAP!
Step 1: Create a gated content form
To start, we'll make the form users must complete to access your gated content. This could be a simple email capture form, a payment form, a user registration form, or whatever you like.
From your WordPress admin, head to Formidable → Forms. Then click + Add New.

Search our 225+ templates to create a form in one click, or select Blank Form to start with a clean slate. We're making a basic form for this example, so we'll choose to build our own.
Give your form a name, then hit Create to get going!
In the drag and drop form builder, add a Name and Email field to keep things simple. Then, click on the email field and check Required so visitors can't submit the form without entering an email address.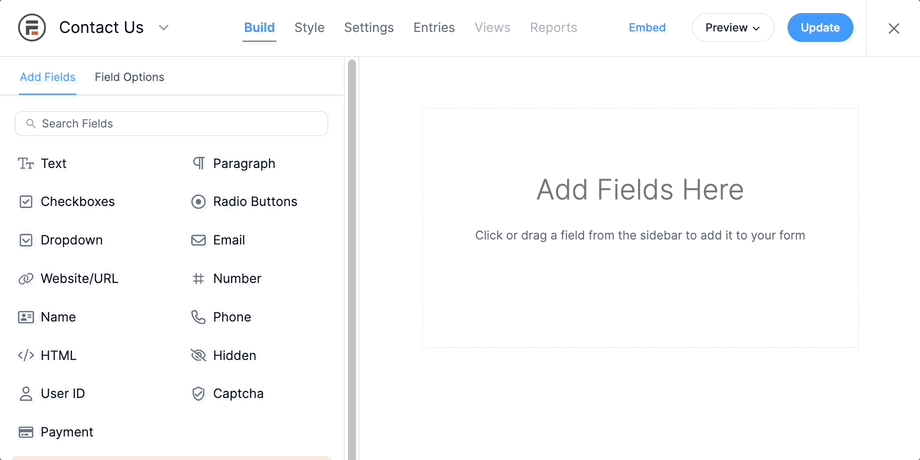 Add any other fields you like, and when you're happy with your form, click Update to save.
Congrats, you now have a lead capture form!
Next, let's tell the plugin what to do when a visitor successfully submits it.
Step 2: Set up form actions
At the top of the screen, go to the Settings tab, then to Actions & Notifications.
Here, you can choose to display a confirmation message, automatically send an email, collect a payment, plus a whole lot more. For now, let's use the default success message and then also send a confirmation email with our exclusive content as an attachment.
Select the Send Email form action and scroll down to view and customize the email settings. Edit the To, From, Subject, and Message fields as you please!
Below the Message field, click the + Add attachment button to select a file from your WordPress media library or to upload a file from your computer.
Click Update to save your changes. Now, whenever a user fills your form out, they'll receive your special content offer in their inbox!
Don't want to send your file as an attachment?
You could include a link to download the file in the confirmation email, put it directly in the confirmation message, or redirect users to a page with a download button. For all the options and steps, see the form actions Knowledge Base article.
And, on to the third and final step! Don't worry, the hard part's over.
Step 3: Publish your form
All that's left is to share your form with the world! So, head to the page or post where you want your form to appear and add a new WordPress block.
Search for the Formidable Forms block and click to add it. Then, click on the dropdown menu to select your form.
Finally, Update the page and your form is now online and ready to accept entries!
WordPress gated content FAQs
When you're new to the gated community — please pardon the pun — it can be tough to find a way to balance organic traffic strategies and gated content best practices. So let's tackle some of the most common questions about adding gated content to your website.
Is it possible to gate content for free on WordPress?
You can add gated content to your WordPress website for free. And you can even do it with Formidable Forms! Using the free online form maker, you can configure your basic form actions to include a link to download a file or display the content of a gated page in WordPress.
But, the Lite version can't restrict access to files based on user roles or hide your gated content from search engines. You'll also need the pro version to upload attachments to email notifications.
So if you really want to ensure your gated content is only available to those who've completed your form, you'll want to upgrade to the premium form plugin.
Can I set up different levels of access for gated content?
Yep, you can set up different levels of access for gated content with WordPress and Formidable Forms. And it's a great idea as it lets you tailor your content to different stages of the customer journey or personalize the experience to meet specific user needs.
Curious how to do it? Read this step-by-step guide to restricting content to specific users.
But depending on what you have in mind, you may want to consider making a membership site instead.
How does gated content work with SEO?
We all know search engines do their thing by crawling and indexing content. So when you hide it behind a form, it's got to mess with your visibility, right?
Well fear not, you can keep your SEO game strong even when using gated content on WordPress.
Optimize your metadata: Start by fine-tuning your metadata. That includes title tags, meta descriptions, and image alt text. It's all about making sure search engines can still access these nuggets of information.
Offer some crawlable content: Think about serving up a bit of content for free on your landing pages right alongside your gated goodies. This gives search engines something to sink their teeth into and index.
Keyword research: Do some keyword homework. Figure out the keywords and phrases that are linked to your gated content. This will guide your SEO strategy and make you more search engine-friendly.
Use schema markup: If you haven't already, it's time to get comfortable with structured data, also known as schema markup. It's like speaking search engine language. It helps these clever bots understand what's behind the form.
Another organic traffic trick we recommend? Using a good SEO plugin such as AIOSEO.
By weaving these SEO-friendly strategies into your approach and throwing in a bit of open-access content, you're all set to maintain your site's search engine rankings.
Ready to add gated content to your WordPress site?
Gated content is a fantastic tool for your content marketing game plan. It's all about lead generation, engaging users, and delivering valuable content.
Now that you know how to create gated content on WordPress, it's time to put this effective digital marketing strategy into action! And the Formidable Forms plugin makes it quick and easy.
So, as you embark on your gated content journey, keep in mind it's about giving your audience amazing value and fostering lasting connections!
Speaking of connections 😉, we'd love to connect with you on social media! Find us on Facebook, Twitter, and YouTube where we share more WordPress tips, tools, and tutorials.
---
Read more from the Formidable blog