Discover how to sell digital downloads on WordPress with our step-by-step guide! Boost your sales by offering digital products like ebooks or software!
Approximate read time: 5.5 minutes
Want to earn extra cash from your WordPress site?
Selling digital downloads is an excellent way to do it. But if you want to sell digital downloads, you need a way to do it.
And that means using a digital downloads plugin to accept payments and send downloadable files.
Luckily, we have just the WordPress plugin to sell digital downloads.
In this tutorial, we'll teach you how to use a plugin to sell digital downloads on your WordPress site today.
Let's get started.
Can I sell digital products on WordPress?
Yes, you can easily sell digital products on your WordPress website!
And the best way to do it? With the Formidable Forms WordPress plugin.
Formidable Forms is the most advanced and best WordPress form builder. With its simple drag-and-drop form builder, payment integrations, file upload forms, and more, selling digital files is simple.
And what kind of digital goods can you sell, you ask?
Well, all kinds:
Software
PDFs and ebooks
Online courses or webinars
Design templates
Music, videos, or movies
Even better, you can use the fact that you don't sell physical products to your advantage!
No one wants to wait for something they buy. And with WordPress digital downloads, they don't have to! So use that to create urgency to buy at a great price quickly!
Why create urgency? Well, when using this tactic can increase sales by 332%, why wouldn't you use it?
That's just a smart move for your conversion rate.
So, let's get to how you can start boosting your online store on your WordPress site using Formidable Forms with easy digital downloads.
How to sell digital downloads on WordPress
Another reason Formidable is excellent to use with WordPress to sell digital downloads is because of its payment integrations.
PayPal, Stripe, Authorize.net, and even WooCommerce integration if you need an eCommerce option all have integrations with Formidable to make selling downloads easy. And that makes it easy for you to get paid.
And it's compatible with free WordPress themes and paid ones, so your form will look great, too!
But to access them, you'll need Formidable's Business Plan or above.
So, head to our pricing page, pick up the plugin, and install and activate Formidable Forms.
It's a few simple steps:
Step 1: Install your payment add-on
We'll use Formidable's Stripe Add-On as the payment gateway for this guide.
You can use whichever payment method you'd like. But, to keep things simple, we'll cover only one in this post.
If you'd like to use PayPal, then check out this guide to selling on WordPress with PayPal.
So, first, we'll head to your WordPress dashboard, go to Formidable → Add-Ons, and find the Stripe add-on.
Click Activate.
Next, go to Formidable → Global Settings → Stripe. You can customize the Process One-time Payments and Test Mode settings, but we want to focus on the Connect to Stripe button under LIVE.
When you click this, it will redirect to the Stripe website, where you can log into your Stripe account.
Follow the Stripe setup wizard, which will return your website when finished.
Now we need to set up our form!
Step 2: Create your form
First, go to Formidable → Forms in your WordPress admin.
Next, click Add New to begin creating your form.

You have access to 175+ templates with Formidable's Business plan, so you can use one of them to get started quickly if you prefer.
But, for this example, we'll use a Blank Form.
Next, give your form a name, then click Create.
The plugin will take you to its drag-and-drop form builder, where you can customize your form fields exactly how you want.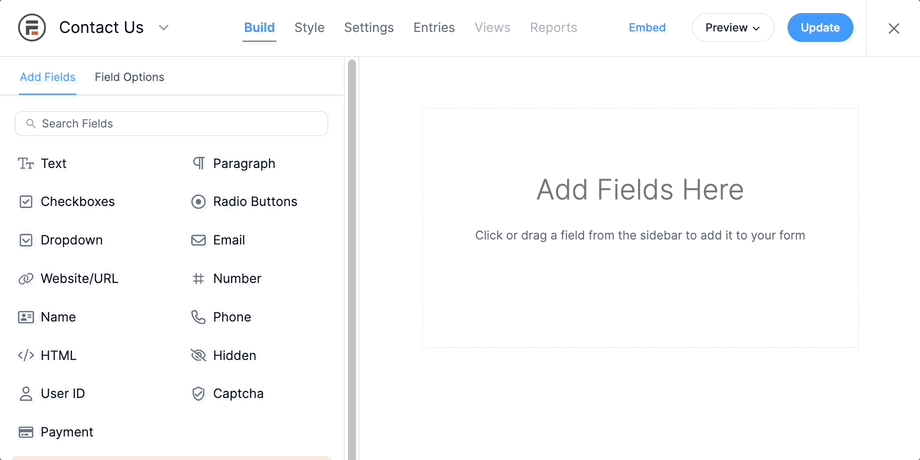 For our example, we've included the following fields and then customized them so customers could select more than one product:
A Repeater with a Product field inside it for users to add downloads
A Total inside a Section field to show the shopping cart total
A Section field with Name, Email, Address, and Credit Card fields inside it for payments
So, it would look something like this:
Feel free to adjust the labels and add any form fields you need. You can include additional fields to cover discount codes, the number of items, and more.
Once you're finished customizing, click Update to save your changes.
Step 3: Adjust your form settings
Now we want to customize the Actions that will process the payment and then give your customer the digital content — whether a download link or a simple file download.
So, click the Settings tab and go to Actions & Notifications.
Under the Form Actions section, choose the action Collect a Payment.
Next, you'll see an action appear below the section, which you can expand.
You can customize the amount, whether a one-time or recurring payment and even use Stripe Link, which gives you access to even more payment gateways and speeds up the checkout process!
So, customize the settings to fit the digital download you're selling on WordPress.
Then, click Update to save your changes!
Don't worry about setting up a checkout page; Stripe will handle that.
Also, if you'd like to customize your submit button, you can go to Settings → Buttons.
Feel free to change the text to suit your audience!
Step 4: Set up your email notification
Inside the Actions & Notifications tab, you may have noticed another action: Send Email.
This is where you can customize the email your customer receives right after purchase! Include order details, a quick summary, and a link to your product so they can start downloading it with their download monitor.
If you'd prefer to insert the download link straight into the confirmation message after submission, you can check out this post on how to display a success message in WordPress. 
Or you can upload the file to your WordPress media library using Formidable to add digital downloads to your WordPress website.
You'll need to copy the URL to the file whichever you choose.
Next, paste it inside your Message section:
You can customize the message further, but you want to ensure you attach the correct links depending on the customer's choice. After all, you only want to send out some of your products if someone chooses them.
One way to do that is using Conditionals to display specific items in the email only if they selected it.
So, feel free to customize your email how you see fit, then click Update when you're done.
Step 5: Customize your form
It's one part for your form to work correctly, but you want it to look good, right?
And that's where the Formidable Form Styler comes in. So, go to the Style tab to begin customizing your form.
In the form styler, you can customize your template or choose one of the pre-built templates to make things faster.
You can even edit these templates and customize the font sizes, colors, and borders to make the form match your website perfectly!
So, feel free to customize your form to your liking, but hit Update when you're finished to save your changes.
Now it's time to show that beautiful form to the world!
Step 6: Display your form
To show your form, head to the post or page where you want to display it.
Then add a new WordPress block and search for the Formidable block.
Next, choose your form from the dropdown menu, and it'll display your form.
Last, update your page or post; your form is live on WordPress to sell digital products!
Ready to sell digital products on your website?
And just like that, you have everything you need for how to start selling digital downloads on your website!
Feel free to continue to expand on your form, and you may also want to look into an eCommerce platform (like using WooCommerce) if you plan on selling physical and digital products. Plus, you can use thank you page plugins to show free downloads or more content you have for sale!
And if you enjoyed this post, follow us on Facebook, Twitter, and YouTube for more tips to sell your first digital product!
Read more about file downloads!
---
Did you know that Formidable Forms is one of the fastest WordPress form builder plugins available today? If you're not already using it, get started with our free plugin or the full-featured pro version!