Want to open an online store but have no clue how to sell digital downloads on WordPress? Learn how with this simple tutorial and start making money online now!
In 2021, more people were online than at any other time in history. Simultaneously, about 9.7 million Americans were unemployed. While job security has improved, online habits remain mostly the same.
The huge online market and influx of people needing income create a favorable environment for online businesses. This includes the growing market of WordPress e-commerce and selling digital goods.
Many want to capitalize on this opportunity by selling WP e-commerce downloadable products.
However, they may lack the time and skills to do the job. Even worse, many people may not know where to start regarding the purchase and delivery processes.
But, there is an easy solution.
Using a simple drag-and-drop form builder, you can create a digital downloads store on WordPress and start selling digital products in no time. No coding necessary.
Imagine what you could do with the extra weeks of time and money saved from using a plugin instead of hiring a developer or doing it yourself!
Why create a digital downloads store?
Compared to stores that sell physical products, WP e-commerce digital downloads stores are a better choice in this global climate. There are many reasons for this:
They are easy and affordable to build.
You don't have to worry about supply chain issues.
There's no need to find storage space for your products.
Customers benefit from the immediate delivery of products.
There are zero material and assembly costs.
Awesome, right? We're not the only ones who understand the benefits of selling digital goods in an online marketplace. Tons of businesses and individuals are catching on.
For example, one McKinsey Global survey shows that the share of digital products in company portfolios has accelerated by seven years. Digital products are indeed the way to go. You can even offer free digital downloads in exchange for subscriber information or to draw potential customers onto your website.
And, with our form to PDF add-on, you can easily create order forms for customers, then convert their entries to PDF to send. All within one plugin!
What can I sell on a digital downloads e-commerce website?
Wondering what types of digital products you can sell on your website? While the possibilities for WordPress digital downloads are endless, you may be asking questions like:
How can I sell digital tickets to a concert?
How do I sell a digital ebook on WordPress?
Can educators sell online courses and resources on their websites?
Can my company offer exclusive group access or bundle deals through digital downloads?
How do I sell my services online?
How can I sell pdf files online with PayPal integration?
The simple answer to these questions is that they're all possible and easy with Formidable Forms' drag-and-drop form builder plugin.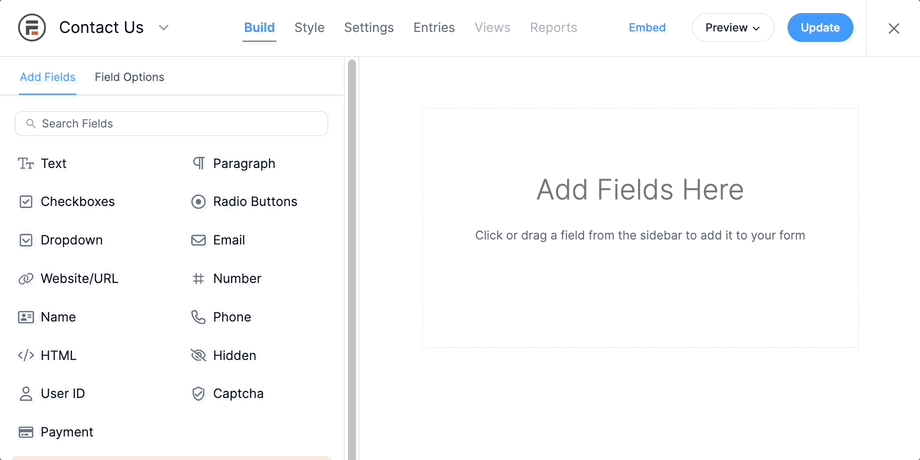 And though we won't go over the specifics to all of these questions, you can sell just about any digital product you can dream up through a WordPress online store.
But before we move on, what are some digital product ideas?
| | |
| --- | --- |
| Ebooks | Audiobooks |
| Sheet music | Music/Audio files |
| Ring tones | Tickets |
| Art | FTPs |
| Cryptocurrency | Videos |
| Digital content | Educational courses |
| Printables | Bundle deals |
| Access to online groups | Digital services (blogs/editing) |
| Life coaching | Tutoring |
| Interviews | PDFs |
That leaves us with one more question to answer.
How do I create a digital download site in WordPress?
Now, we'll show you how to sell digital downloads on your WordPress site. With our super simple Formidable Forms plugin, you can:
Sell a list of products.
Send download links to customers when they purchase files.
Accept payments.
No coding skills necessary!
But first, why Formidable?
Because it's better than a single digital downloads plugin. Formidable's all-in-one plugin is WordPress' most versatile form builder. It includes a huge library of templates and the tools to create powerful, feature-rich forms from scratch.
So, where should you start when building a digital downloads store?
First, you'll need the following:
A product list with prices
Digital files (download links)
A payment gateway (e.g. Stripe or PayPal)
Let's get your store up and running so you can start making money on WordPress!
Step 1: Create your form
After you install and activate the Formidable Forms plugin on your site, the next step is to create and configure a new form. To get started, go to Formidable Forms → Add New → Blank Form:

Once you name your form, you can use the form builder to easily insert new section fields, such as Product List, Payment Information, and Email Information:
You can add products under Products → Field Options. Under Payments, you can add required fields, such as Credit Card, Name, and Address. Of course, you only need an email field under the Email section.
You can also quickly configure your store to accept payments. If you need help, you can follow our guide to learn how to install Stripe.
Step 2: Set up email actions and conditionals
It's important to make sure your customers receive the files they buy. For that, you can use the Send Email action.
You can upload your digital files to your WordPress Media Library or a third-party site such as Dropbox or Google Drive. This helps ensure that you can offer a download file once users submit the form.
Once you have download links, you can add Send Email to your Form Actions:
Next, you can edit the field labels and messages customers will receive. Then, trigger the email to send once payments are successfully made. You can also set conditionals to automatically deliver the file download link for matching products.
Step 3: Add a Buy Now button
You'll need to include a Buy Now button to allow your customers to purchase a digital download. Formidable makes creating and adding this feature a breeze.
Under Settings, go to Styling & Buttons:
Then you can simply convert the Submit button to a Buy Now button. That's it!
Conclusion
You should now have a functional digital downloads store with Formidable's form builder plugin and WordPress. You can add and subtract products as you wish to give customers the easy digital downloads experience they were hoping for.
In other words, there are tons of good ideas for selling digital downloads in WordPress. And Formidable can help you do that.
Start a Digital Downloads Store Now!
Let's recap how you can start selling digital downloads on WordPress fast:
Create your form.
Set up email actions and conditionals.
Add a Buy Now button.
Ready to build your online store and start making money? Get started using Formidable today with our 14-day risk-free trial.
Find more great ways to make money online