Is your college application process digital? Learn how to create an online college application form to make life easier for applicants & administrators.
Tired of sifting through a mountain of student applications? Fingers burning from all the paper cuts? It's time to start taking your college program applications digital!
When you've created your own college application form template, you'll wonder why you didn't do it sooner! A solid form plugin and a WordPress site are all you need to create a fully customizable college application form.
Not only will a digital form allow you to collect applicant info easily, but it allows you to do more. For example, your college application form can include file uploads and allow users to insert clickable links.
In this guide, we'll show you how to create a college application form for your WordPress website.
Formidable Forms an ADA compliant WordPress form plugin that allows you to create any type of form including a college application form. You can add different fields to the form and create it the way you like. And the best part is you don't need any coding skills for building it.
In this tutorial, we'll show you the step by step process to create an online college application form. The best part? No coding skills required!
Why create a digital application form?
If you are looking to make the college application process easier, then an online form is what you need. With a properly configured form, your applicants can give you their personal information hassle-free.
Beyond that, there are many reasons why going digital will revolutionize your college application process:
Reduce administrative burden
increase number of qualified applicants
Reduce the amount of incorrect data received
Make things easier for applicants
Improved tracking of applications
Eco-friendly and paperless
Step 1: Install Formidable
The first thing you need to do is install and active the Formidable Forms plugin on your WordPress website. This plugin allows you to build custom forms quickly with the help of its drag and drop editor.
In case you need any help, you can follow our step by step guide on how to install the Formidable Forms plugin.
Step 2: Create a college application form
It's time to create the online college application form!
First, you need to go to Formidable → Forms from the left sidebar of your WordPress admin panel. This will open a new page showing your existing forms if any. Click on the Add New button here to create a new form.
Now you'll be taken to a new page where you can either select a blank form or choose a template from the list of pre-built forms.
For this tutorial, let's choose the Enrollment form template instead of creating the form from scratch. And don't worry, you can easily customize it per your requirements.
So search for the Enrollment form template using the search bar. Once you find it, you need to hover your mouse cursor over the template name and click on the Create Form button.
This will open a modal box asking you to enter a name for your form. You can also add a form description if you want.
Finally, you need to click on the Create button. This will take you to the form builder section where you can make changes to the Enrollment form template.
Step 3: Customize your college admission form
The best thing about Formidable Forms is that you can easily edit your form using its drag and drop interface.
Let's show you how to do it.
Suppose you want to add a new field - Guardian's Name. To do that, you can drag a text field from the left panel and add it to your form.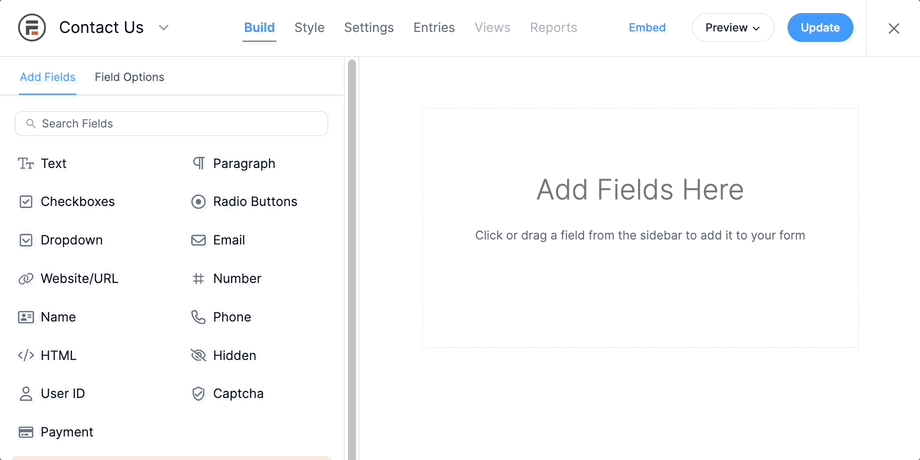 To change the label, you'll have to click on the new field to see the field options on the left panel. You may also make the field mandatory by clicking on the Required checkbox.
You can also add a reCAPTCHA to your form to avoid spammers and automated bots. After all, the goal of your online college application form is to increase the number of qualified applicants, right?
Step 4: Configure the form settings
Once you've customized the form, you can make changes to the form settings by clicking on the Settings tab.
The General settings allow you to decide what happens when someone submits the form. For example, you can either show a success message or redirect to another URL.
Next, you can configure the Actions & Notifications settings to decide how you want to get notified when someone submits the form. You can also visit the Styling & Buttons option to change the submit button text if you wish.
What happens after the application form is submitted is entirely up to you. But wouldn't every nervous college applicant feel better if they received a confirmation email?
Step 5: Add the application form to Your website
Now that you've created the form, it's time to add it to your WordPress site.
To do that, you need to go to Pages → Add New from the left sidebar of your admin panel. Next, you need to click on the (+) plus sign to add a new block. Here you'll have to search for the Formidable Forms block and click on it to insert it to the page.
Finally, you need to select the college application form from the dropdown box to add it to the page.
That's it! You can now publish the page to make it live for the students.
For reference, here's a preview of our enrollment form template:
As mentioned earlier, this is just a starting point. With Formidable, you can use our drag & drop form builder to add, remove, and customize as much as you want.
Formidable also includes a few other features that can streamline the process of collecting college applications:
How to view the application form entries
Formidable Forms allows you to view the form entries from your WordPress dashboard easily. To do that, you need to go to Formidable → Entries from the left sidebar.
Next, you need to select the College Application form from the dropdown menu and click on Filter. This will show you all the entries of your form.
You can also download the entries or delete them if you want. That sure beats endlessly rummaging through file cabinets!
We hope this tutorial helped you to learn how to create an online application form for college students using the Formidable Forms plugin.
Read More: Formidable Application Related Posts
---
Are you not using Formidable Forms? Get started with the best WordPress form plugin today and build custom forms quickly!