Looking for a way to export form entries in WordPress? With the right forms plugin, you can export to Excel, CSV, or XML with just a few clicks!

Approximate read-time: 4 mins
If you are looking for a way to export form data from WordPress forms, it pays to use the right form builder. If your form plugin doesn't have easy options to export WordPress form entries, then you may be facing a challenge.
Before we show you an easy way to take control of your form submission data, let's see if you can access your existing form data. The first thing is to check your form builder. Many plugins come with the option to export data built-in. Look for that first!
If you are using a free form builder plugin, make sure that the feature is included in the free version. It might be that the feature is only included in the premium version of the plugin you are using.
From your WordPress admin, go Tools → Export. Look at the list of items and see if your current forms plugin is there.
If none of the options here link back to your form builder you may be out of luck. Your form data might be saved in your WordPress database, though. Here's the problem: if you are reading this article, it might be very challenging for you to handle database stuff.
And that's not an insult! Even the person writing this article wouldn't dare try cracking into the WordPress database manually. The risk of breaking your site will be high. Don't worry though - there is a better way.
How to use WordPress to export form entries
As promised, we do have another solution that will work for you going forward. Your WordPress forms can export to Excel, CSV, or XML without any extra work. Read on to learn how you can control your WordPress form submissions the easy way!
Step 1: Install & activate Formidable Forms
This part is easy. Download the free version of our Formidable Form Builder plugin. You can search for it just like any other plugin you would add from your WordPress admin section.
With Formidable, it's easy to export your data. You can export Forms, Entries, Views, and Styles from the Formidable Import/Export page. The exported data can be uploaded to sites that use Formidable as well.
If you want your WordPress forms to export to CSV or Excel, you can do that too. We'll show you how below!
Step 2: Create and publish a form
Once you've installed Formidable, we just need to make a contact form for testing purposes.
From your WordPress admin, go to Formidable → Forms and click Add New.

From there, click Create Form and give your form a name.
Now you should be in the Formidable form builder. All you need to do here is drag some form fields from the left column over to the right form-building area.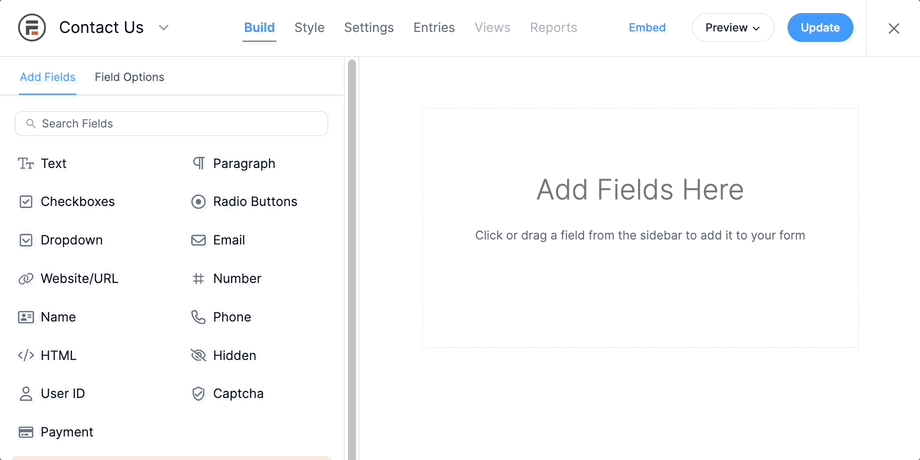 You'll probably want to include a Text field, an Email field, and a Paragraph text field if you are building a contact form. Feel free to play around here for a while, then we'll move to the next step!
Step 3: Export your form data
In Formidable, we have a dedicated entries page where user data and form submissions are stored. Remember the contact form we just created? Once that has a few entries, they will be stored here too.
For testing purposes, we can actually create a few fake entries. Click on the Entries tab and click on the Add New button. Your contact form will appear - so fill it out a few times!
After that, here are the steps to follow to export your data:
Go to the Formidable → Import/Export page.
Choose your Export Format. If you want your download your entries to CSV

Pick the type of Data you want to export. In the free version of Formidable, you can only export form data (more on that later).
Choose your newly created contact form.
Click Export Selection. Then your browser will download the data as a CSV file. Voila! Your WordPress contact form has exported to CSV (or whatever format you happened to choose).
Wrapping up
So there you have it. Exporting entries could be as simple as clicking the download button. All you need is a WordPress form plugin with CSV export functionality. Or in the case of Formidable forms, XML and Excel exports too.
If you want even more export options, be sure to look into the premium version of Formidable Forms. There's more info about the extended features on our form export documentation page.
We hope this article has helped you out. Stay tuned to the Formidable Forms blog for all things WordPress - forms and beyond. Bye for now!
Read more articles on exporting form entries
---
Formidable is a complete WordPress form building solution that you'll love. Over 300,000 people use Formidable to power their sites. Get started with a risk-free 14-day trial here.