Looking for a WordPress e-signature plugin? All you need is this powerful drag-and-drop form builder with an easy-to-use digital signature feature.
Looking for an E-signature plugin for WordPress? Collecting electronic signatures is actually a lot easier than you'd think on your WordPress website. All you need is a WordPress forms plugin with a signature field.
Of course, not all signature fields are created equal. That's why today we are going to show you the WordPress digital signature plugin with the best suite of features: Formidable Forms!
We take online forms very seriously... and why not? It's what we do! We want to give business owners of all sizes the power to run their businesses online. A big part of business is signing documents - so naturally, we've come up with the perfect solution.
Have a look and see for yourself! Check out our WordPress document signing add-on in action.
How's that looking? Who could have guessed that capturing signatures would be so easy! And you know what else? It's also easy to create signature-ready forms. Let's take a look.
Set up the Formidable WordPress signature plugin
To use our WordPress plugin for electronic signatures, you'll need Formidable's Business plan or higher.
Once you've got that, just follow the steps below. If you get lost, check out our complete documentation for more details.
Step 1: Download and install
First things first, download the Formidable plugin (if you purchase the plugin, all you need to do is follow the steps).
Next, go to Formidable → Add-Ons and click the Install button for the WordPress signatures add-on.
Step 2: Create a form
Once you've installed the WordPress document signing plugin, you can create forms using the signature field. Simply drag and drop the field from left to right. Easy!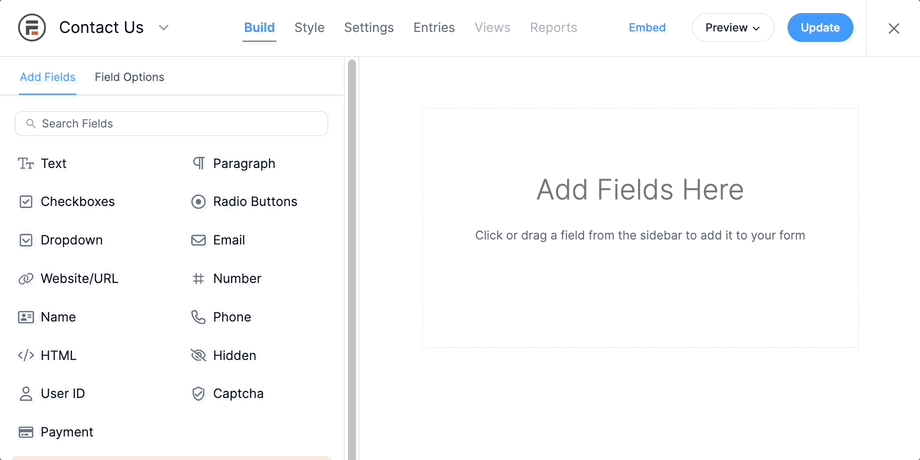 Step 3: Configure the WordPress signature form plugin
Configure is a big word, but this is actually pretty simple. Take a look at the options below:
You may have noticed that users can choose to either draw or type their signature. Perfect! You can control your audit trail however you like. You can also change all the labels as you see fit. One super simple usage for this: different languages.
Another great feature here: the ability to change the signature field size. That way, you can collect signatures as cleanly as possible while matching your form design perfectly.
The WordPress online signature plugin with more
Although we couldn't say Formidable Forms is a free e-signature plugin for WordPress, we can say a lot:
You can sign unlimited documents
Collect IP addresses along with signatures
Sign contracts responsively from any device
Create contact forms, registration forms... and really, any kind of form imaginable!
The real power of Formidable Forms? It's so much more than a plugin for collecting signatures. You'll be able to enhance your online business in a variety of ways.
No matter what kind of organization you are running, electronic signatures are bound to be useful. But Formidable Forms has plenty of features that business owners will love too.
Here is something almost every business needs: information from your customers. What better way to get that than through surveys and polls? With Formidable Forms, you can create a survey in WordPress easily.
And if you want real-time feedback from your audience? You can use Formidable to create WordPress polls in a jiffy too!
There are many uses for calculated fields - especially for business owners. Want to create a calculator in WordPress? You might not have thought about it, but there is a lot of potential there. And a calculator is just a form with calculated fields after all.
Here's one idea: a loan calculator. Perfect for a financial firm or a car-selling business. Another idea? A mortgage calculator. A calculator form can help you land customers and give them a reason to stay on your site.
What WordPress e-signature plugin can boast over 200 business-oriented form templates? Formidable Forms! With so many templates, there is bound to be something useful for your business.
And if you want to add a signature field, all you need to do is drag and drop it in, voila!
Want to collect electronic signatures and then send the information to Salesforce or Hubspot? You can do that with Formidable Forms. We have several integrations and add-ons: payment platforms, email marketing services, CRM's, automation, and more!
Want to upgrade your online business? Get more than you thought possible with an online signature plugin like Formidable Forms! Did you know you can try Formidable risk-free for 14 days? If you don't love it, we'll give you all your money back no questions asked.
---
Read more from the Formidable blog