Looking for a SurveyMonkey alternative? In this post, we'll compare SurveyMonkey to another option, Formidable Forms. Let's see how they match up!
Survey Monkey (renaming to Momentive) is an online survey platform that's been around for a very long time. And as a standalone survey software, it's pretty great at what it does.
As its name implies, this platform focuses squarely on simple surveys for the most part. They also offer a different set of tools than what you would expect from a purely form-based solution.
So what's the difference between the Formidable Forms WordPress form builder and an alternative like SurveyMonkey? Well, it all depends on your goals.
SurveyMonkey Alternative
What is a free alternative to SurveyMonkey? Formidable Forms.
The main difference between these two survey tools? SurveyMonkey is a cloud-based online platform, whereas Formidable is a WordPress plugin. These both carry different benefits depending on your goals. But which one is best if you are using a WordPress website?
In this comparison, we are going to weigh Formidable's free WordPress plugin against the free version of SurveyMonkey. Both companies have advanced plans available for their survey software, but SurveyMonkey is essentially a "survey-only" platform. For this reason, it makes sense to compare them at their most basic level.
Though as we'll find out, neither of these platforms is "basic" - even with their free versions!
If you've tried SurveyMonkey already and are looking for something more comprehensive and flexible, Formidable is a great alternative. In this article, we'll look at these solutions side by side so you can see why Formidable Forms is the best free alternative to SurveyMonkey.
👉 Read more: Best Free WordPress Form Plugins
What is Formidable Forms?
Formidable Forms is a drag and drop form builder with dozens of powerful features. Since this article is about a SurveyMonkey alternative, it makes sense to focus on Formidable's survey features. Fortunately, there are a lot of those!
If you are building surveys using the free version of Formidable Forms, you'll have a lot of great options to work with. In the case of a survey, the free version of Formidable gives you plenty of form fields to work with (more on that later).
One key difference beyond the actual form-building flexibility that Formidable offers? You can save form data in databases on your WordPress site. With SurveyMonkey, the data is stored in their cloud so you don't own it.
Both options come with pros and cons, but when it comes to building your own branded site, Formidable has the edge over SurveyMonkey.
Another thing that Formidable offers over SurveyMonkey: you don't have to promote anyone else. Even with the free version!
If you use the free version of SurveyMonkey, you might as well be advertising on their behalf. SurveyMonkey has a good brand image, but hosting surveys on your own site with your own branding is still a huge benefit that SurveyMonkey cannot offer.
What is SurveyMonkey?
SurveyMonkey has a lot of powerful tools in its free version.
For instance, the SurveyMonkey interface isn't a form builder. It is only a survey builder. It has a lot of pre-built segments that can optimize your survey creation experience and generate more survey responses.
And SurveyMonkey doesn't set a response limit for surveys. That sounds generous, except for one huge fact: with the free version, you can only view up to 40 responses per survey.
This is the trouble with the free version of SurveyMonkey. It offers a very generous set of features, but without the ability to view many responses... well, it's basically un-useable. What's more, you aren't able to export your data with a free SurveyMonkey plan.
This means that you can neither see nor access your data past 40 responses, even if you want to switch to a new platform. This means that once you choose SurveyMonkey, you're stuck with them! Otherwise, you will lose all your previous data.
For years, SurveyMonkey had one of the most generous free plans on the market. Alas, all good things must end.
What should you look for in a survey builder?
In this comparison, we'll be looking at ease of use, support, pricing, and features. Keep reading to find out which of these two survey tools is best!
👉 Learn More: 3 Powerful Google Forms Alternatives
Ease of use
When we consider ease of use between Formidable Forms and SurveyMonkey, these two both offer advantages.
Formidable Forms is a flexible form builder that works right inside your WordPress dashboard. Its drag-and-drop form interface is super easy to use and pretty straightforward. Formidable also comes with pre-made survey templates so all you have to do is add them to your website or blog and you're ready to go.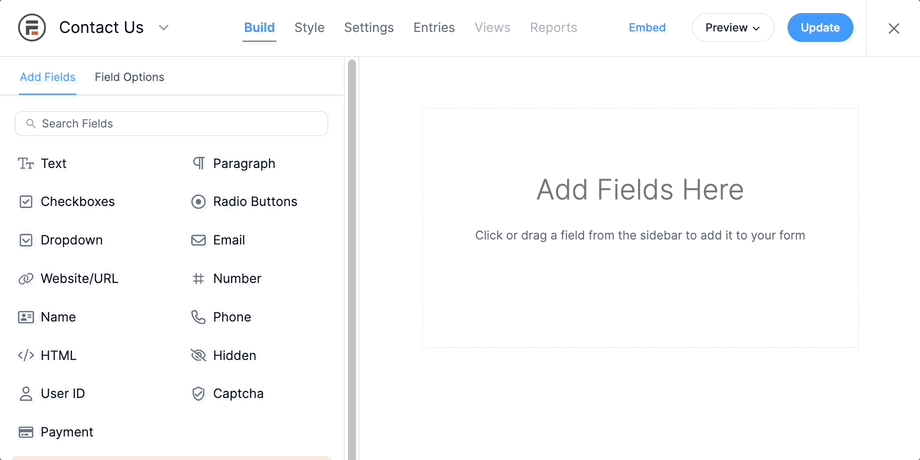 SurveyMonkey, on the other hand, is a cloud-based survey tool with a fully customized and user-friendly backend. It contains many built-in features that give users a unique experience when building their surveys.
The conclusion?
Formidable Forms wins points for ultimate flexibility. But SurveyMonkey gets points for building some pretty neat survey tools directly into their builder. Does that mean they can do things Formidable can't?
Nope. As a form builder, Formidable is an extremely versatile plugin that can do far more than SurveyMonkey.
But the dashboard features SurveyMonkey offers do make building custom surveys slightly easier in some cases.
Customer Support
Good customer support should always include:
A comprehensive and helpful knowledgebase
Easy access to a human support team
When considering the knowledgebase, both Formidable and SurveyMonkey have a ton of quality help docs ready to help their customers. Both companies have been creating help articles for over ten years, so they are very robust libraries to look for answers.
Even better, both platforms offer helpful videos on how to use their most popular features.
For the free version of most platforms, many users have come to expect zero human support. In the case of Formidable, support is provided on the WordPress plugin page.
In contrast, SurveyMonkey knocks accessibility out of the park. They provide email support to free users straight from the support page on their website. Considering the number of free users SurveyMonkey has, that's pretty generous.
Of course, various customer experience reports show that the support they received on a free plan wasn't enough to meet their needs. So it's up to the users to figure out if their human support is adequate enough. However, for reference, the reviews on GetApp give SurveyMonkey a 4.6, while Formidable gets a 4.9 rating.
The results?
Both platforms offer amazing documentation and video support. If you're looking for easy access to email support, Surveymonkey may be a better option. But if you want top-quality support every time, Formidable takes the cake.
Pricing
Since we are comparing the free version of each platform in this article, we are going to focus on free features. And both options provide many of those!
Free survey features from Formidable
When it comes to Formidable, the free version comes with 14 free form fields to work with. If you use these form fields to build surveys, you could do a lot with Radio Buttons, Checkboxes, Dropdowns, and both Text & Paragraph fields.
In Formidable's premium plans, you'll also find a lot more, including star ratings, Likert, NPS, graphs, and stats. There are also additional pricing fields designed to streamline eCommerce form building.
Of course, the features go far beyond just form fields. The free version of Formidable offers a lot more: form autoresponders, spam protection, field placeholders, and field options on every one of the fields available.
Unfortunately, SurveyMonkey doesn't offer these additional options.
Free survey form fields by Formidable
Free survey features from SurveyMonkey
If you're asking "is SurveyMonkey free?", the answer is yes. To a point.
SurveyMonkey allows you to build many different kinds of surveys and questionnaires using their free builder. Included are fields like star ratings, matrix scales, ranking fields, and more. But there are significant downsides.
For reference, here's what's included in SurveyMonkey's free plan:
Asking up to 10 questions per survey
Viewing up to 40 responses per survey
Applying one filter or cross tab to your survey data
So the real catch here is that although you can build a fabulous survey with SurveyMonkey, you won't really be able to use it. And to be clear, over the past few years, SurveyMonkey has stepped its product up.
They offer some great features. But their most basic paid plan costs $32 per month.
For comparison, the least expensive paid Formidable Forms plan starts at $39.50 per month for the first year for unlimited users, questions, and responses.
Free survey form fields by SurveyMonkey
So who wins the pricing battle?
If you're looking for exclusively great survey features and have a small user base (remember 40, not 50, or even 100 responses), then SurveyMonkey is a good choice. But if you're looking for the ability to do more than surveys and want scalability in the future, Formidable Forms is a much better option for your money.
A free alternative to SurveyMonkey & so much more
So why choose Formidable Forms as a free alternative to WordPress when there are so many competitors like Typeform, Survicate, SurveySparrow, Google Forms, and others?
Now that we've compared these two free options, let's look at a few more of the premium features in-depth. Many features come head-to-head, although some are in the highest SurveyMonkey plans.
A few of the features that both survey software offer include:
quizzes
skip logic
file uploads
payment forms
multilingual forms
white labeling
form templates
question branching
and more!
SurveyMonkey offers extra features for text answer analysis, randomization, and other advanced survey features. But when it comes to flexibility and the ability to create whatever you want, Formidable is the platform you want. Let's take a look at why.
Why choose Formidable Forms as a SurveyMonkey alternative?
Formidable's free online form builder is a very powerful option. At the moment, it has more than 300,000 users around the world.
That's because Formidable's premium features are top-notch. Let's take a look at a few of them in detail.
Top survey features
Formidable has built an amazing set of survey & poll features that make surveying a simple task. Using Formidable's form fields to create surveys is easy and fun!
Advanced form fields like the star rating, NPS, and Likert scale make it easier to get the best survey data possible. And the charts and graphs feature makes it easy to create beautiful reports from the data collected.
You can easily use these real-time displays for market research, to analyze customer feedback, or whatever else.
Another great feature? Formidable Forms is a form-building plugin as well, which means you can build countless alternatives to surveys. Landing pages, conversational forms, and business listings are just a few of the options available. And with tons of templates, you don't have to design anything yourself.
Why choose SurveyMonkey?
You need an enterprise solution
SurveyMonkey really scales up when you buy into one of their premium plans as long as you're okay with your data being locked into their system.
And you better have a professional statistician on your team because they also offer detailed survey results and advanced reports that would take a master's degree to understand.
Having said that, they do offer a great solution if you need an enterprise-level survey builder. You'll just need to pay a pretty penny to access it.
You need a cloud-based solution
One benefit of a cloud-based solution is while there's a SurveyMonkey WordPress option, a WordPress site isn't needed to run the surveys.
This saves steps like picking the best web host, theme, and plugins for your WordPress website. So if your business doesn't have its own website, this would be a better option.
Formidable Forms vs SurveyMonkey: Final Verdict
So, how did the SurveyMonkey competition stack up?
For most WordPress users, the free version of Formidable Forms will be the survey maker of choice. Not only does it make beautiful surveys and have easy-to-use form templates, but it also has so many other uses.
However, for those who don't have a business website or are looking for a ramped-up, enterprise-level solution, SurveyMonkey might be the better choice.
We hope this Formidable Forms vs SurveyMonkey comparison has helped!
Learn more about Formidable survey tools
---
Formidable Forms is the most advanced WordPress form builder on the market. Get started with one of our premium plans today!