Looking for a SurveyMonkey alternative? In this post, we'll compare SurveyMonkey to another option, Formidable Forms. Let's see how they match up!

Approximate read-time: 5 minutes
Looking to compare SurveyMonkey and Formidable Forms? Or are you looking for a SurveyMonkey alternative?
Survey Monkey is an online survey platform that's been around for a very long time. And as a standalone platform, it's pretty great at what it does. They focus squarely on surveys for the most part. And with that, they offer a different set of tools than what you would expect from a purely form-based solution.
So what's the difference between our WordPress form builder and an alternative like SurveyMonkey? Well, it all depends on your goals. Actually, we've spent a lot of time covering the differences between Formidable and all the other options on the market.
SurveyMonkey Alternative
Let's compare Formidable Forms against a very worthy alternative: SurveyMonkey.
The main difference between these two options? SurveyMonkey is a cloud-based online platform, whereas Formidable is a WordPress plugin. These both carry different benefits depending on your goals. But which one is best if you are using a WordPress website? That's what we'll assess today.
In this comparison, we are going to compare Formidable's free WordPress plugin against the free version of SurveyMonkey. Both companies have advanced plans available, but SurveyMonkey is essentially a "survey-only" platform. For this reason, it makes sense to compare them at their most basic level.
But as we'll find out, neither of these platforms is "basic" - even with their free versions!
If you've tried SurveyMonkey already and are looking for something else, Formidable is a great alternative. In this article, we'll look at these solutions side by side so you can see what's best for you.
👉 Read more: Best Free WordPress Form Plugins
What is Formidable Forms?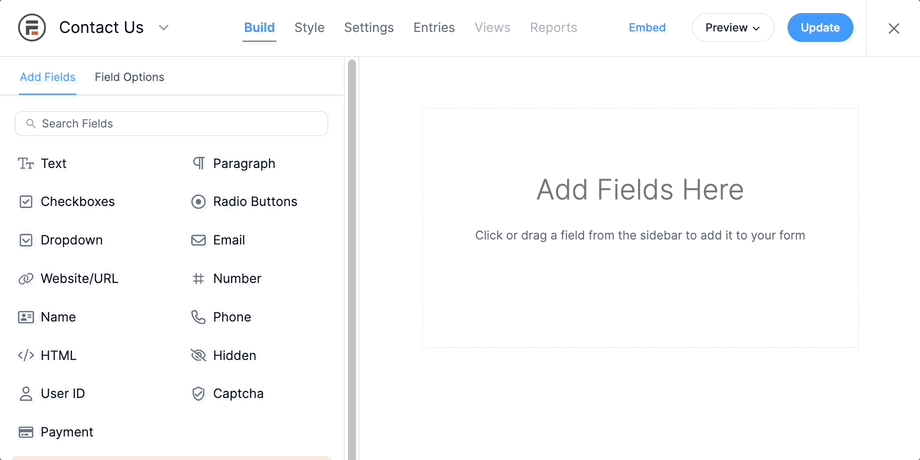 Formidable Forms is a drag and drop form builder with dozens of powerful features. Since we are presenting it as a SurveyMonkey alternative, it makes sense to focus on Formidable's survey features. Well, there are a lot of those!
If you are building surveys using the free version of Formidable Forms, you'll have a lot of great options to work with. Formidable is a form builder, so you build forms by dropping in the fields you need. In the case of a survey, the free version of Formidable gives you plenty of form fields to work with (more on that later).
One key difference beyond the actual form building flexibility that Formidable offers? All your data is stored on your WordPress site. With SurveyMonkey, the data is stored in their cloud. Both options come with pros and cons, but when it comes to building your own branded site, Formidable has the edge over SurveyMonkey.
Another thing that Formidable offers over SurveyMonkey: no branding. Even with the free version! If you use the free version of SurveyMonkey, you might as well be advertising on their behalf. SurveyMonkey has a good brand image, but hosting surveys on your own site with your own branding is still a huge benefit that SurveyMonkey cannot offer.
What is SurveyMonkey?
SurveyMonkey has a lot of powerful tools in its free version. The SurveyMonkey interface isn't quite a form builder. Instead, it really is a survey builder. It has a lot of cool pre-built segments that are designed to optimize your survey creation experience. All this should result in more survey responses... great!
And SurveyMonkey doesn't even limit the number of responses you can collect. That would seem generous, except for one small fact: with the free version, you can only view up to 100 responses per survey. Actually, sometimes you can only view as few as 40 responses (it varies depending on where you sign up).
This is the trouble with the free version of SurveyMonkey. It offers a very generous set of features, but without the ability to view many responses... well, it's basically un-useable. What's more, you aren't able to export your data with a free SurveyMonkey plan.
For years, SurveyMonkey had one of the most generous free plans on the market. Alas, all good things must end.
What should you look for in a form builder?
In this comparison, we'll be looking at 4 main areas:
Ease of use
Support
Pricing
Integrations/add-ons
Keep reading to find out which of these two survey tools is best!
👉 Learn More: 3 Powerful Google Forms Alternatives
Ease of use
When we consider ease of use between Formidable Forms and SurveyMonkey, these two both offer their advantages. Formidable Forms is a flexible form builder that works right inside your WordPress backend. SurveyMonkey is a cloud-based survey tool with a fully customized back-end tailored to the end-user in every way.
Formidable Forms gets points for ultimate flexibility. But SurveyMonkey gets points for building some pretty neat survey tools directly into their builder. Does that mean they can do something Formidable can't? No, but it does make building a survey slightly easier in some cases.
Call this one a tie.
🌟 Winner: Tie
Support
Here's what we usually consider when it comes to support:
The size and usefulness of the knowledgebase
Easy access to a human support team
When considering the knowledgebase, both Formidable and SurveyMonkey both have a ton of docs ready to be searched in their knowledgebase. Both companies have been creating help articles for over ten years, so they both have a very robust library to look for answers.
The quality of help docs on both platforms are great as well. Lots of time has been spent writing this content, there is no doubt.
For the free version of most platforms, many users have come to expect zero human support. In the case of Formidable, support is provided on it's WordPress plugin page. If a user has a presale question, those can be answered directly on the support page as well.
SurveyMonkey actually knocks this one out of the park though. They provide email support to free users straight from the support page on their website. Considering the number of free users SurveyMonkey has, that's pretty generous.
Of course, various sources report that the support they received on a free plan wasn't amazing. Hard to say if those sources are giving the most honest account though.
🌟 Winner: SurveyMonkey
Pricing
Since we are comparing the free version of each platform in this article, we are going to focus on free features. And both options provide many of those!
When it comes to Formidable, their free version comes with 13 free form fields to work with. If you were using these form fields to build surveys, you could do a lot with Radio Buttons, Checkboxes, Dropdowns, and both Text & Paragraph fields. In Formidable's premium plans, you'll find a lot more - 25 more fields for a total of 38 form fields (there are also 3 additional pricing fields designed to streamline eCommerce form building).
Of course, the features are not limited to just form fields. The free version of Formidable will also get you a lot more: form autoresponders, spam protection, field placeholders, and field options on every one of the fields available. None of these additional options are offered by SurveyMonkey (but they have a few others we get into below).
Free form fields by Formidable
SurveyMonkey does allow you to build a very serious survey using their free builder. Included are fields like star ratings, matrix scales, ranking fields, and more. But there are significant downsides. Here's what SurveyMonkey says is included in their free plan:
Asking up to 10 questions per survey
Collecting up to 40 responses per survey
Applying one filter or crosstab to your survey data
So the real catch here is that... although you can build a fabulous survey with SurveyMonkey... you won't really be able to use it. And to be clear, over the past few years, SurveyMonkey has really stepped it's product up. They offer some great features. But their most basic paid plan costs $100 per month. This is because their pricing model forces you to pay for 3 users. Yikes!
Free features by SurveyMonkey
For comparison, the most expensive Formidable Forms plan would cost as much as 4 months of the most basic SurveyMonkey plan.
🌟 Winner: Formidable
Integrations and addons
Since we are talking about the free versions of both applications, this one is tricky. Formidable is no slouch when it comes to integrations, with dozens of solid options built-in for premium users. SurveyMonkey boasts a truly enterprise-level of integrations when using their business plan - which costs 3 times as much as their basic plan (ouch). Since both platforms offer no integrations for free users, we'll call this one a tie.
🌟 Winner: Tie
Formidable Forms vs SurveyMonkey: Which one wins?
This one is tough to call. And you know what? It really depends on the user.
If you are creating a survey that only targets 40 people, then SurveyMonkey could be a great choice for you. However, if you want a free form builder for WordPress with no limitations on responses, then Formidable will win for you.
Now that we've compared these two options, let's look at a few more of the features in-depth.
Why choose Formidable Forms?
Formidable's free WordPress plugin is a very powerful option for free users. At the moment, it has more than 300,000 users around the world.
But Formidable's premium features are also top-notch. Let's take a look at a few of them in detail.
Top Formidable Forms features
Formidable has built an amazing set of survey & poll features that make surveying a simple task. Using Formidable's form fields to create surveys is easy and fun! Advanced form fields like the star rating and scale make it easier to get the best survey data possible. And Formidable's charts and reports feature makes it easy to create beautiful reports on the fly.
The Formidable Form builder has been leading the industry for a while now. And it's safe to say it has inspired a few imitators! SurveyMonkey looked very different a few years ago, but they now look mysteriously similar to Formidable Forms. To be fair, it's a popular design that a number of platforms have moved towards lately. Formidable, though, has been quietly perfecting the art of the form builder for the past 10 years.
Why choose SurveyMonkey?
You need an enterprise solution
SurveyMonkey really scales up when you buy into one of their premium plans. And you better have a professional statistician on your team because they also offer really detailed analytics that would take a master's degree to understand. Having said that, they do offer a great solution if you need an enterprise-level survey builder. You'll just need to pay quite a pretty penny to access it.
You need a cloud-based solution
One benefit of a cloud-based solution is that it will be a bit more reliable under extreme circumstances. If you are getting a huge amount of traffic on your surveys, this could save you from missing out on valuable data.
Formidable Forms vs SurveyMonkey: Final Verdict
For most WordPress users, Formidable Forms will be the survey maker of choice. For those looking for a ramped-up, enterprise-level solution, SurveyMonkey might be better. Although, not necessarily!
We hope this Formidable Forms vs SurveyMonkey comparison has helped. Good luck!
For more WordPress posts, stay tuned to the Formidable blog!

Form builder plugin comparisons
---
Formidable Forms is the most advanced WordPress form builder on the market. Get started with one of our premium plans today!