Creating a multi-column form in WordPress doesn't have to be complicated! We'll show you the easiest way to place fields side by side in a smart grid layout.
A WordPress multiple column layout designer can be a useful tool. This formatting can help make big forms neater and more compact. However, some form plugins make it a bit difficult to place fields side by side.
Fortunately, Formidable Forms works differently. By using our super easy layout builder, you can quickly create stunning column forms.
In this article, we'll discuss why you might want to build a column form. Then, we'll show you how to create one in three simple steps. Let's get started!
Why you might want to place fields side by side
Having the option to place fields side by side gives you more flexibility with your forms. In fact, some data might look best in a column format. You can use side-by-side fields to create a highly organized form that's easier to navigate. This may be the case with an online application form or a city state form, for instance.
Furthermore, beyond forms, columns and grids are helpful for data visualization and to display real estate listings. A vertical layout can communicate property information more clearly.
At Formidable Forms, we believe that columns should be easy to use, which is why we designed a user-friendly layout builder.
Our team has built an intuitive editing experience that is easier than adding HTML form fields side by side. By learning a few simple steps, you can become a pro at using this flexible tool – no custom CSS required!
How to create a responsive two column form in WordPress
Let's show you how to create beautiful, responsive, vertically organized forms in just three steps. Or, learn how to create an inline form.
Step 1: Create a new form
First, you'll need to create a form. Go to Formidable → Forms → Add New:

Then, you should see a pop-up. This will ask you if you want to start from scratch or use a form template.
We recommend you start with one of our templates, which come pre-made with essential fields. You'll see a different number of options depending on your Formidable Forms plan. Here are a few examples: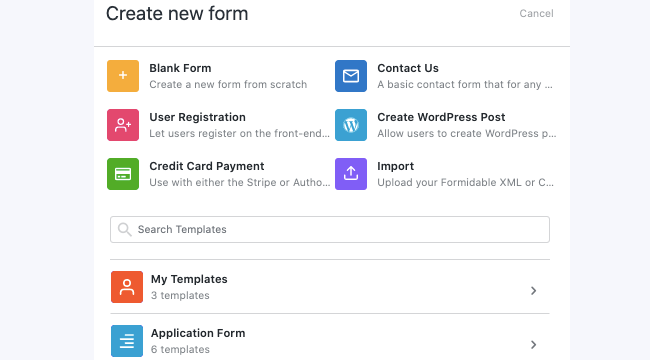 Once you've selected an option, name your form and click on Create. This will launch the editor.
For this walkthrough, we decided to use the Testimonial form template:
However, feel free to use whatever base will help you get started. For example, if you plan on using pricing fields, you could choose the Credit Card Payment form template instead.
Step 2: Place fields side by side
Next, you'll need to add your fields. If you started with a template, you may already have most of them ready. However, you might want to customize your form with other options.
To add new fields, simply click on an option from the left-hand menu and drag it over to the right side. You can place it wherever you like.
Dragging a field directly next to another one will place it in the same row. If you do this several times, you can create columns.
Let's say you want to know how to make 3 columns in WordPress. All you have to do is drag the fields next to each other in a single row, as shown below:
You can also move existing form fields side by side. To do this, hover over a field. Then, select the arrow icon in the upper right-hand corner:
Now you should be able to hold your mouse down and drag that field next to another. For instance, we've rearranged our testimonial form into three columns:
Advanced options for multi-column forms
However, this isn't all you can do with columns! Consider using our advanced options, too.
For example, using Section fields can be used to create column forms without gaps from larger fields:
Or, shift-click, command-click, or control-click on multiple fields or rows. Once you've got more than one field or row selected, you'll see bulk options at the bottom of the page. Here, you can create rows even faster, without manually moving each field. (Hint: You can bulk delete fields this way too!)
Step 3: Change your column form's proportions
In addition to creating columns, you can also change their proportions. Thus, it's easy to design a form with unique formatting. Plus, it'll always be automatically responsive for every screen size.
To get started, select a field and click on the columns icon to access the Row Layout settings:
From here, you can click on one of the presets to arrange a row of columns in that order. You can also select Custom layout, which will enable you to customize the proportions to your exact needs:
Our layouts work on a 12-column system. Thus, if you want the columns to take up the whole row, the total of all your numbers should be 12.
Enter the proportions you want, then click on Save. If you want your columns to be equally sized, repeat this step with the same number for all rows.
For reference, here's one of our testimonial form layout examples, but with the last column made a little larger. We entered a 3, 3, 6 pattern:
As you can see, including proportions in your column form can help you create dynamic styles. Consider trying out a few different combinations to find one that best fits your theme!
Wrapping up
Sometimes, adding a few columns is all it takes to make your form look more professional. However, some plugins make the process difficult. Fortunately, you can place fields side by side with ease using the best WordPress form builder.
In this article, we covered three steps to build columns in your forms:
Create a new form.
Place your fields next to each other.
Consider using specific proportions.
Columns aren't the only feature that Formidable Forms has to offer. Check out a few other ways it can help you style your forms!
Read more about our side-by-side form builder