Want to make a quiz in WordPress? With the right quiz maker plugin, you can do that! Learn how to make quizzes for your WordPress site the easy way.
Approximate read-time: 4.5 minutes
If you're looking for ways to make a quiz in WordPress, you must already know how powerful they can be. Quizzes like spelling tests online and personality quizzes are all over social media. If a quiz becomes popular, it could get enough social shares to go viral.
Viral quizzes are a great tool to generate traffic. They could help you collect valuable data & generate leads, too.
In other words, we believe in the power of quizzes - that's why we decided to write this article!
After a brief rundown, we'll show you how our Quiz Maker Add-on can help you make viral quizzes in no time.
Here's what we'll cover:
Why create a quiz in WordPress?
What kinds of quizzes can you make in WordPress?
How to create a quiz in WordPress (4 steps)
Why make a quiz in WordPress?
An online quiz is a fun, engaging, and interactive website tool. Users love them! What's more, a properly executed quiz with a quiz score calculator has the potential to go viral.
That means more traffic for you. And with traffic, comes opportunity!
Build your email list
Get valuable customer insights
Increased brand awareness
Increased social media following
If you want to make a quiz online, it isn't just about letting your friends discover which Disney princess they are. Online quizzes are used to calculate IQ's, test aptitudes, help diagnose illnesses, and even match applicants to jobs.
The scope is almost universal. So if you have a solid social media or email marketing plan, quizzes could be a huge part of your success.
What kinds of quizzes can you make in WordPress?
So what kinds of quizzes can you make in WordPress? The short answer: the sky is the limit.
Look at Buzzfeed for example. Quizzes appear to be their most important content type!
There are many different types of quizzes you can create:
Trivia Quiz
Scored Quiz
Yes or No Quiz
Personality Quiz
True or False Quiz
Multiple-choice Quiz
Test Your Knowledge Quiz
And of course, this doesn't even consider one of the biggest uses for quizzes: education! Who could forget about all those tests and exams from their younger days?
Converting to online exams for WordPress could save you a lot of time, too. Any multiple-choice questions could be graded instantly. You'll save a lot of resources by going paperless too.
How to create a quiz in WordPress (4 steps)
Let's get to it. Here's how to create a WordPress quiz in just 4 steps. You'll just need a WordPress site and our WordPress form builder, Formidable Forms.
Download and install Formidable Forms
Download and install the Quiz Maker Add-on
Create a quiz form
Publish your quiz form
1. Download and install Formidable Forms and the Quiz Maker add-on
To create a quiz in WordPress, you need a drag and drop form builder. Sure, there are some dedicated quiz plugins out there. But a quiz is really just a fancy web form.
So why limit yourself with a plugin that only does quizzes?
Combine our Formidable Business plan with our Quiz Maker Add-on and you'll become the quiz master real quick! WordPress quiz plugins are great, but a powerful form builder has a lot more to offer.
If you're serious about your business, this is worth it. For new users, Formidable Business starts at just $199/year.
Formidable can handle much more than quizzes. In fact, it has dozens of powerful WordPress form building features!
Here's what you need to get started:
An updated WordPress website
Formidable Premium license (purchased at our pricing page)
Around 5 minutes of your time
👉 Follow our detailed guide: install & activate Formidable Forms
After you've installed Formidable, you'll need to download and install the Quiz Maker Add-on.
From your WordPress dashboard, go to Formidable → Add-Ons and click the Install button for the WordPress Quiz Maker plugin.
👉 Need more help? View our Quiz Maker Forms help doc
2. Create a quiz form
Here's how you can create a quiz form using Formidable:
The first thing we need to do is create a form on your WordPress site.
To do this, go to Formidable → Forms and click + Add New at the top of the page.

Drag and drop in the fields you need. These fields will act as your quiz questions. To make a multiple choice quiz, include dropdown or radio fields in the quiz form.
Add questions to your heart's content. Then, let's move on to the next step.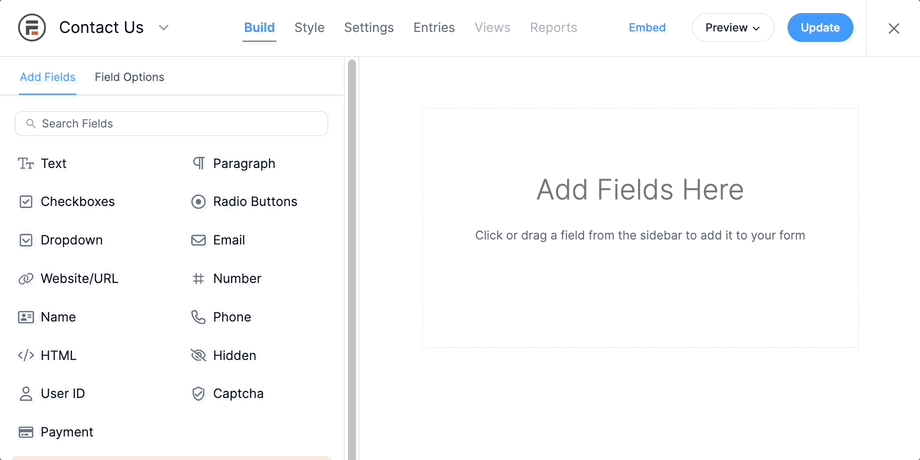 3. Add quiz scoring
Next, add a Quiz form action on the Settings Actions & Notifications tab. This is where all the quiz scoring is handled:
Before we go further, ask yourself this: do I want the quiz taker to see the score after they complete the quiz?
If yes, just select from the options to show the score, user's answers, or correct answers. Then your users will be able to see the quiz result!
Show the score after submit
While you're at it, you might want to tweak your success message too. Something simple like "You scored [x]" could work. In this example, replace "x" with the quiz score field id. This would show something like "You scored 14/15". You can also show the percentage correct or a letter grade.
👉 Need help? Learn how to display the quiz score in Formidable
Can I display an image instead of a score?
Sometimes the final 'score' of a quiz isn't a number at all. The Formidable Views can help you display an image or whatever you want the quiz taker to see when they finish!
In a View, use conditional statements to customize the content shown based on the quiz score. For example, those who score below 20 can see different content than those with scores between 20 and 40.
To put it simply, you can display an image and a message depending on how people score. This is how most of those viral Buzzfeed quizzes work!
4. Publish your quiz form
After creating your quiz, you'll need a place to publish it. On a WordPress website, this is usually done on a post or a page.
Go ahead and create one of those. Once that's done, we can add the newly created quiz in a few ways: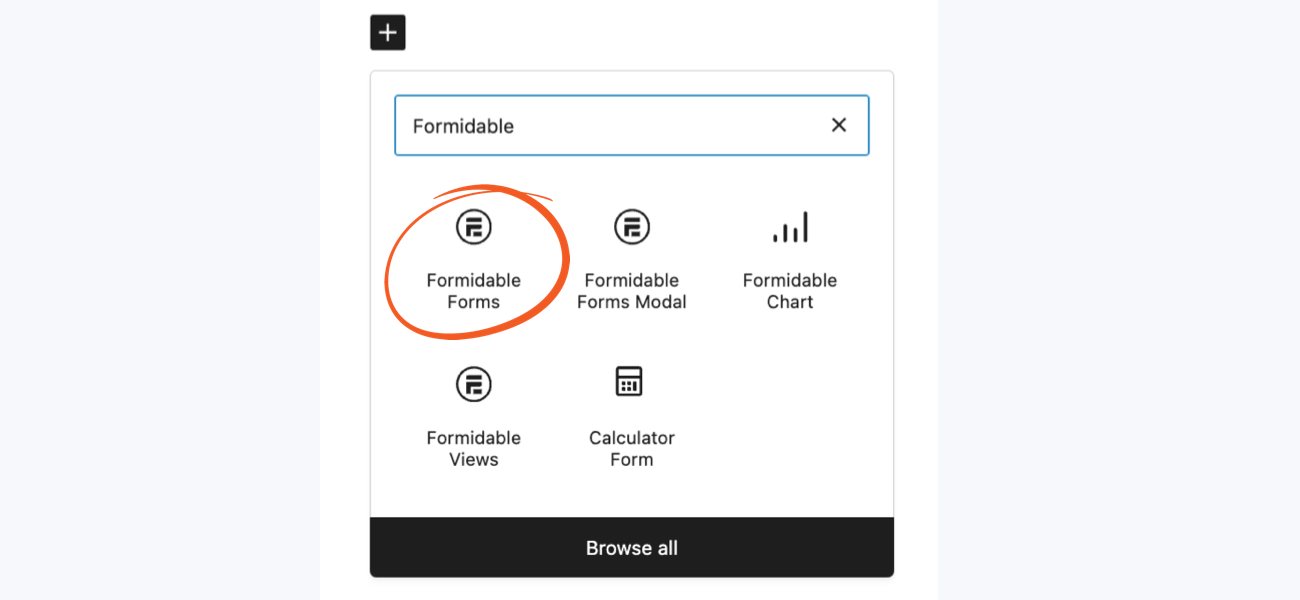 You are now the quiz master!
That's it! Your quiz form is now ready to start collecting and automatically grading quizzes.
When a quiz is created or updated, the score will be saved in the Quiz Score field in that entry.
Of course, there are many more details you can tweak to make your quizzes perfect. You may want to create a dedicated results page. While you're at it, you may want to set tracking up using Google analytics.
After all, you'll want to see how many people finish the quiz. And you'll want to know where they came from too.
Why use Formidable Forms as your quiz builder?
A quiz could be much more than just questions and answers. With Formidable Forms, there are endless possibilities.
You can allow logged-in users to save and continue in the middle of a quiz. Then, allow quiz takers to check their answers and review before submitting them.
By now you've probably realized there isn't much difference between a quiz and a survey. You're right! Formidable can handle surveys too. You could even survey users after they take a quiz!
If you're planning on creating long-form quizzes, try a multi-page form. You could display four questions per page, for example. This simple tweak can help an overwhelmed student stay focused.
👉 Learn more: How to Build a Multi-Step Form in WordPress
Wrapping up
That's about all there is to it! Since creating quizzes in WordPress is so easy, you'll be able to spend more time thinking of quiz ideas! Creativity and fun are the keys to success. Unless you're an educator 🙂
We're glad you made it this far & we hope you enjoyed today's article. For more WordPress tips like this, stay tuned to the Formidable blog. Adios!
Read More from the Formidable Blog
---
If you're not already a Formidable user, why not take advantage of our 14-day money-back guarantee today and see for yourself, 100% risk-free? Get started with the WordPress quiz and form maker plugin that does it all and lets you create an online quiz the way you want.