Want PayPal recurring payments in WordPress? This guide will show you how to easily accept recurring payments with a simple WordPress PayPal recurring payments plugin.
Approximate read time: 4.5 minutes
Looking to set up PayPal recurring payments on your WordPress site?
Recurring payments are a great way to start a subscription service or donation. And adding them to your WordPress website is super easy with a WordPress plugin.
And we have just the plugin for you: Formidable Forms.
So, this post will show you how to set up WordPress recurring payments with PayPal using Formidable Forms.
Let's get into it.
Why use recurring payments with PayPal in WordPress?
PayPal is one of the most trusted payment services in the world.
And integrating PayPal into your WordPress site means you can accept more payment methods! And recurring payments only make this feature better — for personal and business accounts!
You'd use recurring payments with PayPal for a few reasons:
More convenient. Your customer doesn't have to make payments manually, and you don't have to remind them! Just set it once and forget it.
Predictable revenue. Consistent revenue from PayPal subscriptions means you can plan based on your finances. And that means growth for your business!
Keeps customers. Recurring payments help you create a more reliable and consistent experience for your users, which means they stay loyal to you.
Lower transaction fees. Setting up recurring subscription payments saves you money on transaction fees compared to one-time payments.
Recurring payments with PayPal are excellent because they save time, increase customer happiness, and are more reliable than manual payments.
So, now that we've covered why you'd use it, let's get into how to set up your subscription plugin.
How to set up PayPal recurring payments in WordPress
You don't need a membership plugin to set up a recurring charge.
In fact, there are many plugins to choose from.
But only one PayPal recurring payment WordPress plugin makes it easy for you from start to finish.
Formidable Forms.
Formidable is the most advanced WordPress form builder plugin to get started collecting payments, and it helps create payment forms that make you look like an expert (even if you're not!).
Formidable's Business Plan includes PayPal integration, so you'll need the plan to get started. 
Get PayPal Recurring Payments!
But don't worry. It comes with many other goodies like:
And that's just a few we could list in this post. Check out the feature page for WAY more!
So, get Formidable installed and activated, then it's just four easy steps:
Step 1: Connect PayPal and Formidable
Once Formidable is installed, head to your WordPress dashboard, go to Formidable → Add-Ons, and find the PayPal Standard add-on.
Click Activate to integrate it with Formidable.
Next, head to Formidable → Global Settings → PayPal so you can enter your PayPal information.
You can type in your PayPal account information to begin connecting your account. But make sure it matches the information for your PayPal eCommerce business.
Once you enter your information, click Update to save your changes.
Step 2: Create your form
Now, we'll create your PayPal form for your website visitors.
Go to Formidable → Forms and click Add New in the top left corner.

Next, you can choose from one of Formidable's pre-built templates to get you started much faster. Or you can select Blank Form to get started from scratch.
Once you choose, give your form a name and click Create.
The plugin will take you to its drag and drop form builder, where you can begin adding your fields.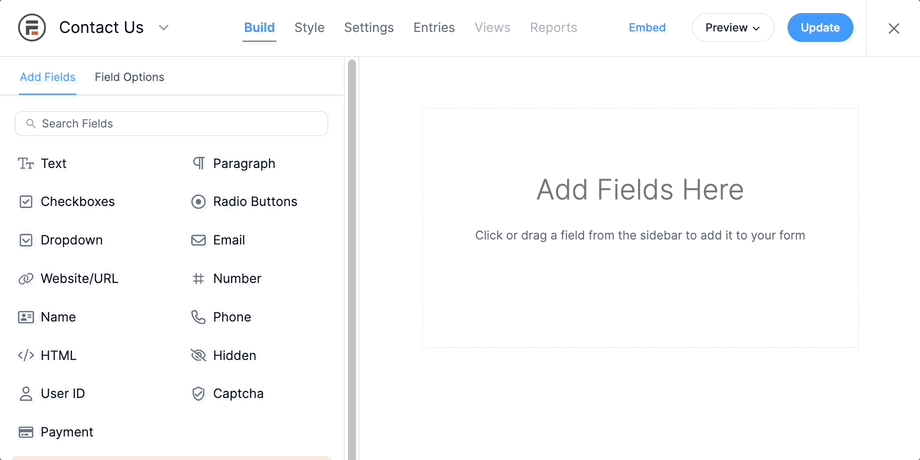 Feel free to add whatever fields you want, but we'd recommend including a few fields to make things easy:
Name
Address
Credit Card
Total
These fields will give you the basics of what you need for your recurring payments.
Feel free to add any other fields you need to your form to customize it to your needs.
When you're finished, click Update to save your changes.
Now it's time to set up your PayPal settings for your form, and we'll head to the Settings tab to do it.
Step 3: Edit your form's PayPal settings
In your form's Settings tab, click Actions & Notifications, find PayPal, and click it.
A PayPal form action will appear below, and you can start to customize your form's PayPal settings.
Enter your PayPal email (if it isn't there already), choose the amount to be paid (or set it to the value of a field), and select your payment type — one time or recurring.
You can choose a one-time payment or donation.
But, if you want to set up a recurring donation or payment, choose Subscription, then you'll have related settings you can select.
Feel free to set these to suit your situation, but make sure you set up the Repeat Every correctly so your customers are on regular billing cycles.
Once your settings are ready, click Update to save your changes.
Now, visitors will be redirected to the PayPal payment gateway, where they can finish choosing their payment method.
It's time to get your form on your website!
Step 4: Display your form
Getting your form on your website is easy.
Head to the post or page where you want to show your form and add a new WordPress block.
Search for the Formidable Forms block, and add it.
Next, choose your form from the dropdown menu, and your form will show.
Last, update your page, and you're ready to go!
But that's not all. You can also set up a PayPal button or subscription button to direct users to your form to pay with a PayPal subscription!
It's that easy to set up (and customize) recurring payments in WordPress using PayPal!
Get PayPal Recurring Payments!
Ready to set up PayPal recurring payments in WordPress?
And there you have it.
Just a few simple steps and a WordPress PayPal plugin for recurring payments, and you're ready to go with your PayPal recurring payment form!
This post taught you if you can charge recurring payments with PayPal and how to set up recurring payments in WordPress. If you're looking for more payment options, we recommend checking out this post on Stripe payments!
Last, follow us on Facebook, Twitter, and YouTube for great WordPress tips and tricks!
Read more about PayPal and Formidable!
---
Did you know that Formidable Forms is one of the fastest WordPress form builder plugins available today? If you're not already using it, get started with our free plugin or the full-featured pro version!