Looking for the best WordPress directory software? If you want to create a directory on your WordPress site, the prebuilt business directory listings by Formidable may be just what you need.
Approximate read-time: 9 mins
If you want to build a directory site, you'll need some powerful directory software. A quick search on Google or the WordPress.org plugin directory reveals there are a ton of choices.
And it's true: many of those directory plugins for WordPress can help you create a directory website. But before you settle on your WordPress directory software, ask yourself these questions:
Will it work well with any WordPress theme?
Does it include listings templates?
Can those templates be edited?
Can elements like forms and custom fields be visually styled?
Does the software include an intuitive user interface?
Can directory listings be searched?
Will users be able to edit their listings and auto-generate listings pages?
Can the directory software allow for free & paid listings?
Does the software include a world-class drag and drop form builder?
If the above questions are giving you pause, fear not! Allow us to introduce the ultimate directory software WordPress users crave: Formidable Forms.
Formidable is able to answer all the above questions with a resounding YES! In fact, there are tons of directory listings features Formidable can handle.
In this post, we are going to run down the top features that make Formidable the best directory software for your WordPress website. Over 300,000 users power their sites with Formidable's tools. It's much more than just a form builder, as you'll soon see.
The power of Formidable Views
The Formidable Views feature will be a major part of your directory site. Views work by taking form data and displaying it anywhere on your site.
There are nearly endless ways this can be implemented. But for those looking for directory software for WordPress, it means that users are able to input their data and your website will automatically create a perfectly formatted listing.
Unlike most WordPress directory themes, there is no limit to the number of ways your data can be presented. If you want to display listings in more ways than the typical listings view and profile view, go for it!
The great thing about Formidable Views? It can be as simple or complex as you want it to be. Use Views with form data shortcodes with no coding required.
Or, pump up the volume with your own PHP wizardry. No limits, no restrictions.
3 amazing view templates
Of course, some users just want a straightforward solution. Formidable has that too. Our directory software comes with 3 beautiful types of directory templates that can help you create the perfect directory as easily as possible.
A business directory plugin in a template
Are building a local directory of businesses in your area or a city guide with Google maps built-in? The business directory template is the perfect starting point. Build the perfect site to help users find the best local businesses and beyond!
Templates like this make Formidable one of the best business directory software WordPress sites could ask for.
Staff/Team directory template
If you have a team, make them look great in your staff directory. Just add your team members using the pre-built form, press submit, and your directory will be ready for any WordPress site. No need to create any additional connections!
User directory template
If you need a user directory, Formidable has you covered. Allow your members to add a profile and opt-in to be listed in your directory. Of course, advanced search will make users easy to find, but only if you want them to be.
Automatic listing generation
With Formidable's Views, it's possible to create your directory pages however you want. Define what form data will appear on what pages, then sit back and relax as your listings website is automatically generated.
A single directory listing submission form can generate as many pages as you want. After your users provide their data, you can generate a listing page, profile page, and whatever you desire. Once you use Formidable Views to set up the pages, they will automatically generate as long as you want them to.
The most advanced form builder
There is no doubt about it: forms keep the internet running. If you searched Google to find this article, you used a form. Everything you've ever bought online was bought using a form. If you've signed up for a newsletter... well, you get the point.
A directory listings site is no different - forms are one of the most critical components. If you want to collect information from your audience efficiently, you need a form that works and works every time.
How do you get that? With the world's most advanced form builder!
Drag and drop form builder
Formidable Forms was one of the very first drag and drop form builders available for WordPress. It emerged on the market 10 years ago, and today it remains the most intuitive and advanced of all the drag and drop builders available.
Long story short: we started as a form builder. Now we power entire websites - including directory listings sites. And as you'll see today, there are virtually no limits when building listing pages with Formidable.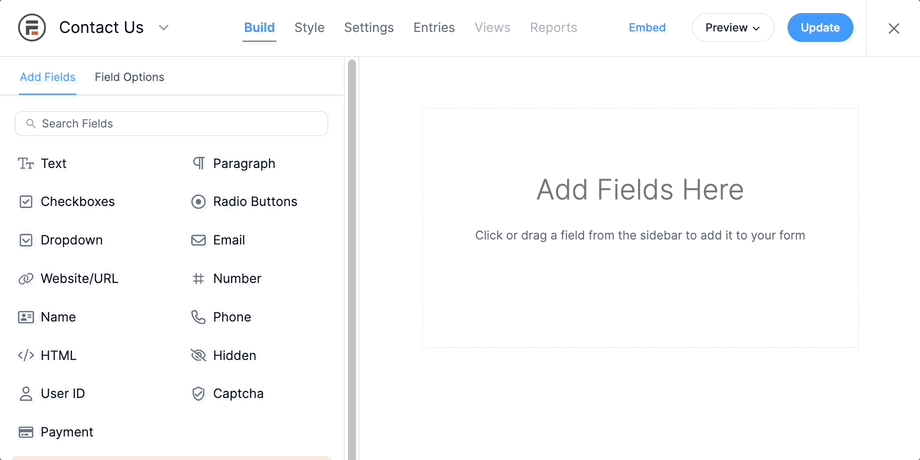 Dozens of form templates
If you only needed one form to create a listings site, templates wouldn't matter much. The reality is it can often require dozens of forms to administrate any website!
That's why Formidable comes with so many templates. Contact forms, calculator forms, survey forms, and everything in between.
Multi-page forms with progress bars
Here's the thing: not all directory sites are simple. In fact, users love the opportunity to upload as much information about their business as possible. But one thing users hate? Endlessly long forms.
In fact, long forms convert at a rate much lower than more concise. Don't worry though. There's a way to get the best of both worlds! With Formidable's multi-page forms, your users will be excited from start to finish.
Using this feature, you'll be able to ask for your user's information in bite-sized chunks. Not only will this increase conversions, but you'll get more accurate data as well.
Summary (review before submit)
Does anybody love extra admin work? Of course not! This is where a feature like review before submit comes in handy. Using this feature, your users can check their listing submissions before they go live.
This is especially useful if you don't want to create a front-end editing environment. By empowering your users to submit the most accurate data, you'll be able to cut down on email back and forth significantly.
Multiple file upload forms
If you are creating a business directory listing site, you might need a lot of files from your users. Image and video files can add up quickly. How annoying would it be if your users could only upload one file at a time?
That's why Formidable allows your users to upload multiple files all at once. What's more, you can select which files are allowed and which are not. You can even set the max file size so that your listing site can stay optimized for speed.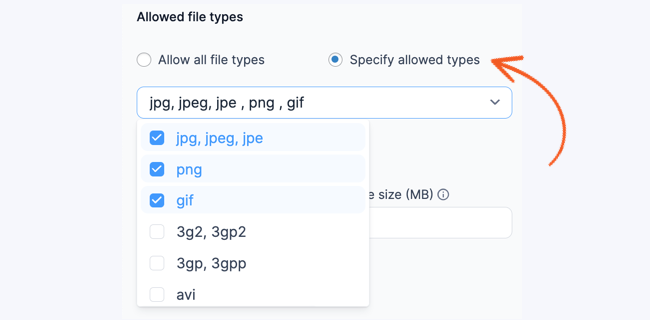 Smart forms with conditional logic
Is every user the same for your listings site? Perhaps different industries should have different profile options? Maybe different staff departments will need to upload different credentials?
Not everybody is the same. And you don't need to treat them the same either. Formidable's conditional form logic makes this possible in a big way. Easily create forms that shift and adjust to the user.
The possibilities are only limited by your imagination. One easy idea: make your forms conditional based on industry, location, or business type. You decide what conditions to set.
Spam protection
High-quality spam protection can make or break a directory listing site. You need directory software that takes spam seriously. Formidable does just that.
Formidable has two layers of spam protection by default. It includes invisible honey-pot spam protection that works in the background of every form you create. On top of that, you can easily add a reCaptcha to any form to beef up security even more!

Paid listings with eCommerce + payment gateways
Formidable can help you to easily monetize listings by allowing you to collect free or paid listings via your listing submission forms.
But what if you want to offer more than just free vs paid listings? No problem!
eCommerce pricing fields
With Formidable's eCommerce pricing fields, you'll be able to itemize pricing options on your listings with ease. Allow users to pay a little more for a featured listing or make some options exclusive by putting them behind a paywall.
Then, calculate and collect payments all from the same form. With Formidable, there really are no limits.
The most popular payment gateways
When it comes to trust, the right payment gateways can make a world of difference. With Formidable, you can accept payments with Stripe, PayPal, Authorize.net, or integrate with your existing WooCommerce setup.
Star ratings plus more
Unless you've been living under a rock, you'll recognize that star ratings have become a standard. With Formidable, you can easily add a Star Rating field anywhere you want on your page. Many other directory solutions only allow you to place ratings in a few different locations in their theme.
This is just another example of how flexible Formidable is for creating a directory site. And it's not like star ratings are the only option for ratings either.
Rating scale
The Scale field allows users to select a number from a set of radio buttons. Give your audience the ability to rate anything on your listings on a scale. You can also keep a running average score based on the user ratings.
Remember that any form data you collect can be displayed in any way using the Formidable Views feature.
Build your own (Radio buttons with images)
If you don't like a traditional star rating or scale, you can create whatever rating system you want! For example, in a tutorial on our blog, we created an emoji rating scale.
The way this works is simple. Just use our Replace radio buttons with images feature.
Many more powerful directory software features
With all the features mentioned so far, you'll be on your way to making a great directory listing site. But Formidable is the ultimate directory Software for WordPress, remember?
Translation ready
Formidable works flawlessly with the two biggest translation plugins for WordPress: Polylang and WPML. With either of these plugins & Formidable, it's possible to create multilingual forms and an entire multilingual directory listing site.
For example, you can collect submitted listings in English or Spanish and list them in both languages. This means you could automatically create a website in two languages all at once. Effectively, you'd be doubling your audience!
And in case you are wondering, Formidable has RTL language support (right to left). No matter what language you and your users prefer, it's possible with Formidable.
Email platform integration
Email is one of the most effective ways to communicate with your audience and keep them engaged. So why would you choose directory listing software without the most popular email platforms integrated?
Formidable plugs into MailChimp, ActiveCampaign, Constant Contact, and even more of the most-used email platforms. You'll be able to build your email list with each added listing!
CRM platform integration
If you need a little more power to run your directory listing enterprise, you'll need a third-party CRM. Formidable integrates with CRM powerhouses like Salesforce & HubSpot.
Ready for the ultimate directory software for WordPress?
Do you want to know the truth? In this post, we have only scratched the surface of what our WordPress directory software can accomplish. That's saying a lot - because this post is over 2000 words!
Have a question, comment, or request about Formidable's directory features? Let us know in the comments below!
Ready to get started? You can try Formidable risk-free for 14-days with our 100% money-back guarantee. Get started with the Formidable Directory.
Read more about our directory software for WordPress