Want to create a WordPress download PDF button but don't know how? This guide will show you how to easily add a PDF to a button in WordPress.
Approximate read time: 6 minutes
Who would have thought adding a WordPress button to download a PDF would be so complicated? There are long guides and other plugins involved.
Most people don't want that. They want a simple solution, not a bunch of headaches. And we assume you're the same way.
But, it doesn't have to be so difficult. In fact, it can be very easy to create a button for your PDF downloads.
Let's show you two easy ways to create a WordPress download PDF button in WordPress so you can use it today!
How to add a download PDF button in WordPress
You came here for answers, so we'll get right to it to give you what you need.
It only takes two simple steps to add a download PDF button in WordPress:
Step 1: Upload PDF to WordPress
To start, locate the PDF document you want to make available for download.
Once you have it, go to your WordPress admin and navigate Media → Add New.
Next, drag your PDF to the file upload box. Once it's finished uploading, click the Copy URL to clipboard button to get your download URL. It should look similar to this: "Download URL: http://URLHERE.com/."
Remember that you don't have to upload your PDF to the WordPress media library. Sometimes file sizes are too large, and you don't want to slow your website down. 
You can also upload it to Google Drive or a similar service where you can provide a download link to the PDF file.
Step 2: Display the WordPress download PDF button on your page/post
Okay, you've got your PDF ready, so now we need a way to show it.
First, navigate to your page or post where you want your PDF download button in WordPress.
On the page, add a new block and search for Button. Select the Button block to create a download button, then adjust the button position.
Last, click the Link button on the toolbar, and paste the URL you copied in step one.
Update your page, and you're set! When visitors click the button, it'll direct them to a PDF reader for a printer-friendly version.
From here, they'll have all the standard PDF and print buttons. They can use their download manager to download it, save parts of the PDF document, and more.
It's almost like having a WordPress print PDF button!
🔗 Want to link a button to a form? How To Link a Button to a Form in WordPress
How to add a download PDF button with a WordPress plugin
You may wonder why you need a plugin when we just showed you how you can easily add a button to download a WordPress PDF.
The method above is excellent, but what if you want to do more with your PDF button?
Maybe you want to grow your email list by offering a PDF in exchange for an email address? Or perhaps you want to convert WordPress form entries to a PDF (like a PDF invoice or legal agreement)?
In that case, the best tool for the job is Formidable Forms, the most powerful form builder for WordPress.
With Formidable's Form to PDF WordPress add-on, creating and downloading PDFs is simple. Whether you want to show a PDF or email it, it's easy with our add-on. Plus, it looks great with any theme (like Elementor).
But, let's show you how to create your PDF button.
How to link a PDF to a button in WordPress
There are a couple of easy steps here:
Step 1: Create a WordPress download PDF button
For this example, we'll use the PDF URL we created in the method above. To start, you want to install and activate Formidable Forms.
Once you've done this, navigate to the form builder by going to Formidable → Forms.
Then, click Add New at the top and choose Blank Form to start creating your PDF Form.
Once you give your form a name, you'll see our form editor. This simple drag-and-drop builder has many options, but today we need the Hidden field. You don't have to type anything here.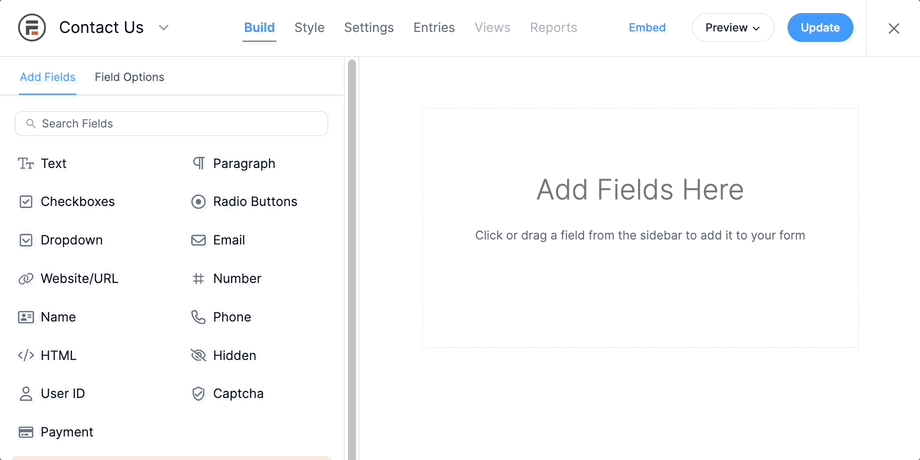 So, drag that onto the builder canvas, then click Update.
Next, we want to go to Settings → General. Find the On Submit section and change the Show Message dropdown to Redirect to URL.
Paste your URL from step one into the URL field, then update your form.
The last thing we need to do (for styling issues) is turn off the Start Over button, which is enabled. To do this, go to Settings → Styling & Buttons. Uncheck the Add start over button checkbox.
Click Update, and that's it.
Now, you may wonder, "How do I add a download button to my WordPress site?" ?
🎨 Want to customize your PDF design? How To Use a PDF Editor in WordPress
Step 2: Display the WordPress download PDF button
For the last step, navigate to the post/page where you want to show your button.
Click the Add Block button and search Formidable. Add the Formidable block, click the dropdown and select the "form" you created.
Your button will show on your WordPress post or page as soon as you update it.
Now, when they click the button, it'll direct them to another webpage where they can see the PDF in their PDF viewer.
🚀 Take forms even further with Formidable PDF, The Best Custom WordPress PDF Generator Plugin
Which method do you prefer for your WordPress download PDF button?
So, today, you learned a couple of different ways to create a WordPress PDF download button and put it on your website: one for making a very basic download button and another for converting form entries into downloadable PDFs on the click of a button.
Using WordPress alone gets you the basics of what you need. If you want a simple button for a PDF download, then it's perfect for you.
But, if you want the power to do anything more, you need another PDF download option.
And that's where Formidable Forms comes in. Our PDF plugin makes it simple to add a PDF download to WordPress forms, buttons, and even different pages or posts.
Check out everything Formidable Forms can do to see how it can serve all your WP content upload needs.
Find more WordPress tips and step-by-step video tutorials on Facebook, Twitter, and YouTube.
Read more about PDFs on WordPress