Wondering how to create a quote form in WordPress? It's easy! in just 3 steps, you can make one using a WordPress form builder.

Approximate read-time: 6.5 minutes
Are you running a services business? Looking to give potential customers a way to easily request a quote on your website? Great idea!
Using a free drag and drop form builder, you can create a quote form in just a few minutes. There's no need for a dedicated WordPress quote builder plugin.
In this step by step tutorial, we'll show you how to create a fully responsive quote form for your WordPress website. The plugin we are using creates mobile-ready forms by default - and it's free!
Before we show you how to create a form to request a quote, let's talk about the basics of quote marketing.
Marketing 101: Request a quote online
Usually, the goal of online quote request forms is to gauge customer interest in your service. You want to learn who they are and what they are looking for. With that information in mind, you can start a conversation with the client.
When you think about it, a quote form is really just a contact form in disguise!
Essentially, you want to use quote requests for lead generation. Once a customer requests a quote, you can begin the sales process.
Should you let customers know the exact prices when they request a quote? In most cases, you shouldn't.
You don't want to give your customer all the info they need to make a decision. This is because you risk losing them before a connection can be made. Remember, you want your quote form to generate leads first and foremost.
If your business is getting a lot of inquiries, you might want to use an order form instead. An order form allows customers to pay on the spot, so it's not the same as a quote request form.
? Read more: How to Create an Order Form in WordPress
Hold on! There's an exception...
Are you still thinking you need an instant quote tool for your website? There are some businesses where price estimates are a good idea.
For example, you might need a website quote calculator for service jobs where quantity is important.
One example would be printing businesses. In printing, there are variables like paper-type, format, size, and more. Printers usually have volume discounts and may charge extra for rush delivery.
In cases like the above, customers will be comparing prices, so not providing a cost-accurate instant quote could hurt you.
? Read more: How to Create an Instant Quote Form in WordPress
The quote form we're going to build today will work for the vast majority of people looking to sell services online.
What will this quote form example do?
Today we're going to make a very simple quote request form. Here's what it will do:
Collect customer contact information
Understand what services the customer requires
Send the customer a notification email
Send you and/or your service team a notification email
At the end of the article, we'll give you a few more ideas using some advanced features in our forms plugin.
Let's get to it!
3 steps to create a quote form in WordPress
Here's our step by step approach to making a quote form for your WordPress site:
Install and activate Formidable Forms
Build and publish your quote form
Set up notification emails
1. Install and activate Formidable Forms
The first thing you need to do is install the free version of Formidable Forms. You can search on the Add New Plugin page in your WordPress admin or download the free forms.
To make a basic quote request form, our free plugin is all you need. But if you want to try the advanced features we mention below, you might want to try Formidable Premium - risk-free for 14-days!
2. Build and publish your request a quote form
Now that you've got Formidable Forms installed, it's time to build your quote form. With our drag and drop form builder, this couldn't be easier! You can either start from our Request a Quote form template, or follow the instructions below.
Go to Formidable → Forms and click + Add New at the top of the page.

Click + Blank Form. This will be our quote form, so name it whatever you want and click Create.
Add request a quote fields
Now we need to add our form fields. This is as simple as dragging and dropping!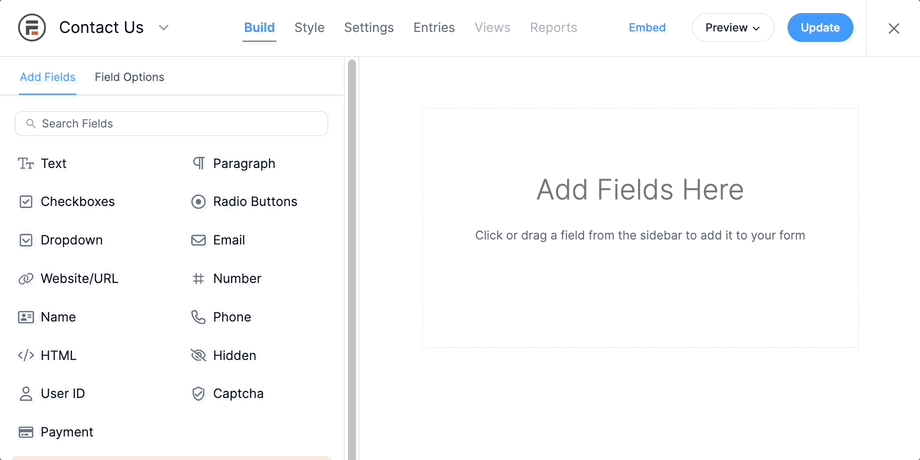 For a quote request form, we recommend adding the following field types:
Text fields: First name, Last name, Organization
Email Address field
Website/URL field
Dropdown: Allow clients to pick their service of choice
Radio buttons: Allow clients to choose whether they prefer to be contacted by phone or email
Paragraph field: Allow clients to describe their needs further
Once you've placed the fields you want, make sure to adjust the field options. You want your quote form to be as clear as possible.
For example, you can change the Field Labels and mark fields as Required.
After that, click Update to save your form. Now you just need your form shortcode. This is found in the Forms section of Formidable.
Simply place the shortcode where you want it to appear! You can place your form in a page, post, or widget - wherever you want.
? Read more: Publishing a form in Formidable
3. Set up notification emails
Now it's time to decide what happens after the quote form is filled out. In this example, we want to make sure the client knows their request has been received.
And we also want your service team to know that a request has been sent!
To do this, we need to set up email notifications. It sounds complicated, but we promise it's really easy.
Go into your form. Click on Settings → Actions & Notifications. By default, there will already be an email notification set up.
Click on the Email Notification button to edit it:
Once you are editing your email notifications, you'll want to configure some options. For example, the From address. You'll also want to make sure the notification is automatically sent to the person who filled out the form.
After that, you'll need to write the email of course! if you want to create a separate email notification for your service team too.
Feel free to play around here a little bit. You'll see that there are a number of ways to set things up. Think it through and save your settings.
? Read more: Send Email Notification in Formidable Forms
What else can your request for quote forms do?
We're all finished - great work! Now you have a functioning request a quote form on your WordPress site. But there are a few more advanced features we want to show you before wrapping up.
By adding smart logic to your forms, you can make it easy for customers to give you more information.
Imagine if selecting a dropdown option revealed more form fields. With conditional logic, you can do that!
Sometimes forms can get really long. If so, it's better to use a multi-step form with a progress bar to divide the form into smaller steps.
This increases conversions and prevents user fatigue. The user is happier and you end up with better information. Win-win!
A picture is worth a thousand words. So let your customers upload their when requesting a quote! This could be useful for any kind of repair service.
Of course, with Formidable Forms, you can let your users upload any kind of file they want. A resume writing service could let clients upload a PDF. The possibilities are endless.
Email marketing integrations
Sending email notifications through Formidable is powerful, but total integration with your email platform is even better!
If you use an email service like AWeber, MailChimp, ActiveCampaign, or a CRM like Hubspot, then you'll love Formidable. Our plugin integrates with all of them and more!
Wrapping up
We hope you've learned how easy it is to build a quote form for your WordPress site. If you're still not convinced Formidable Forms is a great quote maker, check out our list of the best request a quote plugins. Thanks for stopping by!
As always, keep it locked to the Formidable blog for all things WordPress. Until next time, have a great day.
More WordPress tips from our blog
---
Did you know that Formidable Forms can do more than just quote requests - it's one of the most advanced form builder plugins available today! Try our free plugin or one of the full-featured premium versions!